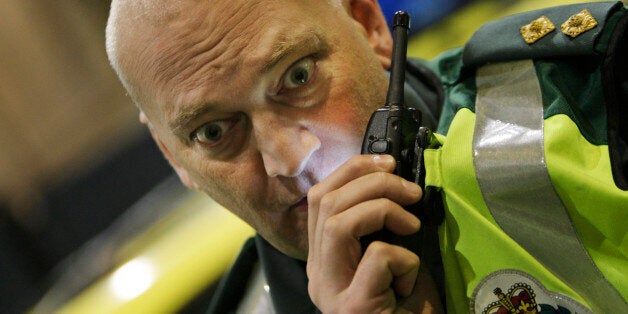 Christmas is the most anticipated time of the year; it's a time for celebrations and spending time with your loved ones. Amongst all the excitement however, unexpected hazards can occur with more than 80,000 people a year needing hospital treatment for injuries such as falls and cuts during the festive period.* Leading first aid charity St John Ambulance will be out in the community throughout Christmas providing first aid at events across the country.
St John Ambulance is committed to keeping people safe at events and teaching the public life saving skills. First aid is such a simple skill, but it has an incredible impact. We want everyone to learn these life saving skills as they can be the difference between a life lost and a life saved.
To date our volunteers have dedicated over 1 million hours to saving lives in their communities. Over the festive period they will be delivering care to people in need of first aid around the country; either responding to call outs over the celebratory period or working at events in local communities. Our volunteers take on a number of different roles to support the public and the NHS:
Community First Responders (CFR)
Community First Responders are usually the first to arrive on the scene in an accident. They are trained to assess the situation, provide immediate first aid if needed and establish the patient's medical history. Sometimes they can simply be a very vital second pair of hands to an ambulance crew when they arrive.
At large events, such as the New Year's fireworks display cycle responders are essential in ensuring people in need receive first aid quickly. Cycle responders are treatment centres that can ride straight to the patient. As a mobile resource, they can quickly pass through crowds and obstacles to reach those that need help.
Our first aiders are on hand to provide vital first aid to the community at events. Anyone can become a first aider and be part of a team that helps to save lives. Our volunteers will be out at various events across the country over the holidays including; Lord Mayor's Fireworks Display along the River Thames, we will be setting up a Trust Temporary Minor Injuries Unit (TMIU) in Birmingham City Centre, a Care Facility in Cambridge and numerous other events.
The key aim of our volunteers at these events is to provide onsite treatment to individuals who may need it.
Fewer than 1 in 10 have the skills needed to save life and you don't have to be a St John Ambulance volunteer to know how to look after your friends over the holidays. Just knowing the most basic skills will give you the confidence to help a family member, friend or someone in the community when they need it most.
Here are some simple but life saving advice for treating injuries that can occur over the Christmas period.
Over indulging on alcohol with family, friends or colleagues over Christmas is not uncommon. However, there are many dangers that surround this and you may need to know how to put someone in the recovery position if they become unresponsive.
If someone is unresponsive and breathing then you need to turn them onto their side and into the recovery position, to keep their airway open so they can still breathe.
•Kneel down next to them on the floor.
•Place their arm nearest you at a right angle to their body, with their palm facing upwards.
•Take their other arm and place it across their chest so the back of their hand is against their cheek nearest you, and hold it there
•With your other hand, lift their far knee and pull it up until their foot is flat on the floor. Carefully pull on their bent knee and roll them towards you.
•Tilt their head back, gently tilt their chin forward and make sure that their airway will stay open and clear.
•If you think they could have a spinal injury, you must try to keep their neck straight and only move them if you have to, to keep their airway open. If you have a helper, one person should keep the head steady while the other person turns the casualty on to their side.
Celebrating with loved ones during the festive period often means that people tend to consume more alcohol. There is a danger that they may become dehydrated; dehydration happens when someone loses more fluid than they take into their body and alcohol definitely is a culprit of that. If you or someone else has had too much to drink, you can become very dehydrated the next day. You may experience headaches or light headedness, dry mouth, eyes or lips, or they may be suffering from muscle cramps.
•Help them sit down and give them plenty of fluid
•Give them water and/or oral rehydration solution to drink, if you can get some.
•If they have cramps, tell them to rest. Help them stretch and massage their muscles.
•If they still feel unwell, tell them to seek medical advice straight away.
HuffPost UK is running a fortnight-long focus around helping others this Christmas. Giving Back will shine a light on the organisations and individuals making a difference in their community, tackling issues such as loneliness, homelessness, food waste and financial struggle.
Related