How do you get a slice of a global industry valued at £23 trillion? From designers through to savvy entrepreneurs, it's not only the charismatic appeal of the fashion industry that continues to draw people to make riches from rags.
That London is widely recognised as the capital of fashion - valued at £28 billion - having produced the likes of Alexander McQueen and Vivienne Westwood, and is also home to Savile Row no doubt helps the grassroots energy on our island.
The 3 trillion dollar question is, of course, how do you design fashion that sells? What's the formula for success? How do you produce a bestseller? How can you consistently make clothes that people want to buy? And how do you shape future trends? Surely there's a formula for success; a common denominator?
I was recently fortunate enough to listen to two highly respected and - more importantly - successful fashion designers at Pure London, one of the UK's leading fashion trade shows. They each displayed a strong sense of individuality, firm conviction in their method and solid principles - while also following unorthodox routes to their success - no doubt key ingredients to bottling their respective brand's DNA.
Dr Pam Hogg, legendary fashion designer, DJ, rockstar and artist was a keynote speaker at the event, where her unorthodox approach and rule-breaking path to cult status - she designed for the Brit Awards in 2016 - was shared with crowds of students, buyers and fashion press hanging on her every word.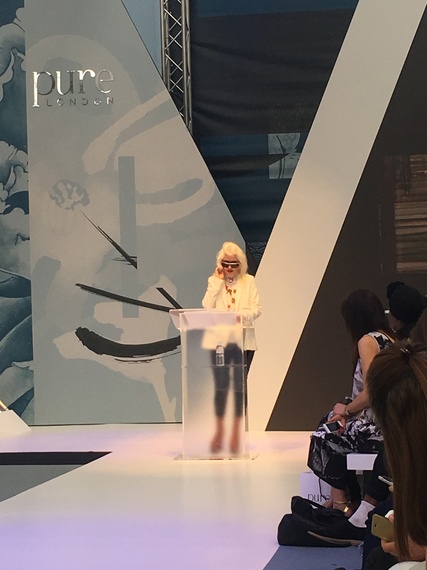 Image: author's own
Self-taught, unorthodox and famously hands-on, Hogg not only designed all her collections but made the majority of them too, while recruiting students to her studio. Initially wanting to be a painter, she harnessed challenges in dressmaking - fastenings, sleeves etc - in order to shape her designs, which emerged from free-hand sketches. Creativity doesn't get much more hands-on than this! Given the scale of production and resources - no more than 10 units of each style were made in spite of demand - Pam's brand retained kudos and prestige rarely seen in mass-produced fashion, her strategy of quality over quantity never compromising revenue. A fabulous raconteur, I was especially taken by a few chosen words she shared in her Expect the Unexpected delivery:
"Make something new that customers didn't know they want [...] give the unexpected. [...] How do we know what our customers want until we offer it to them?"
In her view, a successful fashion brand must "encourage customers to push boundaries, be excited and adventurous". Indeed, she reiterated how fashion changes how we feel and can alter moods: fashion is "life-changing".
And, when it comes to one of the most saturated markets in the world, how do you retain identity and stand out from competitors? "If you stay true to yourself the essence of your identity becomes apparent", was the advice of the designer behind the trademark catsuit and one-leg-garter, seen on the likes of Rihanna and Kylie.
After she left the stage, what continued to resonate with me was her bravery and fearlessness; her preparedness to be disliked before being adored:
"The greatest gift we have is our individuality. I cannot understand why anyone would want to look the same." Sage advice in the design studio, as much as in life itself.
Similarly refreshing was the contribution made by Henry Holland, who followed on the same platform the very next day.
Preferring the title of creative director, rather than designer, the muse behind the slogan t-shirt studied journalism and worked at Bliss magazine, before finding fame in fashion. As he said himself, there's no conventional path to success, "the rule book was ripped up long ago".
Following his 10th anniversary, a successful second collection with Habitat, and on the cusp of launching his own concept store in China, Holland is an ambassador for British fashion and is a product of Fashion East, a group that nurtures fledgling talent. Exploring topics such as the art of effective collaboration and the topical See Now/Buy culture, which he admitted is a "challenge", it was Holland's words on authenticity which really stayed with me. In a notoriously competitive market continually fending off saturation, his insights on challenging imitation and homogeneity were refreshing pearls of wisdom.
"My journey has been based on authenticity", said the somewhat accidental designer. His journey to critical acclaim on the shopfloor of stores such as Browns Focus and Matches began with irreverent printed t-shirts for his 'fashion groupie' friends (namely Gareth Pugh and Giles Deacon). "Continuity is important for a brand", he said. "Don't try to please everyone or copy - stay true to your DNA, USP and identity. [...] Personality and tone are important. I always go to great lengths to preserve the playfulness in my brand and that translates to the product".
"Some traditional designers consider me an upstart, but I don't waste energy tackling objectivity. The playful sense of humour and tone of voice is integral to my brand's DNA".
How do you create a winning fashion brand with both individuality and commerciality? "Challenges are opportunities. The rule book has been ripped up. [...] There's no formulaic path or single route to market".
Addressing retailers, Holland's advice was that "to engage the customer and really develop that shopping experience. It's about theatre, environment and experience. There's been a radical evolution in consumer behaviour [...] there are a lot of unknowns out there right now and uncertainty affects how consumers behave".
Following these unorthodox viewpoints and unconventional routes to success, I was then amused by an article profiling Europe's richest man, Amancio Ortega, founder of Inditex (the fashion empire behind high street brands such as Zara, Pull & Bear, Massimo Dutti and Bershka). The humble octogenarian is estimated to be worth £63.2 billion. As business profiles go, the article was noteworthy not only for the founder's signature low profile but also for the fact that Ortega made his billions from the rag trade.
So, in answer to the initial question 'How to be a fashion designer', his approach remains the same as when he set out his principles in 1975. Today, J P Morgan considers Inditex a "structural winner" due to its combined store and online services, its "pull model" -- the way it draws ideas from customers -- and its "nimble supply chain".
Why was I amused? Because while an icon such as Dr Pam Hogg, who clearly knows a thing or two about designing clothes, advises delivering the unexpected - "How do we know what our customers want until we offer it to them?" - the founder of Inditex set out with the simple aim of asking women what they wanted and then making clothes based on their requests. Inditex asks shoppers what they want and then designs products accordingly.
As Holland says, the rule book has indeed been ripped up. And long may the route to fashion success remain gloriously random, unpredictable and subversive.