People come to The Cotswolds from all over the World to experience this truly magnificent place with its picture perfect villages and landscapes. And although the natural beauty is certainly enough, The Cotswolds has so much more to offer.
When I moved to The Cotswolds with my family, I couldn't believe that there was no place, online or otherwise, to find out about ALL that The Cotswolds has to offer... there were villages and towns that had websites, but there was nothing that put it all together. Having never been to the area, I had no way of easily finding out what was out there and this frustrated me greatly. This led to me starting a business and creating an online portal covering ALL of The Cotswolds, www.CotswoldsConcierge.co.uk.
The Cotswolds Concierge is dedicated to sharing the many tourist attractions, restaurants, shops, hotels and events in The Cotswolds with locals, visitors and tourists alike. In my travels around this wonderful area, I come across so many fantastic places... in this piece I would like to share with you just 7 of those places that are well worth a visit if you're coming to The Cotswolds this summer.
Adam Henson's Cotswold Farm Park
This is one of The Concierge Family's all time Cotswolds Favourites. Children of all ages love to go to Cotswold Farm Park, a truly interactive experience and one where you get in touch with nature and farm life in an incredible way.
If you find yourself in The Cotswolds with kids of any age, Adam Henson's Cotswold Farm Park is a must as it offers hours of fun amongst farm animals and many great activities.
See a sheep have it's wool sheared, pet baby chicks, guinea pigs and rabbits, bottle feed lambs and goats, see cows being milked (and practice this on a wooden cow if you like), feed the big animals through fences outside and much, much more ...all up close and personal.
Adam's Farm is in Guiting Power near Cheltenham and close to Broadway, Stow-on-the-Wold and Winchcombe.
Antique Pine and Lovely Things
Here is one of my all time Cotswolds Favourites, a hidden gem of The Cotswolds not to be missed. Housed in an old barn and run by John & Wendy Gardner, Antique Pine & Lovely Things is a wonderful shop that is, quite simply, full of beautiful antique pine furniture and lovely things in the form of home accessories, greeting cards and jewellery... it has that "Country Living" look and feel.
And to top it all off, it's also home to a truly lovely, little coffee shop offering the best coffee this concierge has ever tasted, loose teas, hot chocolates, cold drinks and beautiful, delicious homemade cakes.
Antique Pine & Lovely Things is on the Campden Road / Fosse Way crossroads, between Chipping Campden, Moreton-in-Marsh and Shipston-on-Stour.
I spent a rainy but warm day at Birdland with my husband and our two 4-year-olds last year, and it was fantastic, for the whole family, not just the kids.
The beautiful and natural setting that houses Birdland in Bourton-on-the-Water, is inhabited by over 500 birds. Parrots, Flamingos, pelicans, penguins, cranes, storks, finches, cassowary, waterfowl and many, many more can be seen on various aspects of the natural water habitat.
There are over 50 aviaries featuring parrots, falcons, pheasants, hornbills, touracos, pigeons, ibis and many more. The Desert House is home to the more delicate species, whilst the indoor Discovery Zone features egg laying creatures including fish, amphibians and reptiles.
We were very surprised to see parrots flying around within the park area out of cages. Bird handlers would walk around with the big parrots on their shoulders. At one point we were talking to our son, Matthew, while sitting underneath a tree where the most handsome, pink cockatoo was sitting. We swear we then heard him say "Hello Matthew" to our son. Did he really? Maybe he did, maybe he didn't... it made our day either way :)
Blenheim Palace is a must if you're anywhere near Woodstock in The Cotswolds. You can spend anything from a few hours there to a whole day and you will leave feeling that you have just experienced a piece of British history.
The magnificent gardens of Blenheim Palace were winners of the 2008 'Garden of the Year' Award. The Formal Gardens owe much to the 9th Duke of Marlborough who, in the 1920s, with the help of the French landscape architect Achille Duchêne, redesigned the gardens to provide the Palace with the formal majestic setting that visitors see today.
The Palace offers guided tours by knowledgeable guides of the State rooms, The Untold story which is a tour of the palace seen through the eyes of the staff, tours of The Churchill Exhibition and of the private apartments where the family still live. The Park and the Gardens is over 2,000 acres of stunning parkland and gardens.
I can almost guarantee you, that you have never seen a playground quite like the one we have in Broadway... it is spectacular and a must of you're anywhere near there with kids.
A mind blowing £300,000 was spent on this playground... and, in our humble opinion, it was worth every penny! Set amongst beautiful Cotswolds hills and old trees, the playground is made of sections with equipment appropriate for various age groups - there's something for every single age there, even for adults.
There are designated picnic areas, tables and even nice, clean rest rooms, so there's every opportunity to spend a good few hours on a nice day out with your kids.
Broadway Playground is in the centre of the village of Broadway behind the Pavillion Broadway shops.
If you're visiting The Cotswolds between June and September, don't miss Cotswold Lavender in Snowshill. From about mid July, the lavender is in the most breathtaking bloom. Also, you can enjoy a cream tea or light lunch there and browse the gift shop full of lavender products.
Lavender was first planted in Snowshill in 2000, in fields previously used to grow wheat and barley. The lavender thrives in the free draining limestone soils 1,000 feet above sea level, giving the best growing conditions for the highest quality English Lavender Essential Oils. Cotswold Lavender has about 70 miles of rows and 250,000 plants in total. The crops are steam distilled on the farm and made into unique lavender products.
If you were looking for the most upmarket and wonderful farm shop in the country, your search would end here... Daylesford Oranic Farm is simply The Pinnacle of all Farm Shops!
Daylesford houses a farm shop full of everything your heart could ever desire of good, organic produce, an award winning cafe, a spa frequented by many a Cotswolds celebrity, a garden and flower shop, a clothes shop full of exquisite designs and the most beautiful grounds surround it all.
Daylesford is worth the trip, even if you're not in the market to buy organic food, drink or products, so don't miss it when you're in the Cotswolds, you simply will not find a place like it elsewhere.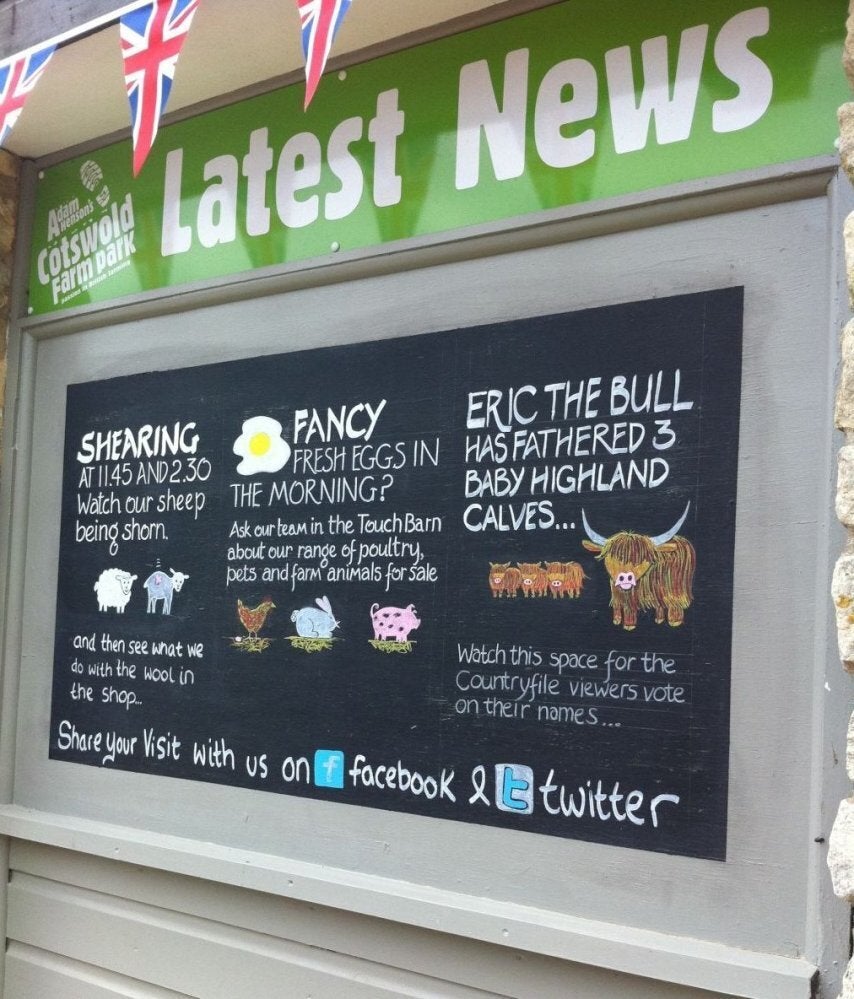 7 Places To Go When You Visit In The Cotswolds This Summer