One day, all the sheep in The Cotswolds disappeared. All we know for sure, is that one of these people is responsible... but who? It's a mystery!

On May 9th 2014 a PR campaign unlike any other was launched in The Cotswolds, Area of Natural Beauty in the UK. It was called The Cotswolds Mystery; a fictional written story in 11 chapters, a new chapter would be released every Friday for 11 weeks. As I write this piece, the story is in the 5th week.
Foodies, an Artist, Two Doctors and a Real Life Lady
Well, there's nothing spectacular about this, I hear you say... true. The spectacular part is that although the story is fictional, the characters in it are all real. They are all people who own a business in The Cotswolds; to name a few, there are doctors, a furniture restorer, a beauty queen, a florist, a couple of foodies, an internationally acclaimed artist and even a real life Lady! These are all people who came together and volunteered their time, work, product and efforts in order to help me create this campaign.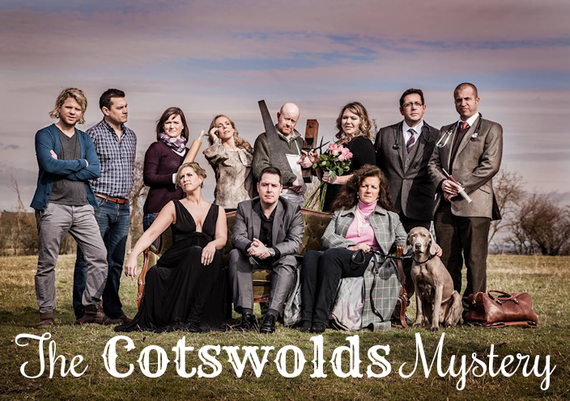 An Inspiration to other Communities
This blog piece is a salute to the people who joined me in the creation of The Cotswolds Mystery. First of all because they deserve a salute, of course, but also because their involvement serves as an inspiration to communities of all shapes and sizes out there. If you come together, if you have a common objective, you can create something that has real value and real effect without spending any money at all. In fact, I am proud to say that The Cotswolds Mystery has been created on a zero-budget. Everything from images, graphics, £7000 worth of amazing prizes, social media efforts, writing and all the planning and behind the "scenes" work has all been offered and executed by people who came together with just a wish of creating and taking part in something for the common good of the area they call home. And in it's 5th week the campaign has reached hundreds of thousands of people on social media all over the World.
Elitist Snobs and Fields of Sheep
The campaign is created to bring focus on The Cotswolds in a brand new way. In a way that would stand a chance of being noticed among all the other impressions people get in their busy lives. It is easy to show the beautiful Cotswolds off as a stunning tourist destination, but I also wanted show off The Cotswolds as an interesting, exciting, fun and truly diverse place to visit, live and do business. I wanted to show people everywhere in the UK and the World, that the perception of The Cotswolds as being old-fashioned, full of elitist snobs, million pound manor houses and fields of sheep is just plain wrong. We have so much to offer, we are a hard-working community of local crafts and business people, humorous, smart, artistic and business-minded and together we are driving The Cotswolds forward through the 21st century.
Win a 10-day Luxury Cotswolds Holiday worth £7000+
So how were we going to get people to read this story? Well, we went for the only free outlet: Social Media. With weekly individual prizes and with a fantastic Grand Prize of a 10-day holiday in The Cotswolds worth more than £7,000, people's attention have been drawn to see for themselves what an incredibly diverse, fun and exciting place The Cotswolds is.
Follow The Cotswolds Mystery on Twitter, take part and be in with a chance to WIN that coveted Grand Prize, a 10-day Luxury Holiday in The Cotswolds, by simply interacting with the campaign or by sending in story suggestions, sheep images or tell us who you think did it!
Photography by Stefanie Calleja-Gera.