The crossover between investments of passion or alternative assets such as property, art, fine wine, classic cars, gold and watches seems to be increasingly blurred as people seek to classify what is worthy of the attention or wallet of a connoisseur or a collector and those who just enjoy surrounding themselves with the finer things in life. It seems that using the word luxury in the context of art, design and antiques leads people to question the integrity of an object, but if the definition of luxury is something that is an indulgence rather than a necessity then almost all these assets whether they be a Picasso, a blue diamond, a bottle of Chateau Laffite or an apartment in Hong Kong must all fall under this category.
The art and luxury markets have always walked hand in hand. You only need to flick through the pages of FT's How to Spend It or the weekend Wall Street Journal to see the column inches of fashion, property and arts jostling side by side to attract the HNW's attention. So it is a joy when you go to events or destinations where the overall experience marries the objects available for sale.
Comme des Garcons's Dover Street Market is a cutting edge fashion store that presents itself as an art installation and displays an impressive rage of talent and craftsmanship from jewellery and taxidermy to the Rose Bakery on the 4th floor. Designer Rei Kawakubo's ground-breaking six-storey space combines the edgy energy of London's indoor markets - concrete floors, tills house in corrugated-iron shacks, Portaloo dressing rooms - with rarefied labels. All 14 of the Comme collections are here, alongside exclusive lines such as Lanvin, Givenchy and Azzedine Alaïa.
Just a few streets away is another covered market that peddles luxurious items as well as unique pieces of craftsmanship and heritage, The Burlington Arcade. Established in 1819 as the first covered shopping mall it is now an iconic runway uniting Piccadilly and Bond Street as a place where old and new worlds meet, united by a common thread of exceptional quality, authenticity, bespoke craftsmanship and creativity.
Today, every window reveals inspiring treasures - from timeless collectibles to more contemporary style and design. Diamonds flash in both antique and contemporary settings alongside the warmer glow of pearls and other rare gemstones, vintage watches mark the passage of time gleaming silver, writing materials, bespoke footwear and bespoke leather accessories.
Once a year the arts fair, Masterpiece London 27 June -3 July (Preview 26 June), celebrates the height of craftsmanship, quality and heritage from its custom-made home in the heart of Chelsea, coinciding with London's peak art season.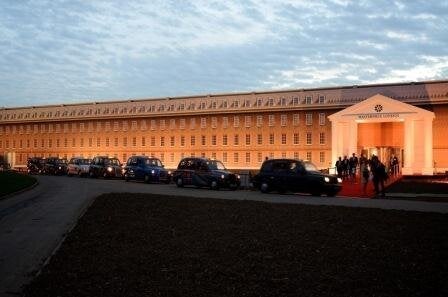 It is an event where Old and Modern masters of international acclaim grace the aisles alongside antiquities, decorative arts, design, spectacular jewels, bespoke boats, cars in pole position, rare watches, vintage champagne and unique writing instruments, to name but a few. Each piece at Masterpiece London is vetted by a panel of experts and must earn its place at the fair on merit, by demonstrating aesthetic excellence, provenance, and its unique qualities as a collector's item. As a visitor you can enjoy a delicious meal at the celebrated Le Caprice or Scotts whilst reflecting on which work of art you would rather take home, a Ming porcelain vase, a Van Dyke painting, a Harry Winston necklace or a Maserati car.