Spring hasn't really hit the Northern half of Europe yet, but a few daffodils have bravely persisted to push their optimistic yellow heads through the chilly ground and announce spring. However, the real herald of spring in the art world is TEFAF where all the world's curators, collectors and art enthusiasts, descend on the small, historic city of Maastricht in Holland in March to see some of the world's greatest treasures currently on the open market.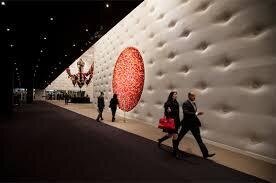 Despite a snowy start that threatened many travellers the event still opened to over 9,000 visitors in the first day and the small airport was full to bursting with private jets. To give a snapshot of the visitor experience on VIP opening over 100,000 flowers filled the aisles and walls of the fair with 36,000 roses forming living sculptures. 11,200 glasses of champagne were quaffed and 155,000 canapés were gobbled proving that appraising art can be a hungry business.
The calibre of works on offer here are of the finest available from terracotta Tang figures, rare snuff bottles and Ming porcelain to European Old Master paintings, classical sculpture from antiquity to cutting edge design and contemporary art. Of the collectibles, exquisite watches and clocks and spectacular jewels abound with Graff exhibiting a brooch designed as a peacock to show off an extremely sought after blue diamond with a cool price tag of $120,000. For those after something a little more discreet but still offering lots of sparkle there were stunning historic jewels offered by Hancocks and contemporary pieces by Hemmerle.
The fair, in its 26 years, has grown both in stature and appeal stretching beyond its original audience of Northern European buyers to a marked increase of buyers from Russia, China, Hong Kong and Singapore. Those rubbing shoulders at the event included curators from high profile international museums alongside celebrities such as Kanye West and members of Qatar's royal family.
It is always a complete pleasure to visit this event and it takes me at least two days to see the exhibits as well as catch up with many of the trade out there. Highlights for me included a Boucheron bangle at Hancocks, a Portrait of a Gentleman by Diego Velazquez exhibited by Otto Nauman for $14million, a newly discovered landscape by Singer-Sargent brought by Trinity House Paintings, a spectacular set of silver flasks exhibited by Alberto di Castro and an astonishing collection of furniture by George Nakashima on Sebastian and Barquet's stand.
This essential event brings together all the great and the good of the art world and is a great litmus test to how the art market is faring. The good news is that there were a number of sales for over 6 figures including a 16th century manuscript created for Queen Claude de France comprising 39 miniatures in a bejewelled binding that sold for $8million. The next important outing for many of these galleries will be at Masterpiece London this summer (27 June - 3 July 2013) by which time I hope the sun will be shining in earnest.
Related