Virginia vividly recalled her and Beata's first evening in Myagdi. "Our long awaited destination was here, our home for the next two years. Amongst the people we met that evening, one gentleman struck me, a pressman who introduced himself as Mr. Hari Krishna Gautam. As conversation rolled by, we learnt that he also works for Room to Read and they helped set up libraries in schools by supplying books. Little did we know how much he would be of help in our work with schools."
When Virginia and Beata selected the schools to work in, one of them did not have a library. They approached the local Room to Read office, who were very happy to collaborate with VSO and set up a library. What followed is a long story but one chilly morning, the most memorable library launch ceremony was held at Saraswati Primary, in conjunction with Room to Read officiated by the District Education Officer-Myagdi.
Before I went to visit the US in June my VSO friends Beata Mkok and Virginia Ngindiru from Kenya asked if I could get them some English books for their school children. Virginia said, "We yearned for picture books for beginners. When Mike informed us that he was visiting the US, we put forward our request. Upon return, he had with him a suitcase full of exciting picture and story books."
I thought, no issues, I'd ask my father Norm who at 84, is still incredibly active and very much into social causes. Along with his good friend Frank, for the past 14 years, my dad has been co-coordinating an annual "Fun with Chalk Festival' in Orange County, California, raising very needed funds for local school arts programs.
I forwarded Beata's original e-mail to my dad and he contacted his local library in Mission Viejo. The head librarian, Stephanie Tanton, routed him to The Friends of the Library, a bookstore located within the library building. It just so happened that they had free books for children that were just waiting for my dad on a cart. My dad said, "It was like a message that a library in Nepal is requesting children's books that have pictures and stories." Approximately thirty three (33) books were packaged by my dad and stored in his garage.
The thought occurred to dad that he should also contact other local libraries and he called one but was turned down. Then he hit pay dirt with the Foothill Ranch and Rancho Santa Margarita libraries. The only thing that he had to do was provide shopping bags at the libraries and they filled them with children's books. My dad's garage was now a storage place for over two hundred (200) books for a Nepal library. According to my dad, everyone was very cooperative.
The next issue was trying to find funding to ship the 45 kg of books to Nepal. This turned out to be very difficult as the cost was about $300. My dad contacted many organizations but unfortunately he did not receive a positive response, except from one individual who sent a check for $20, which was later returned.
When I left for the States I had an extra suitcase that was filled with gifts for my friends and family which upon my return was filled with gifts for friends in Nepal. I also had brought a backpack filled with some clothes. As I sat and looked at the boxes of books I thought that I should pack my suitcase and backpack to the maximum weight but even with this I would still have to leave lots of books in my parent's garage.
My parent's attic is filled with "stuff" from my sister and her husband, my daughter, my son and even a few boxes which are mine. My son is a monk and really has very little, but he had left an empty suitcase in the attic and I put in 23 kg of books. I also put 5 kg of books in my original suitcase and another 15 kg in my backpack, which I brought on the plane as a carry on.
Once I made it back to Kathmandu, Beata, who was in the city on business, took my son's, now even more stuffed suitcase, to Myagdi.
A handing over ceremony was officiated by the DEO, who has been at the frontline in supporting VSO-led activities in the District. He was awestruck when he looked at the display of the various books and requested that VSO help him put up one library in the District Education Premises. For Saraswati, there was unspeakable joy amongst students, teachers and school management. Saraswati Primary, which has for long been looked down upon became the envy of many. One of the teachers was quoted as saying, "I never thought you cared this much about us. This is true love for our school." The institution now stands out as a rich harbor for reading. This is just but the beginning. Efforts are now geared towards creating a reading culture.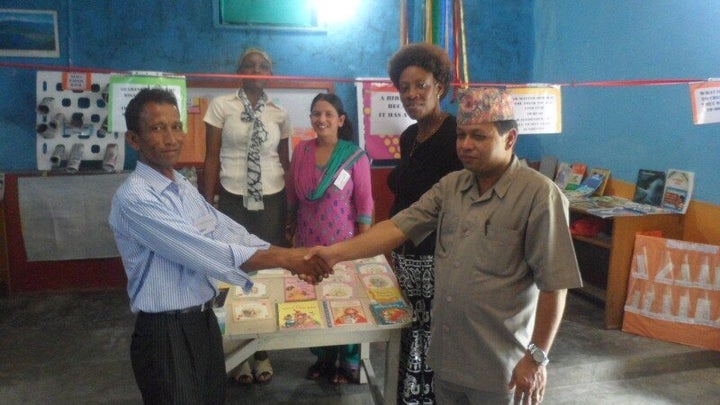 In another article Virginia recently said, " This ability (reading) is power within us that unlocks an exciting world. In it, you will discover, explore and create. It ignites a blaze not even the biggest of waters can quench. It is an avenue to relinquish pent up emotions...read a book when all seems to be boiling inside you and enjoy encounters with great minds who will move you with their well-laid sequels to a point higher up not easily attained idly sulking all by yourself."
Myagdi isn't the only area to benefit as I've also donated some book to an NGO, working with children with disabilities, called Heart of Bhaktapur/ Suvadra Foundation. I read and acted out some of the stories with the children actively participating, including a number who are non-verbal but who were joyously communicating through their smiles and their body movements. I've also given books to other children whom I've met. This began to help me to understand how Beata and Virginia's simple request has substantially multiplied.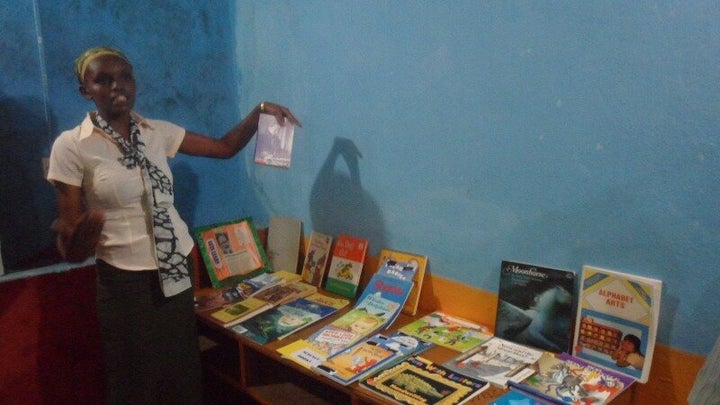 My dad Norm stated, "Cooperation was the key word between individuals without any ulterior motives but to merely transfer children's books to a library in Nepal. A solution was doable and beneficial to the children of Nepal."
It doesn't take a lot to show kindness, even when we don't know others. All it takes is "yes" I'm willing to explore to see what is possible. I enjoy connecting people no matter where they live and in this case there is now a connection between Mission Viejo, California and Myagdi, Nepal, something which I never could have imagined or even dreamed of. The unimaginable now brings a huge smile to my face. I continue to ask myself, "what can I do today" to help others smile and I realize that it doesn't take much.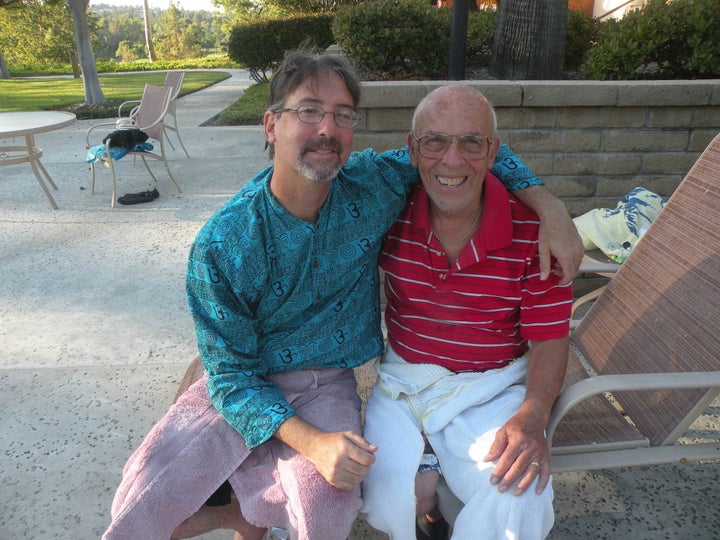 Related