I do love sports and hate to be a spoilsport , you've probably already guessed the tone of this article, but I've been thinking a lot about the 2014 FIFA World Cup™ Trophy Tour (the third such Tour, 2006 and 2010) which will span 90 countries , 92,000 miles over nine months. Let me also state that I didn't really grow up with futbol, yes I'm a silly American from a country where they play tackle football, with a weird shaped ball, and don't pay too much attention, although maybe I should. I truly believe in the power of sports for bringing people, and countries together and have written about this. But I have to say that Coca Cola , a product that gives your body 10 teaspoons of sugar, which is 100% of the recommended daily intake, within 10 minutes of drinking this product, isn't really about promoting sports. (How coke or pepsi impacts your body). (Maybe one should take an hour to drink and then the effects won't be as bad?)
But look, Coca Cola does spend in excess of $2.5 billion/year on advertising. Just think what might happen if they did put that money towards really promoting and developing sports and not getting people, some who can't really afford to buy this product, addicted. Let's not even talk about the health problems caused by Coke, their other products and in general, the "sugar" beverage industry. Well, at least we can keep the drug manufacturers happy and the health industry won't ever have to declare bankruptcy even if we have socialized medicine or God forbid, Obamacare.
"The Coca-Cola Company is one of the longest-standing corporate partners of FIFA, with a formal association since 1974 and an official sponsorship of FIFA World Cup™ that began in 1978. Coca-Cola has had stadium advertising at every FIFA World Cup™ since 1950. (Talk about addiction and being constantly reminded to feed or drink this addiction).
In November 2005, FIFA and The Coca-Cola Company extended their long-time partnership for another 16 years, from 2007 until 2022. The renewed commitment by Coca-Cola in the nonalcoholic beverages category includes cash and in-kind products and services in support of the broad spectrum of FIFA-organized events around the globe, including the FIFA World Cup™, FIFA Women's World Cup, FIFA U-20 World Cup, FIFA U-17 World Cup, FIFA Beach Soccer World Cup, FIFA Club World Cup, FIFA Interactive World Cup, FIFA U-20 Women's World Cup, FIFA U-17 Women's World Cup, FIFA Futsal World Cup, and the FIFA Confederations Cup.
For every goal scored during the 2010 FIFA World Cup™ and celebrated by players with a dance, Coca-Cola donated $1,500 to the Company's "Water for Schools" effort that helps provide schools access to safe drinking water. (Too bad that this wasn't basketball, can you imagine how much money Coca-Cola would have to donate). The program is just one part of the larger $30 million commitment to the "Replenish Africa Initiative" (RAIN) that will provide at least 2 million people in Africa with clean water and improved sanitation by 2015." (Very heart warming, let's see more than $2.5 billion/year spent on advertising, billions more spent by people to take care of their bodies due to the damage caused by carbonated beverages. The amount spent for RAIN doesn't seem to really equate with this. Ke garne?
But this is Corporate Social Responsibility (CSR), and that must be positive. I wonder what might happen if Coca-Cola didn't use so much water for product production, and instead put their money into creating safe drinking water for the planet. But where is the profit motive, must be there somewhere. Maybe Coca-Cola executives haven't heard about social entrepreneurs or maybe they think that they are?).
The FIFA World Cup Trophy Tour™ by Coca-Cola will be the most inclusive, participatory event ever, inviting fans around the world to get up close and personal with the same trophy that is presented by FIFA to the country winning the FIFA World Cup™." "Only special guests, Coca-Cola fans and media personnel were allowed onto the specially designed ramp at the stadium to observe the trophy." Kathmandu Post, December 22, Nepal gets a taste of WC Trophy, page 11. (Guess that Coca-Cola wasn't talking about Nepal, when they wrote the above sentence. At least in Nepal one only had to be a Coca-Cola fan and not an addict, so maybe little harm).
"Coca-Cola shares the passion that fans have for football around the world and through our partnership with FIFA we champion the power of football to bring the world together," said Joseph Tripodi, Executive Vice President and Chief Marketing and Commercial Officer, The Coca-Cola Company.
"Like all football fans, we're especially excited about the 2014 FIFA World Cup™ taking place in the spiritual home of football and the 2014 FIFA World Cup™ Trophy Tour will be our opportunity to take the energy and passion of the host nation, Brazil, and share it with millions of football fans around the world," added Tripodi. (Never mind that that mega sports projects such as the 2013 FIFA Confederations Cup and the 2014 FIFA World Cup (to which Brazil has already spent over 7 billion reais and with total expected cost of over 32 billion reais,($13.5 billion) equivalent to three times South Africa's total in 2010, despite only half the stadiums being finished,[6] as well as the 2016 Summer Olympics, have turned out to be over-budget, and have resulted in a series of revelations about gross overbillings and multi-billion dollar financial scandals)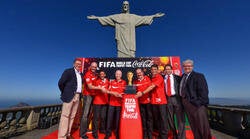 (photo courtesy of http://www.coca-colacompany.com/press-center/press-releases/worlds-largest-fifa-world-cup-trophy-tour-by-coca-cola-and-fifa-kicks-off-in-rio-de-janeiro)
The global FIFA World Cup Trophy Tour™ by Coca-Cola kicked off with an official launch ceremony at the iconic Christ the Redeemer statue in Rio de Janeiro, Brazil, in the presence of Michel Davidovich, General Manager of the 2014 FIFA World Cup™, Coca-Cola Brazil, Thierry Weil, FIFA Marketing Director, and five World Cup™ Champions from each of Brazil's five wins, Zagallo (1958), Amarildo (1962), Rivellino (1970), Bebeto (1994) and Marcos (2002). (download) (Shit, is Coca-Cola Jesus' choice of beverage? I wonder what Santa drinks? Glad that I wrote this before Christmas, will have to buy some Coca-Cola to put in the stockings).
"We are extremely happy to bring the most iconic symbol in football to the world once again. As many countries start securing their spots in the 2014 FIFA World Cup™, this tour gives us the opportunity to share our passion for the beautiful game with fans across the globe, who are given a once-in-a-lifetime opportunity to see the trophy up close in their home country. I want to thank our long-term partner Coca-Cola for making this dream come true for many millions of football fans around the globe, "explained FIFA President, Joseph S. Blatter.
Among the other key elements from the Coca-Cola 'The World's Cup' campaign are a Brazilian inspired visual identity, global television commercials, digital consumer engagement and legacy programs. (More spending)
As part of the inclusive nature of 'The World's Cup,' Coca-Cola has partnered with Backplane to foster a community of the most avid football fans across the globe. This community,www.coca-colafansunited.com, will be a constant source of behind-the-scenes content, and will provide fans a home to discuss and debate with equally passionate fans throughout the world's largest sporting event.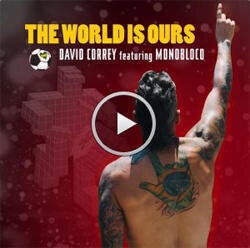 ( photo courtesy of http://www.coca-colacompany.com/press-center/press-releases/worlds-largest-fifa-world-cup-trophy-tour-by-coca-cola-and-fifa-kicks-off-in-rio-de-janeiro)
In addition, Coca-Cola will release its official anthem for the 2014 FIFA World Cup™ World's Cup campaign - The World is Ours -. (Damn straight-the world does belong to Coca-Cola and other corporates) featuring vocals from David Correy and sounds from Monobloco, a Brazilian street band. The anthem brings the music of Brazil to the world and captures the rhythms of samba, baile funk and technobraga. The song can be heard on Spotify or by visiting www.cokeurl.com/worldisours.
Now I'm not one to cry over spilt milk, but let's take a look at the economics (couldn't really find much about money spent on the Tour on the web, hmmm., wonder why):
Three pilots, three flight attendants, a flight mechanic, a doctor and a flight coordinator will staff the plane. The crew will rotate out every three or four weeks. Personnel from Coca-Cola, FIFA and supporting agencies will be onboard, too, as well as various media, a camera crew, Coca-Cola blogger/photographer Joel Robison and a security team.
Then there are all the stadiums to be built, lots of exploited workers, did I hear somebody say Qatar, corruption, huge income gaps in many of the countries the Tour will visit, but let's leave this.
This is what was further said in Nepal: "It is a momentous occasion for Nepal to be able to host the Fifa World Cup Trophy said All Nepal Foodtball Association President Ganesh Thapa. Nepal can play in the World Cup if the government invests more in football. He said Dashrath Stadium the only international stadium in the nation was not on par with other international facilities and urged the government to build a new stadium. " Kathmandu Post
We do need more places for children and adults to play, and when resting, of course, sipping their Coca-Cola, as noted by Ganesh Thapa, but that doesn't mean world class stadiums, which only the rich will be able to use. This means more sports infrastructure. But should this only be the burden of the government, which provides major tax breaks to companies such as Coke, taking money away from necessary social programs?
Think again about the 2014 FIFA World Cup™ Trophy Tour and add in the amount annually spent by Coca-Cola on advertising. Here's a thought, what if instead of spending all of that money in transporting an inanimate object around the world in a jet, Coca-Cola partnered with local sport organisations in developing countries to build infrastructure for sports, including equipment . I did notice on the list of countries visited on the Tour, that many have major problems, wide gaps between rich and poor, inadequate health and education and certainly not enough livelihood possibilities. (I guess that goes for every country on the list).
My apologies to those of you who love futbol and waited in line for hours to see the World Cup Trophy. I really don't mean to offend anyone, and I know that contradictions are part of life, but just think more about how you can use Coca-Cola in your daily life. You can also think more about how much this product will enrich you and your family in becoming diabetics and supporting the pharmaceutical and health care industries in making you a true, authentic addictive athlete.
To prove Coke does not belong in the human body, here are 20 practical ways you can use Coke as a domestic cleaner:
• Removes grease stains from clothing and fabric;
• Removes rust; methods include using fabric dipped in Coke, a sponge or even aluminum foil. Also loosens rusty bolts;
• Removes blood stains from clothing and fabric.;
• Cleans oil stains from a garage floor; let the stain soak, hose off. Kills slugs and snails; the acids kills them;
• Cleans burnt pans; let the pan soak in the Coke, then rinse;.
• Descales a kettle (same method as with burnt pans) ;
• Cleans car battery terminals by pouring a small amount of Coke over each one;.
• Cleans your engine; Coke distributors have been using this technique for decades;.
• Makes pennies shine; soaking old pennies in Coke will remove the tarnish;
• Cleans tile grout; pour onto kitchen floor, leave for a few minutes, wipe up;
• Dissolves a tooth; Use a sealed container...takes a while but it does work;.
• Removes gum from hair; dip into a small bowl of Coke, leave a few minutes. Gum will wipe off;
• Removes stains from vitreous china;
• Got a dirty pool? Adding two 2-liter bottles of Coke clears up rust;
• You can remove (or fade) dye from hair by pouring diet Coke over it;
• Remove marker stains from carpet. Applying Coke, scrubbing and then clean with soapy water will remove marker stains;
• Cleans a toilet; pour around bowl, leave for a while, flush clean;
• Coke and aluminum foil will bring Chrome to a high shine;;
• Strips paint off metal furniture. Soak a towel in Coke and lay it on the paint surface; and
• See more at: http://www.collective-evolution.com/2013/09/22/what-happens-to-our-body-after-drinking-coca-cola/#sthash.BWDwbF5T.dpuf