Calm has returned to Areha, a town around 14km south of Idleb city, but the tell-tale signs of heavy fighting are all too visible.
Thousands of children and families fled the fighting, many traveling to Idleb city. Displaced from their homes and communities, they moved to shelters in schools or other public buildings, or squeezed into the apartments of friends or family.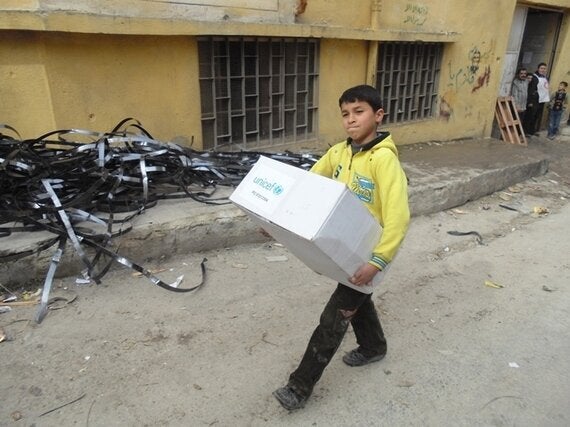 A boy carries a UNICEF family hygiene kit that has just been delivered to Areha town by a UN convoy. © UNICEF Syria/2014/Michele Al Kaae
Last week, I was part of a UN inter-agency convoy that brought much-needed emergency supplies to the Areha district, including for nearby Muhambel town. It has been months since humanitarian assistance has been able to get through. Even now that the fighting has stopped in this area, the 22-truck convoy had to take a circuitous route to avoid active hot areas.
No one knows how many people were displaced, but more than half of the town's population must have left. While the pre-conflict population of Areha was around 13,000 families, colleagues at the Syrian Arab Red Crescent (SARC) estimate that the current population is approximately 5,000 families. Some families never left town, but others are trickling back now, checking on their homes and making repairs if they can.
The destruction in Areha is particularly severe along the former conflict line, where many buildings are completely destroyed. Others feature shell holes or are otherwise riddled with bullet holes. Many other parts of the town are damaged.
Half of the trucks in the convoy were filled with Unicef supplies, sufficient for 2,800 families. These included blankets, winter clothes, hygiene kits for babies and families, basic water kits, and soap.
Along with Unicef, WFP, UNFPA, UNDP, OCHA, UNDSS, UNHCR, and IOM all contributed to the mission.
UN vehicles drive past the accompanying 22-truck convoy carrying emergency supplies for conflict-affected children and families in Areha in Idleb governorate. © UNICEF Syria/2014/Michele Al Kaae
The trucks unloaded their supplies at a warehouse in Areha. Partner organisation SARC will handle distribution to affected children and families. Even in this part of town, where buildings are still standing, many bear the scars of small arms fire.
As the unloading of supplies went on, I noticed a number of children walking by carrying Unicef schoolbags. I spoke to a boy of about 9-10 years of age who told me that he had fled with his family to Idleb city to escape the fighting in Areha. The family stayed with relatives. The boy said he had been able to continue going to school while displaced in Idleb and had been given his Unicef schoolbag, which contained stationary supplies.
With the return of relative calm to Areha, his family had returned home. He said that their house was damaged in the fighting, but they are able to live in it while doing repairs. The boy is back in school in Areha and his routine is gradually returning to normal.
It was inspiring to be able to be part of a mission that is bringing immediate relief to children and families caught up in the on-going conflict. These people are really in need. Some have lost their homes and been through the experience of displacement and uncertainty, not knowing when they could return to their community. Others have lost friends and family. It was really encouraging to see many children who are attending school.
This convoy is part of a comprehensive plan to reach mostly hard-to-reach areas with vital emergency supplies. Although the convoy was a success, there remain many challenges in getting relief supplies to the most vulnerable people, many of whom remain inaccessible due to the conflict.
Read more about the Syria crisis and Unicef's humanitarian response here
Related