I'm very excited to be doing my first blog for the Huffington Post. I am always on the go and speaking my mind is something I do on a regular basis, so I hope this won't be as difficult as it seems right now!
There has been so much going on at Ultimo HQ the last couple of months have been a total whirlwind. But in a good way!
Just a month ago we were in Canada shooting our incredible new Face & Body Luisana Lopilato - Michael Buble's wife - who we unveiled in our fabulous Ultimo Miracle collection. She has been an amazing success and is our biggest international signing yet, following in the footsteps of previous campaign models including Mel B, Sarah Harding and Helena Christensen.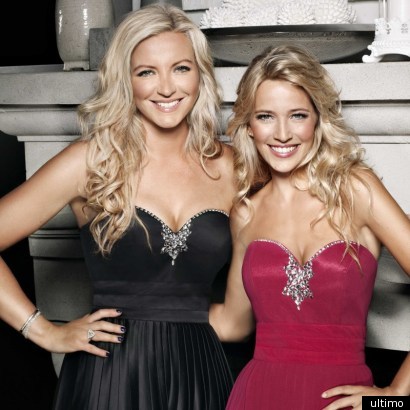 Then we launched the brand new Bra Queen label as part of an exclusive major partnership deal with Tesco - with Amy Childs revealed as the face of the brand. I hope that when you're getting your shopping next time you'll go and have a look - there are some gorgeous pieces and different designs for every taste from girly and elegant to animal print and black lace - and from only, £7 it's definitely worth putting some lingerie treats in the trolley beside your veggies.
Meanwhile, aside from these two major launches, I am working on an amazing new Ultimo Beauty range for next year - which will lead on to perfume and tan. It's a massive step in a new direction for the future of the company and I can't wait to tell you more nearer the time but all I can say is you're going to love it!
It's been a really crazy, emotional, challenging and quite unbelievable journey which would take me way too long to take you through on this blog, but tonight on BBC2 at 9pm you can get a real insight into how the story began and some secrets of the brand's success in a documentary with Dragons Den's very own Peter Jones.
In the documentary How We Made Our Millions, Peter goes all the way back to the beginning of it all - in the one-bedroom tenement flat in Glasgow's East End. It ended up bringing out a lot of emotion for me.
I was a bit nervous about being filmed in a documentary style and at 6ft 7ins, it wasn't easy to forget that Peter was following me around!
But I ended up feeling quite relaxed and I opened up to him about all the trials and tribulations of growing up, my younger brother dying from spina bifida when I was eight, and my dad becoming ill at the age of 38.
I talked to him about starting off working at the age of 10 doing a paper round and leaving school at 15 with very little qualifications, being a mother and all the highs and lows of the last 14 years since Ultimo started - as well as all our celebs and secrets.
I was in tears because it unlocked a lot of heartache, but on the other hand opening up about it like that was also quite cathartic.
I also discovered that I could have some form of OCD and always have to arrange my lingerie according to colour!
It's amazing how someone following you around makes you aware of things you do!
Make sure you tune in tonight and I will keep you posted with what's happening at Ultimo Towers.
Mxx
Peter Jones: How We Made Our Millions featuring Michelle Mone is on BBC2 tonight at 9pm.