As my wife and I exited the V&A's current big draw exhibition Savage Beauty, a retrospective of the work of fashion designer Alexander McQueen, I was filled with feelings of wonder and sadness. When you see such a large collection of McQueen's designs in one place you realize what legacy he left behind, and that led me to wonder what he might have gone of the achieve had he lived. However this gloom soon left me as I remembered the impact of room after room of truly stunning fashion. Designs that challenge preconceptions of what fashion is, what beauty is and firmly sticks two fingers up to conformity. I found myself smiling as it struck me just how much McQueen changed what we now think of as fashion, and began the new movement towards a desire for more diversity in the fashion industry.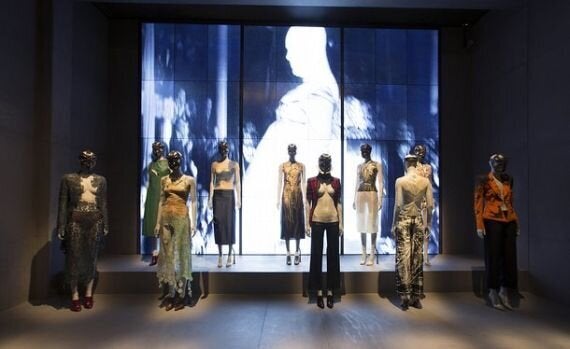 I recently wrote an article for the online disability magazine, Disability Now, exploring how McQueen was the first couture designer to use disabled models and how his legacy paved the way for a new generation of disabled models who are currently taking the fashion world by storm. Disabled people should remember McQueen as a champion of equality, which is not something you'd expect from a fashion designer. But McQueen was so much more than that, and Savage Beauty captures this with a reverence that takes your breathe away.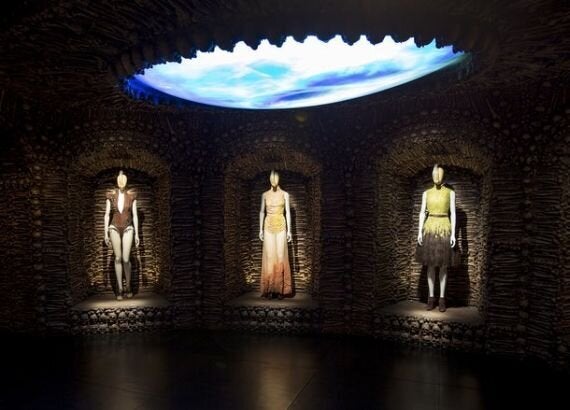 The first room in the exhibition, named London, is much as you'd expect, with rows of mannequins clad in McQueen's early designs. Already it becomes clear that this was designer set to be world class. Savage Mind, the second part of this room, highlights McQueen's cutting and tailoring skills. The ageing fashion student in me, with my studies stemming from the flamboyance of the 1980's, was fascinated by the intricacy and detail of these designs. However I could not be ready for the what follows. From now on every room is truly stunning. Each builds in their design and layout to show McQueen's work to it's fullest. I cannot find the words to describe the impact of entering the double height Cabinet of Curiosities section, other than to say it took a moment to steady myself as I was flooded by McQueen's creativity and originality. In this space McQueen's creations are accompanied by videos of his fashion shows, which further demonstrate his desire to push to against conventions and boundaries. His later work reaches a level of inventiveness that took fashion to a higher level and ensured his place in the history of fashion.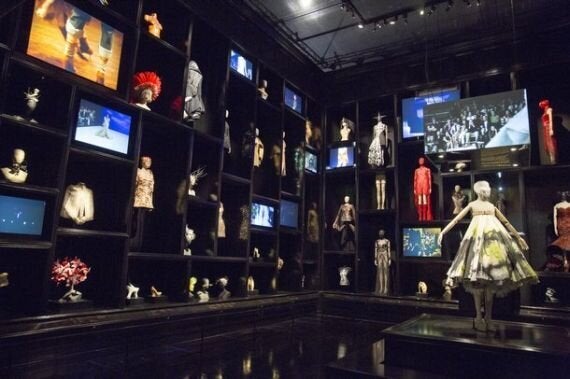 For people like my wife and I, who have always walked on the alternative side of life, McQueen holds a special place. To us his influences are more obvious which means it is easier for us to see how far he took influence and made it his own. His ability to see what was happening in the underground fashions scenes and use what he saw as a jump off point to design something so original was second to none. An example of which would be the American football protection shoulder pads and helmet in the Romantic Exoticism room. I remember wearing a set of these in Camden's alternative clubs back in the mid 80's, but mine were just painted back to go with my bike leathers. McQueen took that idea of using sports equipment in fashion but turned it in a work of art. Only he could imagine something as bulky and masculine as football shoulder pads and a helmet into a beautiful feminine work by having them printed with Japanese Kimono patterns, and then combining them with satin corsetry and thigh highs. Not sure who might wear such an outfit, but whoever did would stop a room dead as they entered it. But that goes for any of McQueen's work really.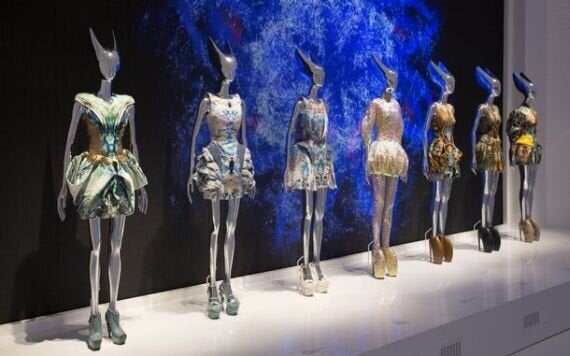 The entire exhibition is one not to be missed, whether you are interested in fashion or just want to witness the V&A at it's very best. I would advise to pre-book as I know the day we went it was packed... so maybe book a nice early slot if you want to avoid the crowds. Even with each room being filled with people, all as awe filled as we were, the exhibition will take some effort by the V&A to better. The exhibition's curator Claire Wilcox and her team Kate Bethune, Louise Rytter and Sonnet Stanfill should all be applauded for their superb work on Savage Beauty. It really marks Alexander McQueen's place in the history of fashion and design. Miss it at your peril.
Images by permission - Copyright Victoria and Albert Museum, London