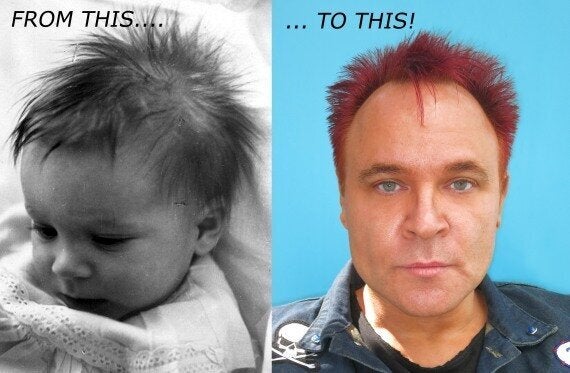 I haven't written anything for the Huffington for a a while, mostly because I have been so busy but partly because I was recovering from my birthday celebrations. Recently I celebrated my 49th birthday and I really tied one on. Well as much partying as my aging body can manage! Anyone who is around my age knows the pain of recovery from a weekend that only a decade earlier would have been described as a "light one". Added to the realization that I can no longer party like the monster I once was, hitting 49 has made me think about getting old. I mean, only one year to go before it's the big FIVE ZERO! Eeeek!
It's actually a really big thing reaching this age. I was born with a cancer called Neuroblastoma and my parents were told that I had a maximum life expectancy of five years. They took me home and tried to enjoy the short time they though they had with me, even though a lot of it was filled up with taking me back and forth to Great Ormond Street and other hospitals for treatment. At this age I had no concept of death and was a loved and rather spoiled child. Just after I reached the mile stone of my fifth birthday, my father died of a heart attack. This really came out of the blue as until the day he died my dad had been a rather robust, strong man, and it knocked my mother for six. It also had a rather profound effect on me.
As I grew up the fact that I had made it past my expiry date into bonus time made a major impact on my psyche, and when added to the fact my beloved father disappeared from my life so suddenly it led me to be sure I would never live longer than he did. I just knew I would never make it past thirty five, the age my father was when he died. Typically just as I hit a major milestone, the age of fifteen which any cancer survivor knows is the amount of time that you are full remission, a side effect of my cancer treatment caused my spine to collapse. This led me to become a full time wheelchair user, but while everyone else was terrified I would die I was sure I would not... it was not my time. I had another twenty odd years before my time ran out.
In fact the only day I thought I might die back then was after I was mistakenly told I had cancer again and that it was incurable. The very next day I was told "oops, sorry but you aren't dying" which reinforced even further this feeling that I was indestructible. It also highlighted that life is precious as I had spent twenty four hours listing all the things I would never do. By getting this second (or is it third by now?) chance I vowed to make sure the next time I laid in a hospital bed waiting to die I would list all the things I HAD done. Off I went into the world with my mind made up that nothing would get in my way, wheelchair or not. And nothing did. By the time I approached my thirty fifth birthday I had toured Europe with my band, even supporting my childhood hero Gary Numan on tour, presented TV and radio shows all over the world, winning an Emmy for my presenting in 1992, and had dated series of beautiful women before finally falling for the wonderful person I later married. I feel I played a major part in changing the way society thought about wheelchair users and had one hell of time doing it.
Then I was involved in major car accident and I really thought "this is it". While I survived I found I was dealing with every increasing amounts of pain. No doctor could find out why, until after one MRI it was discovered I had broken my back. Typically the way doctors notice this is from the lack of movement or sensation in your legs, but in my case they already didn't do much so my injury went unnoticed for a long time. By this time I had decided that I would not go quietly as I had my wife to think about. I loved this woman and didn't want to loose her, or to leave her the way my dad had left my mother. Hence I fought and underwent yet another experimental surgery, and here I am today! I made it through and am now expecting to live until I am as old as the hills!
It's now evident to me that I have no idea how long I have on this planet, and that is a weird feeling. For the first time in my life tomorrow has no end. Sure I will die, but I have no idea when. For me hitting the major mile stone of fifty is not a signpost of over half way, but the beginning of an unknown road. I wonder how many other people who survive serious or life threatening illnesses feel this way? One thing I do know is that yet again I am sure that my disability and all the illness I have faced in my life has worked out positively for me. How many other people will celebrate their fiftieth birthday knowing that most of their life has been bonus time and that every day alive is a gift to cherish?
Of course I must enjoy my 49th year first.... so let's see what trouble I can get myself into eh?
Related