A story on fashion is not my usual Huffington fair, but I actually started my writing career working for an alternative fashion magazine called Sinzine and studied fashion at college back in my New Romantic youth. I have always dressed with an eye on the alternative side of fashion, and was once best known for being that weirdo in the wheelchair off the tele. For anyone who like me dresses out of the norm we usually buy our clothing from specialist designers, but we also like to find more mainstream companies who understand our fondness for the alternative side of life. A company like Firetrap. With the launch of their latest Deadly Denim ad campaign Firetrap are asserting their position as the company who understand those who like life on the darker side.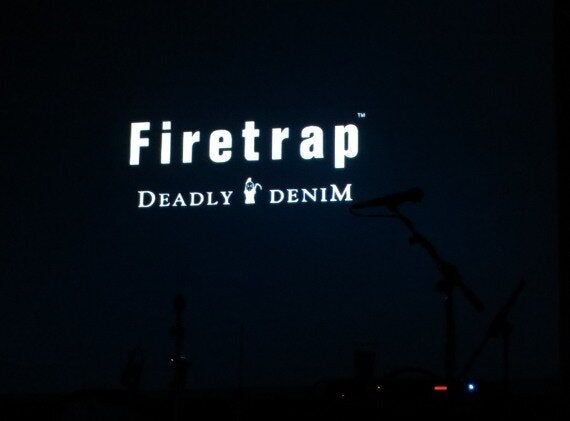 The ad campaign which went live on Halloween, was directed by Ian Pons Jewell, whose credits include the short horror film ¼" and the acclaimed Naughty Boy music video 'La La La'. The minute long promo is a doom ladened homage to classic and modern horror movies that creates an atmosphere rather than shoving the clothing down the throat of the viewer.
John Yorke, Creative Director of the company behind the campaign Fold7, comments: "Horror is a tricky genre to convey in advertising and it's rare that there is the opportunity to explore the 'dark arts' in a commercial context, so it was a really interesting creative challenge for us. We had a lot of fun and a few frights making this ad." Alicia Adcock, Firetrap's Brand manager, explained "Firetrap has great heritage and our challenge was to enhance the edgy, urban personality of the brand. Fold7 and the director have done a fantastic job in interpreting our brief, we're really pleased with how this has turned out." The ad was designed to appeal to those of a darker disposition of all ages, and position Firetrap as the company that understands their sensibilities, succeeding in those goals entirely.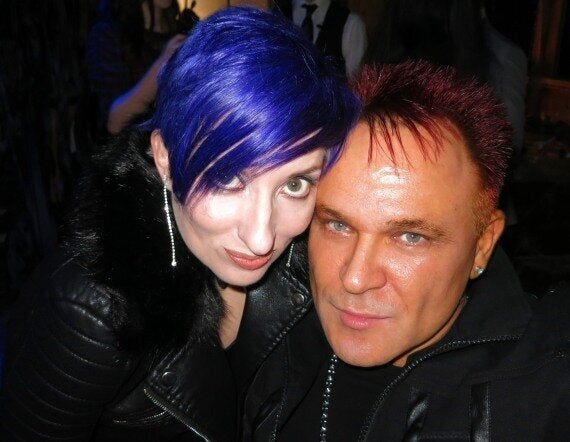 To celebrate the campaign, a party was thrown the day before All Hallow's Eve, in the heart of London's now trendy Hackney. The London Fields Brewery was filled with creatures of the night of all ages, including yours truly, ready to let their cobweb strewn hair down. I don't usually get invited to fashion parties anymore, but once was a regular with the "in crowd" so my wife and I got our glad rags on and hit the town not sure what to expect. We were rather pleasantly surprised. It was a great night, surrounded with really nice friendly people and we even danced a bit (the DJ played Roxy Music!!!). It shows that the UK fashion scene has grown up and now feels much more secure in it's skin than it was back in my day... either that or Firetrap people are just really nice. Before they unveiled the promo, the audience were scared out of their skins by the Firetrap dancers, who dressed in the Deadly Denim range of jeans rushed out from their hiding place with the venue and acted all possessed and dancy. Image Thriller with people in jeans and bras! I don't know why but it made me jump out of my chair!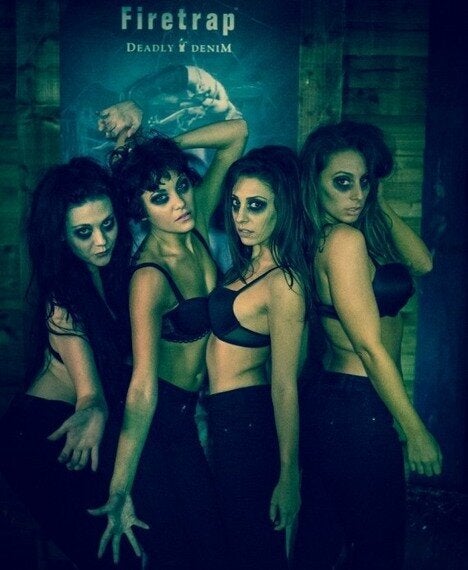 Firetrap have staked their claim to the alternative side of mainstream fashion without scaring away the more conventional shopper. So whether you are a teenager with a love of heavy rock and skulls all the way through to an aging Punk/Goth like me who needs to look good while they take the kids to school, Firetrap will provide something that tickles your deadly taste buds without breaking the bank. It is also very nice to see the cult Firetrap mascot, 'Deadly' the gnome, return to scare us all.
Photos and Video by permission of Firetrap and Diane Wallace