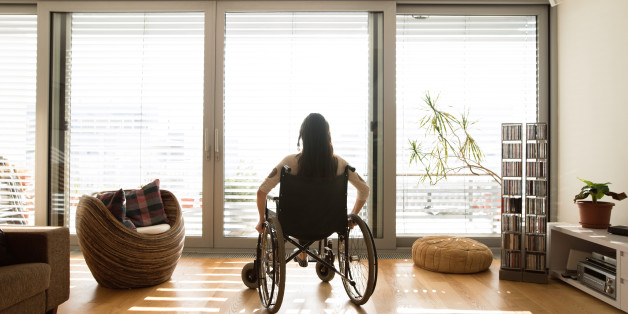 Halfpoint via Getty Images
On April 2013 the government introduced the Personal Independence Payment, a new so called "disability benefit" which would replace Disability Living Allowance. DLA itself was introduced in 1992, when the existing Mobility Allowance, which helped disabled people with the financial cost of getting around, and Attendance Allowance, designed to assist with the extra costs of day to day living and care disabled people face, were combined. The government claimed that PIP would be a fairer benefit which would help more disabled people and assist in the fight against fraud. From the outset however, disabled people raised their voices in concern, and ever since there has been a growing clamour of stories from people who have been failed by the new PIP assessment process. These anecdotal stories are slowly being backed up by statistical evidence, proving that the PIP system is failing the very people it is claiming to help.
This week the DWP released it's own official statics for PIP, which explains that nearly 3 million claims for the benefit have been registered between April 2013 and July 2017. It claims that the waiting times for people applying for PIP have dropped by two thirds from where they were in July 2014. Hooray you might cry, but let's delve a little deeper. In July 2014 the waiting time was up to 40 weeks, from registration to DWP decision, and it is now 16 weeks. So nearly 10 months, to nearly 4, but this is only to an original decision. The Ministry of Justice statistics, released earlier this year highlighted that over 65% of all cases that take that original decision to appeal win against the DWP, and are awarded a higher level of benefit. This appeal process occurs after a Mandatory Reconsideration of the award, which at July 2017 over 600,000 claimants had applied for. One 5th of these won at reconsideration. What this means is, if you feel your assessment was incorrect, you can add many more months of uncertainty to your life as you wait to hear the outcome of the MR, and then, if you go to appeal yet you live more of your time in limbo unsure of what will happen. At the end of this period you will most likely win, but you are still left uncertain during the whole time.
By now you may feel I am not a huge fan of the new Personal Independence Payment, and you'd be right. I have been charting my own experiences of trying to move from DLA to PIP in my PIP Diary here on the Huff, and since starting in March 2017 I have been inundated with people telling me their nightmare stories of the process. Tales of people who cannot walk, or some who don't have legs at all, being assessed as being able to walk 20 metres. Horror stories of people who have had their condition questioned who died before the refusal letter arrived. People who were suicidal being asked why they hadn't killed themselves at assessments. The list is far too long to include here. A recent survey of 1700 disabled people by the Disability Benefits Consortium showed that the health of 80% of those polled had deteriorated while applying for PIP. The process of applying for a benefit designed to make disabled people's lives easier actually makes them less able. The report also showed that 11% of people trying to apply for PIP were unable to complete the forms at all. Another shocking finding, and one that mirrors my own experience, is that 58% of people found their assessor did not understand their condition. Thus this week's statistics highlight that the wait for a failing benefit has dropped slightly in four years, but it demonstrates nothing of the heartache and stress people waiting for the assessment experience. It also be noted that the report shows the wait has nearly doubled in the last six months.
This is the key issue with statistics. The DWP will be patting themselves on the back for cutting the waiting times for PIP claimants from 40 weeks to a mere 16 in the last three years, and I am sure the government will be praising the hard work involved in the feat. What they don't show is the real human suffering involved in the process of claiming this benefit. In my case I've spent every day since I first applied in March worried about my claim. I was given a lower award due to mistake in my assessment, as the assessor misunderstood a basic medical term. I asked for a Mandatory Reconsideration which failed as the DWP lost the extra evidence I sent by recorded delivery, so I went to appeal. At this point my evidence suddenly was found, and a second MR found in my favour. This took six months. Only after I found the award had gone in my favour did I realise the amount of stress the whole process took, and mine was fairly straight forward. For too many disabled people out there PIP has been a disaster. An overly complex system, with under skilled assessors, with an appeals system that adds to the already existing complexity and waiting times that however you look at them are just not good enough.
No matter how you spin the latest statistics, for those who the Personal Independence Payment was designed to help it's been a nightmare. Isn't it time that the voices of disabled people were listened to, and this failed benefit change was over turned?