On a cold November night I fought my way through the twisting lanes of Brighton to the Fisherman's Vestry, part of the beautiful St Paul's Church, to take part in an intimate literary event which aimed to explore the connections between creative writing and campaigning. Sea Changers brought together writers from a wide range of backgrounds and asked them to discuss how their creative practice and their campaigning struggles intersected, and if they cross pollinated each other.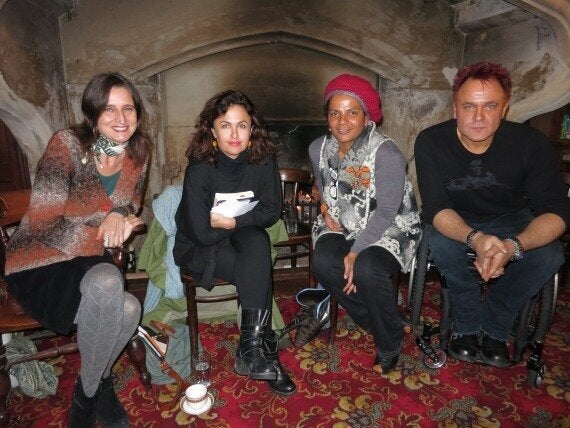 Naomi Foyle, Selma Dabbagh, Akila Richards and Mik Scarlet
The church itself is a hidden gem that sits on West Street, one of the main roads in the centre of Brighton. The Fisherman's Vestry is off the main church, a place created for the fisherman to warm themselves after a morning's work before attending mass. With the fire roaring behind us, the four writers sat readying themselves before the small but attentive audience.
First to speak was the person who had gathered the talent together, novelist and poet Naomi Foyle. Ms Foyle is best known for her challenging science fiction writing, with her first book Seoul Survivors being described as a cyber thriller and her second Astra being the first in her The Gaia Chronicles trilogy. I was contacted by Naomi as she was putting the finishing touches to her next book, the second in this trilogy Rook Song. The book contains several disabled characters, and she asked me to ensure she had created true and realistic figures to populate this ground breaking novel. I assured her she had, and without giving anything away, Rook Song is an exciting clever piece of sci-fi that captures the experience of disability and the anger of being excluded perfectly. It also poses many questions relevant to our modern view of physical and cognitive impairments. It comes out early next year. However Ms Foyle did not focus on her own work, but instead asked the other writers to explain their feelings on the subject of creativity and campaigning.
Selma Dabbagh, a British-Palestinian fiction writer who's Radio 4 play The Brick was nominated for an Imison Award, explored how her family being displaced impacted on her life, both personally and creatively. Ms Dabbagh discussed how she chose to become a lawyer working in the field of international criminal law due to her experiences growing up moving from place to place, feeling the ache of having no fixed home. She told the room of her work fighting for justice for the individual against the power of the state, and of her dream of a free Palestine. Ms Dabbagh is a avid supporter of creative artists with Palestine, and highlighted the superb quality of work currently coming from the war torn region. She then read from her first novel Out Of It, published by Bloomsbury, transporting the room to a beach in Gaza as the characters battle to get to work after explosion. Ms Dabbagh ensured the room that while Palestine is every bit the place seen in the media, it is also a home of great creativity, potential freedom and tradition. I found her talk very moving, and it was a great honour to be on a panel with someone who gave so much commitment to justice and to the arts, who actively contributed to making a better world.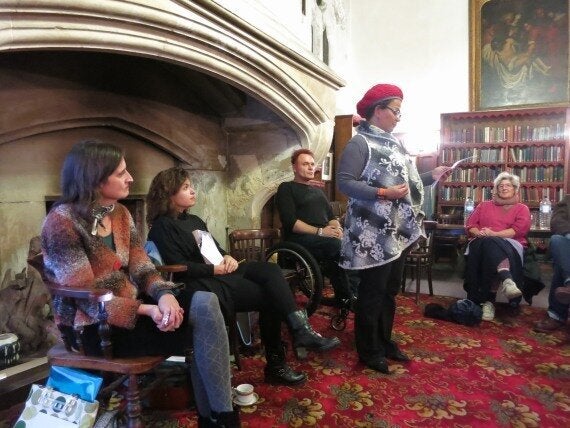 Akila Richards enthralls the audience
Next was writer, poet and spoken word artist Akila Richards. Her poems and short stories, that explore her experiences stemming from her Liberian-German heritage, have been anthologized in The Map of Me (Penguin 2008), 'Red Saviour', RED (Peepal Tree Press 2010) and Ink On My Lips, (Waterloo Press 2013) with a short story forthcoming in Closure (Peepal Tree Press, 2015). Ms Richards, an associate artist in Snakes and Ladders, enthralled all gathered in the Vestry from the moment she stood. She performed a spoken word piece around the tale of battle of religious wills between worshipers one summer day, a true story that occurred on Brighton Beach. Her skill at holding a room and her presentation were a joy to behold, and yet again I was overcome with a sense of privilege with my being part of such an amazing panel. As Ms Richards sat down, the applause could have raised the church roof.
Now it was my turn. I cannot claim to have had any works published, other than my journalistic work and my musing as a columnist, this being another reason why I felt so lucky to be here. With this in mind I launched into what I hoped was a humorous exploration of my life story, how my experiences as a disabled person drive my creativity and why I am so passionate that society needs to stop seeing impairment with negativity. I then focused on my reasoning behind my campaigning against assisted dying and how I felt that any moves towards a concept of dignity in death might have dark implications for disabled people until our society could ensure we all achieved dignity in living. I finished unsure if the audience would agree with my speech, as it is a topic that touches the fear of illness and death held by most people. Luckily I soon found I need not have worried.
Before we all retired to a local pub, the audience asked questions and passed comment on the combined contributions of the panel. It was amazing to see how our short 15 minute talks has touched all those who attended. I left to return into the cold dark night feeling remarkably joyous. While we all came from disparate backgrounds, creative techniques and output, and campaigned on a wide range of issues, we all thought that tomorrow could, and should, be better than today. As I wheeled through the inaccessible streets of Brighton, and then fought my way into a bar that had two steps into the front door I did not let this get me down. I could only see what could be, not what was. That is the power of dreaming.
Sea Changers was held in association with Fabrica