When most people think of disability one of the groups that come to mind are Paralympians. The 2012 games allowed the public to gain awareness of the sporting prowess of a growing number of disabled sporting stars, and brought many Paralympic sports to public gaze for the first time. I think that this is wonderful, but sadly I feel it has left another group of disabled people that the public should know about remaining unsung; the artists. However this is all about to change.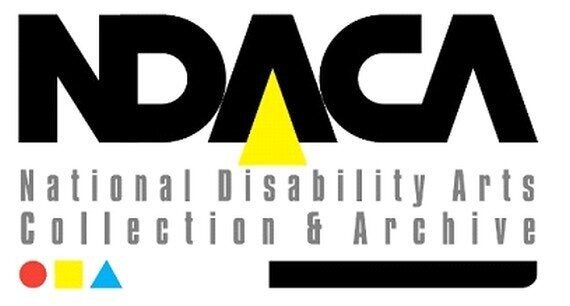 In June, the National Disability Arts Collection and Archive was granted funding of £1 million pound by The Heritage Lottery Fund, Arts Council England and Joseph Rowntree Foundation with the goal of creating a permanent archive of the work of disabled artists. You might not know this, but alongside creating high quality, challenging work, disabled artists have been at the center of the campaign for equal rights for disabled people for over forty years, and the NDACA will allow the public to chart this battle and experience over 1000 pieces of art, print and film created to reflect these artists take on our disabling world and the lives they lead. The project will digitally archive these works and then allow them to be accessed to stake disabled artist's place in the history both of the art world and the wider society.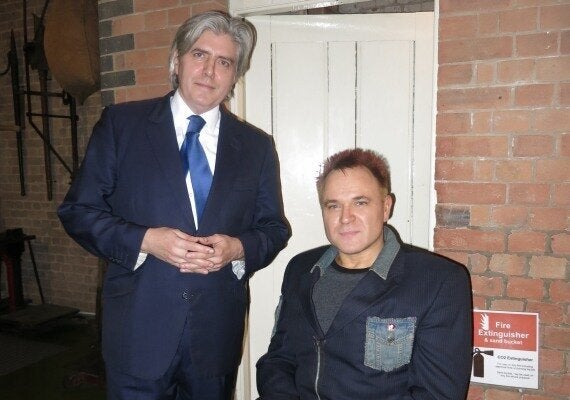 Pictured with project director David Hevey
The NDACA project director, David Hevey, explained "This HLF and other funding creates a fantastic opportunity to both create the NDACA heritage story, but also to pioneer new ways of telling diverse stories across digital platforms; telling the unique story of the Disability Arts Movement, when disabled people and their allies broke barriers, helped change the law and made great art about that struggle - and now, we are getting that unique heritage story out to millions, going live in 2017/2018. As a media professional, I am delighted to be at the helm of delivering this unique heritage story".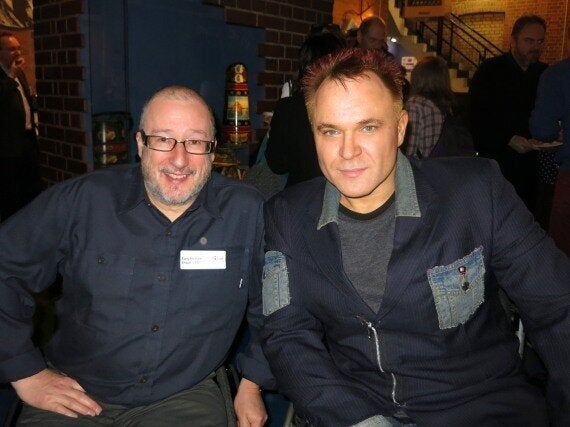 With Shape Arts CEO Tony Heaton
Tony Heaton OBE, CEO of Shape Arts, a disability-led arts organization that works to improve access to culture for disabled people by developing opportunities for disabled artists, training cultural institutions to be more open to disabled people, and running participatory arts and development programmes, and the NDACA project founder explained the reasoning behind the project, "This is the realization of a dream I first had almost 20 years ago when I started to plan NDACA and began collecting and putting in context the great works of the Disability Arts Movement to ensure the moment was not lost. Now, with HLF support, and Shape the lead partner among so many exciting partners, we are going to preserve and promote that powerful and unique movement - the Disability Arts Movement - for all audiences and for generations to come".
Baroness Jane Campbell, the NDACA Patron and doyen of the disability rights movement, says: "This is exciting news and we are extremely pleased that HLF is funding the landmark National Disability Arts Collection And Archive. In these testing times for disabled people, when disability hate crime is on the increase, assisted-suicide pressures intensifying, and support services diminishing, there is no better time to show that great cultural revolution of the disability arts movement, which NDACA will record and which I am proud to have played a part in".
I too have been active as a disabled artist, performer and musician since the early 1980s, and am overjoyed that the work of so many of my contemporaries, as well as some of my own I hope, will now become available to a wider audience thanks to the funding of the NDACA. I regularly meet younger disabled people who have no knowledge of their history, and I am sure that this project will help going someway to setting this right.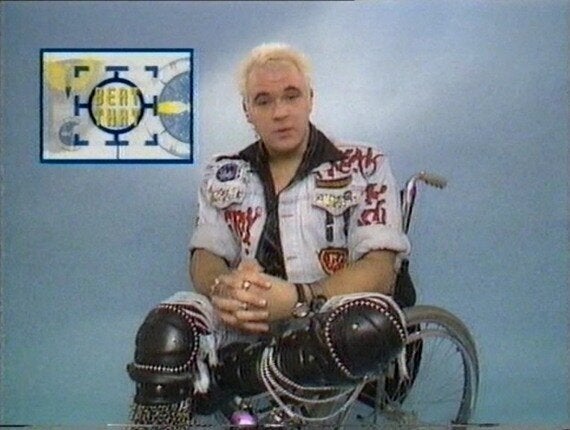 Screenshot from my Emmy Award winning TV show, Beat That (C4, 1992)
I was also one of the first disabled people to appear as a TV presenter on mainstream television back in the late 1980s and by the mid 1990s was a regular on the nations TV screens, before having to take time off due to ill health, yet today even people in the media know nothing of this. I am just one in a long list of disabled creatives who struck out, did amazing work and made a name for themselves before being forgotten. The reason why we need to be remembered is not an ego stroking question, although being recognized is always nice, but because if you forget your history you can find yourself repeating it.
Current moves for more diversity within the media make no reference to how far the industry had come towards the end of the last century, because no one remembers. The same goes for the erosion of disabled people's legal rights. The disability arts scene was at the forefront of fighting to gain these rights, but if the battle they so valiantly fought is forgotten so will be the position disabled people used to be in. Disabled artists highlighted issues such as independent living over placing disabled people in care homes, and so it is ironic that the NDACA funding has been announced as the Independent Living Fund, something many artist campaigned to put in place, was being closed down.
Art really can be a force for change, and the Disability Arts Movement is a shining example of this. Now that the NDACA has gained this funding, disabled artists will finally gain the recognition they deserve and the place in the history of the arts... and the UK as a whole.
Popular in the Community