I am writing this from my sick bed after a nightmare of an Easter. It all started so well...
My wife Diane and I have spent the last few years focusing on our careers. As we are both self employed, running small businesses, almost every hour has been spent working or searching for work. My poor wife, who is an in demand web developer, sometimes works 12-14 hour days 7 days a week. So when we received an invite to a family birthday party down in beautiful Cornwall we decided to treat ourselves. We booked into a rather posh spa hotel just outside St Ives for four days, and looked forward to pampering ourselves like never before. Obviously as I am a full time wheelchair user, who cannot walk at all, we made sure this fact was known to the hotel, but we were promised this was no problem.
Bright and breezy on the Thursday before Good Friday we set off, with a plan to take gentle journey. We stopped many times along the way, and arrived at the hotel after an eight and a half hour drive. While it might have taken longer than usual, the breaks allowed us to arrive feeling pretty refreshed and raring to go on the spa front. Warning bells rang as we discovered the front door of the hotel could only be fully opened from the inside, meaning I would not be able to enter the hotel without assistance. However as we were so excited as the thought of the luxury that lay ahead we were oblivious. It was only after we booked in and exited the lift on the second floor on the way to our room only to be confronted by a small flight of steps as access to our room that we started to get worried. The steps had been ramped with a wooden ramp that was so steep it was not only impossible for me to get up without considerable help but it was also dangerous. If I attempted to wheel down it I would have fallen out of my chair and ended up seriously injuring myself. So off we went back to reception to ask if we could be moved. After an hour the really helpful and friendly staff came to say that had found us another room. Horror of horror, this one was also up a ramp just like the previous health hazard. By now I was fighting back a growing rage that meant my poor wife had to deal with everything. Following another hour or so, we were shown another room which was on the ground floor but was totally inaccessible. Then finally we were given the accessible room... yes, I know, they had a wheelchair accessible room but it had a sea view and someone else had requested such a view. So instead of allocating it to the person who needed it, it had been given to whoever was prepared to pay extra. Nicely against the Equality Act, but I digress.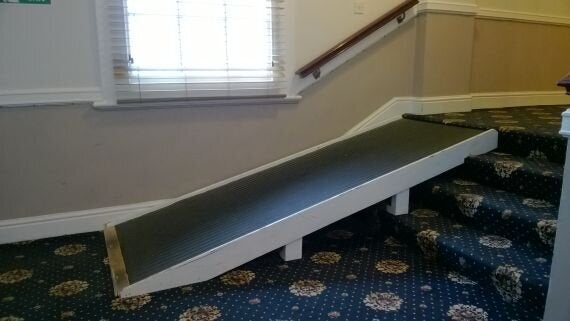 Note, this is NOT an accessible ramp!
By now I knew things were not going to run smoothly. As we settled in to the room, which had a shower that you had to walk to get into (so not fully accessible then), my wife thought it wise to check that the spa facilities were going to be OK for me. When she sheepishly returned it was clear that the room fiasco had set a precedent. It transpired that the swimming pool was down three steps and the spa was up a set of four steps that didn't even have a killer ramp. With the hotel costing us more than a weeks rent per night, I was damned if I was going to spend four nights being stuck in a small, poorly accessible room with only a TV as our possible entertainment while a world of pampering was placed out of my reach. After one night we booked out, and was expected to pay for the one night too I might add, and journeyed home again to London. Annoyingly the long journey, combined with a foolish shopping trip into Camden's famous Stables Market with it's awful cobblestones (I've already written about how cobbles are not only difficult for wheelchair user like me, but can cause actual injury - Cobbles; Can A Paving Material Be Evil? - How Poor Access Can Kill), led to me injuring myself enough to require two days in bed. This Easter turned out to be one of the worst in a long time.
I expect this is an experience shared by many of my disabled readers, being unable to do the things that most non-disabled people take for granted. At the minute all of the major political parties are expecting disabled people to play a more "constructive" role in society. You know, work, not claim benefits and the things that "normal" people do. Yet we continuously expected to put up with being excluded from the society we are expected to pay into. All my wife and I asked was to be able to spend a few days away, at a spa pampering ourselves. Yet because I use a wheelchair we were only given a chance to stay in a room without being able to wash, use very few of the hotel's facilities and still pay top whack for the privilege. One of the things I expect from the people who run the country I live in is to enforce the laws of the country. Yet time and time again disabled people are faced with businesses that just do not make themselves accessible to disabled customers, and the excuse is nearly always expense. Why should disabled people be expected to pay into a country that excludes them from the simplest of activities? How would you, my non-disabled friend, feel if this was your daily experience? I doubt you'd take it with the dignity that most of us disabled types do!