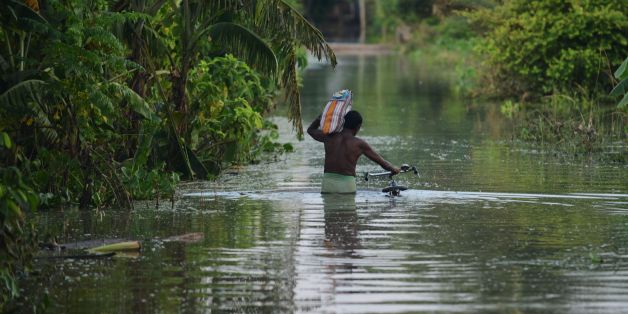 DIPTENDU DUTTA via Getty Images
Right now the world's attention is on the emergency unravelling in Texas. The vast scale of the floods and scenes of elderly and young alike being rescued from the rising waters are shocking. At the same time millions of people are also battling the effects of extreme flooding across Nepal, Bangladesh and India and their stories matter too.
While these contexts may seem worlds apart, the challenges are similar. The Red Cross is there, supporting people with immediate needs - emergency shelter, health, food and clean drinking water. And we'll be there when the water subsides, and the true extent of damage is revealed, supporting communities as they recover.
We're no stranger to flooding here in the UK, from Cumbria to Somerset and recently in Northern Ireland. We know all too keenly how floods destroy homes, livelihoods and infrastructure.
In recent days, over 1,000 people have died across South Asia with a staggering 41 million people affected. People have lost their homes, crops and livelihoods. Flooding has seen more than a third of Bangladesh submerged. Health facilities, roads, schools and markets are under water. More rain is forecast and the situation could yet get worse.
The horrifying images of rising flood waters can feel overwhelming. However, there is more the world could be doing to better prepare communities for these forecasted crises. Whether in the city of Houston or a remote village in Nepal, building community resilience is essential to ensure strong, relevant and sustainable responses to crises.
Voluntary groups and emergency responders are vital in disasters, but the first response will always come from the community themselves. People need the tools to be able to protect and help themselves in an emergency. We've seen the impact of early warning systems in flood-prone areas, where local people have established systems for alerting and evacuating vulnerable neighbours. Even simple things like having a grab-bag and emergency plan can prevent delay and distress. Putting these systems in place requires some investment from authorities, but it makes a real difference.
In the immediate aftermath building community resilience could see practical and quick assistance, such as cash transfers, to prevent further deterioration of people's situations. In the longer term resilience is about investment in health education to prevent the outbreak of water-borne disease like cholera or diarrhoea, and the ability of people to diversify livelihoods, so that they can continue to have a source of food and income if crops are destroyed by flooding. Building resilience sees communities exposed to crises able to cope and recover without compromising their long-term prospects. It other words it reduces the impact of a crisis.
We hear the death tolls and survey the destructive power of Mother Nature, but if we want help people in the longer term, we have to get serious about investing in resilience.
To donate to the South Asia Floods appeal visit: www.redcross.org.uk/southasiafloods 0300 023 0817