The world looked on in horror as a massive 7.0 magnitude earthquake struck Haiti on 12 January 2010. More than 200,000 people were killed in the capital alone, along with countless thousands of animals, including beloved pets and vitally important livestock. Just 72 hours later, the World Society for the Protection of Animals (WSPA), with a team led by Disaster Operations Director for the Americas, Gerardo Huertas, rushed to aid the animals of the devastated nation.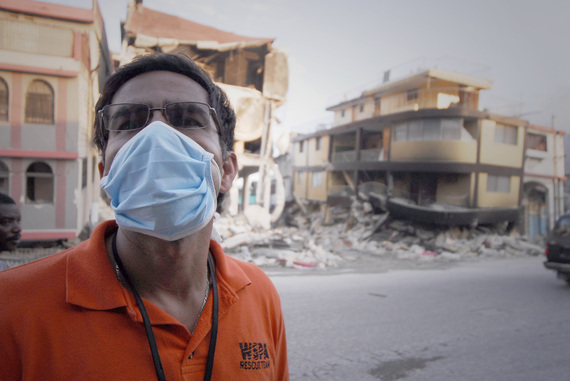 Gerardo in Haiti © WSPA / IFAW / Tomas Stargardter
In the face of such widespread destruction, we quickly realised that we needed to lend our expertise and combine resources with other organisations to have the most effective impact possible for the animals whose lives and well-being were most in danger.
WSPA was well prepared to help even before taking action. We had been working to help provide care for animals on the disaster-prone island for years following previous events there. Still, we were shocked at the extent of the devastation and knew we had to act quickly.
Gerardo and his team understood that, for the Haitian people, animals are at the same time companions, economic investments and savings accounts. They perform key roles on important occasions such as major community events - from births and deaths, to weddings and baptisms.
Farm animals also play a vital role. Many of the people our team met - even in the urban areas of the capital city - said they would have been unable to put their children through college if it hadn't been for their pigs or cattle. For some families, animals are the only way they can afford to buy medicine, clothes and food. In a mostly informal economy such as in Haiti, livestock is often used to barter for good and services - for example pigs are used to pay for stays in hospital. By protecting animals we helped to give their owners hope for the future, and the opportunity to rebuild their lives much more quickly following the destruction of the earthquake.
WSPA's first priority was to meet representatives of the Haitian government and offer our help to save as many of the surviving animals as possible. It was essential for us to work alongside the government so we could help any work to continue even after we had to leave the country. It was particularly important for us to meet up with the representatives of the Ministry of Agriculture. Sadly, we discovered that many of their colleagues had been instantly killed during the earthquake - and such tragedy was not isolated.
Within days following the quake, we helped set up the only animal-focused group of its kind - the Animal Relief Coalition in Haiti (ARCH) - in partnership with the International Fund for Animal Welfare (IFAW). It was the first time that animal protection organisations had formally come together in a bid to strengthen and coordinate disaster response efforts. The decision proved to be a success, as ARCH went on to treat over 70,000 of the most critically at risk animals, thereby also giving hope to the thousands of Haitians who rely on their animals to survive.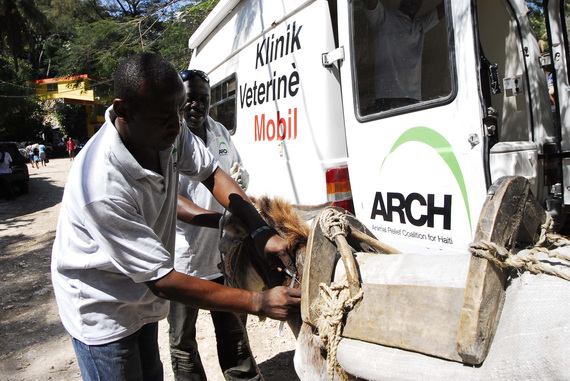 © WSPA / IFAW
We initially found that most of the surviving animals we helped had been injured or trapped by collapsed buildings. But as the weeks went on, starvation and disease became the biggest problems. We acted quickly, providing them with the food, medical care and shelter they so desperately needed. We know from our follow-up assessments that this rapid response saved the lives of countless animals and prevented their further suffering as the often forgotten victims of such disasters.
Before the earthquake, the government, with support from WSPA, had been running a successful rabies vaccination programme. However, that important work came to a halt in the wake of the disaster. We stepped in to resume vaccinations and help prevent people and their pets from contracting rabies through infected animal bites. We know this work saved the lives of animals and people alike, and helped avoid the commonly used response of unnecessarily and cruelly culling dogs following a rabies outbreak.
In 2014, we mark 50 years of WSPA's work in disaster response and preparedness, and we reflect on the hundreds of projects we have embarked on before and after the devastating quake in Haiti. Gerardo and his colleagues from WSPA regularly travel to Haiti to continue our work there as well as respond to subsequent disasters throughout the region, such as the largely unknown disaster currently unfolding in Bolivia - a drought which has already killed thousands of animals.
Likewise, our colleagues based in Asia Pacific mirror their important efforts protecting animals on the opposite side of the world. For example, they are still protecting animals on the typhoon-ravaged islands of the Philippines long after most of the world's media has moved on to cover other stories. Wherever in the world we are, we focus on meeting the needs of animals whose situation reflects the needs of communities to recover and grow.
Our goal in Haiti and elsewhere continues to be providing equipment, training, advice on preparing for disasters and raising awareness to improve animal welfare, which is critical to improving infrastructure, creating jobs and rebuilding communities. For example, the labs we built with the Ministry of Agriculture continue to play a vital role in helping to combat diseases through identifying harmful bacteria and parasites. And our disaster preparedness training of local officials alongside broadcast public service announcements (PSAs) help people and their animals to be better equipped for future disasters.
Haiti has captured our hearts and we should praise the Haitian people and animals for their resilience in the face of such adversity. Our experience of working with them gives us good reason to be encouraged. Even amid the great loss and sadness following the quake, we witnessed many moments of joy and recovery in action.
As we provided aid, we came across many pets who were separated from their families or whose owners had perhaps died. They were matched with displaced families whose own pets may have been missing or lost. Being given a new pet to care for helped bring comfort and hope to the families themselves during such a traumatic time.
As we solemnly remember the devastation in Haiti four years ago, WSPA pledges to continue supporting efforts to rebuild communities and create a better life for the people and animals living there, and indeed around the world.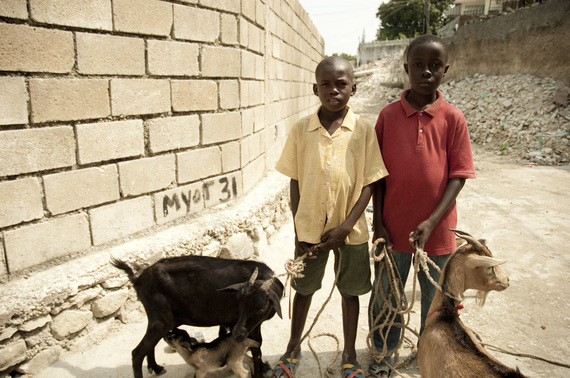 © WSPA / IFAW