 Twenty years ago, Sainsbury's founded the food distribution charity Fareshare to ensure that all surplus food from our stores was collected and distributed to the people who needed it most.
Every morning Fareshare's army of volunteers arrive at warehouses up and down the country, receiving crates which can contain anything from meat to ready meals - produce from supermarkets that's still perfectly good to eat.
The volunteers quickly get to work - some charities want fresh fruit and veg, others want long life products or milk - but it all has to be out of the door in time for lunch.
One charity receiving daily deliveries is Deptford Reach in South London, a charity helping to rebuild the lives of people affected by homelessness, mental illness or substance abuse.
The team there would put many of our famous chefs to shame - within a matter of minutes a meal plan is devised based on what's on the back of the truck that morning.
The delivery will provide lunch and dinner that day - all perfectly good food getting to people who really need it.
What kept coming back from charity partners was how much they valued the fruit and veg on offer - nutritional produce that's perfectly good to eat.
That nutrition, which would otherwise be lost through food waste, is something we're determined to tackle.
Last year, we linked up with some of the biggest fresh produce suppliers in the UK to launch our supply chain donation programme.
It means that fresh fruit and veg that isn't quite right for sale in stores is bypassing shelves and going straight to charities - many of whom would previously have struggled to get fresh produce out of the supply chain before it goes off.
Now we're continuing that work, to find out what happens when that fruit and veg leaves one of our stores in our customers' shopping bags.
It's something we discussed this month when I gathered individuals from around the industry to talk around waste.
We hosted the leaders of food charities, waste organisations, our suppliers and journalists.
Guests at this sort of event tend not to hold back - which is something we encourage. By engaging people from around the industry we make sure that we are getting the full picture.
The message that came across loud and clear was the need to focus not just on food waste at supermarket level but across the supply chain - right through to the home.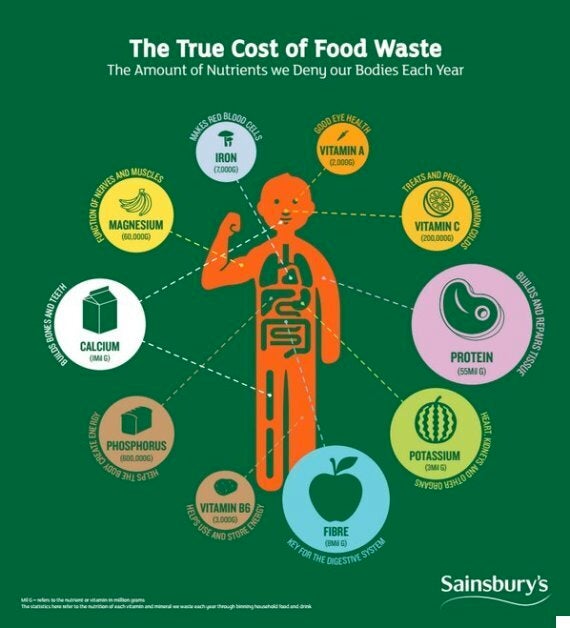 We already know that our 'waste not' stance is popular with our customers - it harks back to the days of our grandparents, who made the most of the food they had.
In a recent survey we conducted shoppers cited food waste as one of the areas they thought supermarkets should prioritise - and looked to retailers for help in the home as well.
We already know that the average family throws away £700 worth of food a year - and today, we're releasing statistics on what that looks like when it comes to nutrition.
We found that British family diets could benefit from over 60 tonnes of additional vitamins and minerals annually by reducing food waste.
Our research showed that the most wasted nutrient in the UK is protein - every year households throw away enough to provide 1.1million adults with their recommended daily allowance.
Fibre is also in the top ten binned nutrients - fruit and vegetables thrown away mean that eight tonnes of it is wasted - over 400,000 adults could get their daily allowance from this.
With these facts in mind, we have sharpened our focus on customer-facing efforts on addressing this as an issue.
We are launching a major new campaign, To The Rescue, designed to help our customers waste less food.
The campaign focuses on the top ten 'problem' foods that we buy but throw away before we eat, as identified by waste organisation WRAP and supported by detailed customer insight.
The usual suspects are all there - the end slices of a loaf of bread, fruits like melon that we have out in the bowl instead of in the fridge, and perhaps a surprising no.1 offender - the humble cabbage.
It's supported by our 'Food Rescue' app, developed in partnership with Google, which generates recipes from items the user has left over in the fridge.
With the information we have, we are looking more closely at customer behaviour - joining customers in their homes and using video diaries at meal times - to work out how we can innovate in a way that will help customers to waste less.
That might mean changes to packaging, more information on storage or prolonging the life of food - like freezing meal portions for a later date.
We know that our customers expect the very best from us. As retailers we're expected to lead the way when it comes to matters of nutrition, sourcing and sustainability - and that's right.
Right now, supply chain donation is a pioneering approach. Hopefully it won't be another twenty years before we see the industry following suit.
Mike Coupe is the CEO of Sainsbury's