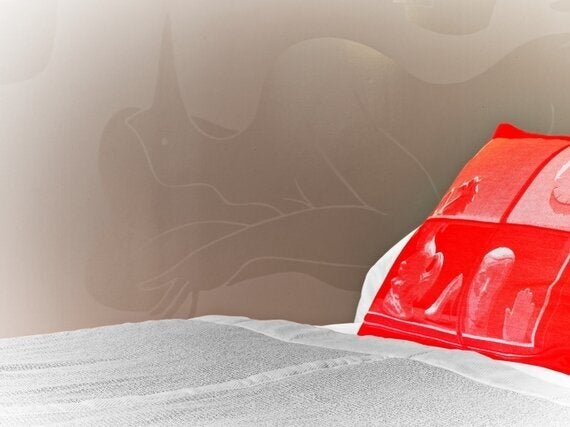 On one side of the block you have the familiar sight of Amsterdammers tying up their bicycles as they go into the Albert Heijn supermarket, which is only across the street from the Royal Palace on Dam Square. It's like having an Asda opposite Buckingham Palace, but this is Amsterdam. They do things differently in Amsterdam.
I walk around the far side of the building into Spuistraat and there I find not a rack of bicycles but a black limo delivering a guest to the city's newest hip hotel, the W Amsterdam.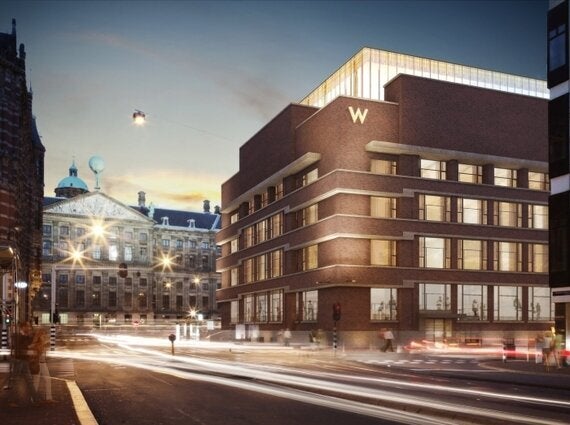 I was arriving more modestly on foot, as it's only a 10-minute walk from Amsterdam's Centraal Station. I went in and found myself trying to check-in with the Concierge. He told me the check-in was upstairs so I headed for the stairs. 'No, no,' he said. 'I recommend the elevator - it's on the 6th floor!'
I discovered why when the bell-boy took me to my room.
'It's a historic building,' he tells me, 'and when we converted it there were strict rules, and we weren't allowed to change the interior. There was no room for a check-in desk downstairs, so we decided to put it on the top instead. People seem to like it.'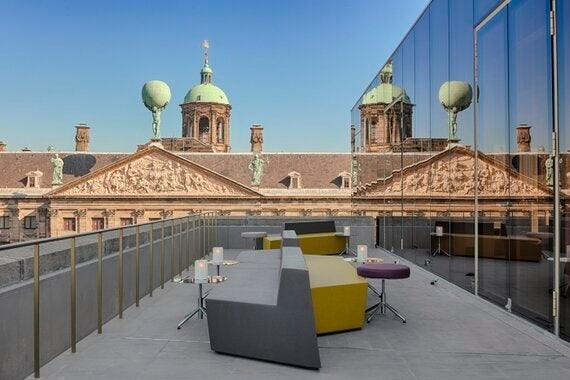 I can see why. It's certainly different, and the reception area wraps around into a lounge area and then the bar, and through to an outdoor lounge area with great views of the city. So after the initial brief confusion, I can see that it's a brilliant idea. And once you have your room key, which also operates the elevator, you only need to go back to reception when you want to go to the bar... which, in my opinion, should be frequently.
On my first visit I browse the cocktail menu and spot gins such as Sipsmith's from London and G'Vine, which is made from grape juice in Cognac. They're both exceptionally good and show a Bar Manager who knows his spirits. I order a cocktail that has fresh sprigs of lavender on top and a kind of lavender oil rubbed onto the stem of the glass, adding to the whole sensory experience.
Next day I look at their #Bloggers Choice list of cocktails, a smart and fun move providing drinks they obviously think will create a social media buzz. I try the I W Amsterdam, which combines Bols genever, lemon juice, honey syrup, some raspberries and an egg white, frothing it up into a concoction that has sweet, sour, creamy, fruity, herby and boozy aspects, all at once. Though genever is the Dutch precursor to gin, it doesn't pop up in cocktails very often as it's a hard mixer and most traditionalists like it neat. But at the W Amsterdam they showed that you can make it work.
Getting my room to work was another matter, but only because it was far more technologically advanced than I am. The first night I thought the curtains were a little thin, letting in light in the mornings. The second night I realised I'd only pressed the button to close the net curtains, and a second button controlled the black-out blind. Oh dear. I apologise to anyone in the Royal Palace, which my room overlooked, if they saw more of me than they wished to on the first night.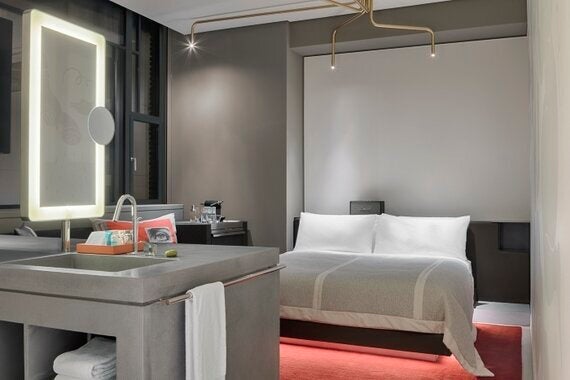 Other than that the room was a combination of the stylish and the practical. If you stepped out of bed in the dark then a sensor switched a subdued light on. Panels of buttons and dials controlled everything... if you were smart enough to figure them out. The sink not only looked stylishly uber-cool, it actually worked efficiently too. The decor was a contemporary mix of blacks, whites and greys, but with colourful punches of reds and oranges on pillows and cushions. It was relaxing but fun, where many designer hotels are just blandly cold.
And as always, a major factor is location, location, location. What could be better than being a block from Dam Square, ten minutes from Centraal Station, and with a tram stop round the corner opening up the whole of Amsterdam to you? Definitely top marks for the W Amsterdam.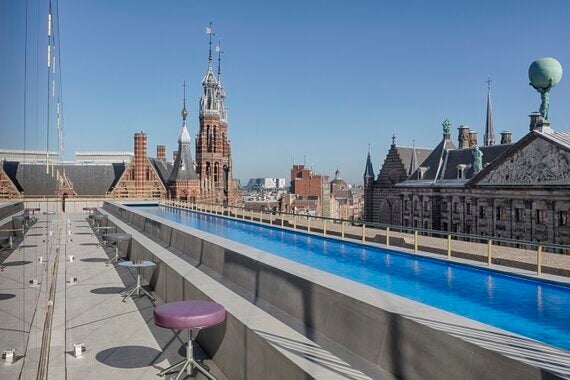 Spuistraat 175, Amsterdam
All photos courtesy of the W Amsterdam.