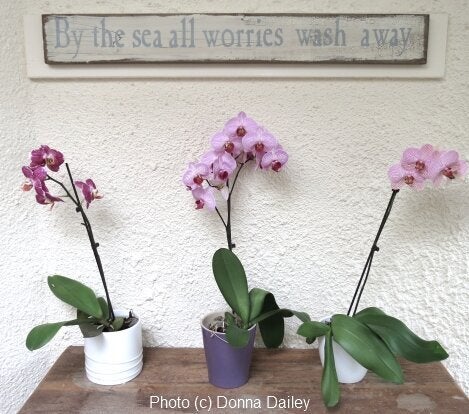 Shortly before we were due to stay at the Loch Melfort Hotel, south of Oban in Argyll, the owners were voted Scottish Hoteliers of the Year. They already claimed to have the best views on the west coast of Scotland, and their Asknish Bay Restaurant has won two AA Rosettes every year since 2001. There was only one snag when we arrived. It was raining, and the view from the balcony of our room was nothing more than fifty shades of grey.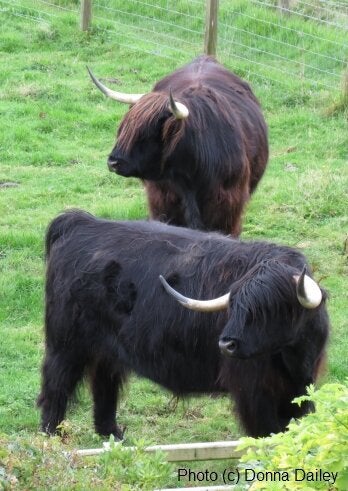 Still, if it ever did clear then there was a pair of binoculars hanging from the balcony door, to watch for the local wildlife, and we could at least see the hotel's three Highland cattle grazing in a nearby field. They'd been bought for the pot, we later learned, but the owners couldn't bear to get rid of them. The hotel had also had its own free-range hens, till an unfortunate incident with a fox.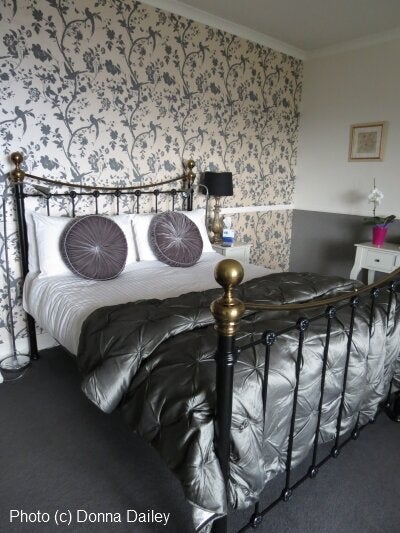 In our very spacious room, as well as the usual tea and coffee maker there was a real coffee maker too. There was also a big brass bed, a bookshelf with three shelves lined with an eclectic collection of paperbacks (they must have very literary visitors), and a TV with a games machine. If it continued to rain, there was no chance of being bored.
Fortunately the rain eased and we were able to look out at the views they bragged about. You can see why they did. The hotel gazes out over Loch Melfort, a sea loch, and every bedroom has these views. Several islands were visible offshore, adding to the Scottish scenic appeal.
However, you can't eat (or drink) a view, as the old saying goes, and I was looking forward to checking out the bar. According to the guest information book in our room, the hotel claimed not only to have the usual fine collection of malt whiskies (let's face it, they all have that) but also, more unusually, 'an extensive range of interesting gins'. In the bar the hotel's owner proved worth his award for hospitality by suggesting we sample a botanical gin from Islay, an island noted for its whisky.
'But now Bruichladdich makes this gin called The Botanist,' Calum Ross told us, 'made from, I think, 31 different plants, spices and herbs, with 22 of them growing on the island.'
OK, sold. Two G&Ts it is. The Botanical was a wonderfully fresh-tasting gin, with hints of heather and peat along with the typical flavours of, well, gin. We could have sat in the bar drinking it all night if we didn't have a date with two AA rosettes. The amuse-bouches we'd already enjoyed with the gin were a good sign of what was to come: a mix of crabmeat with avocado and some spicy pork with relish.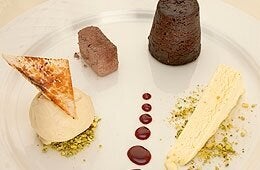 Islay proved that it not only makes wonderful whiskies and now gins, it also produces succulent scallops for our starters, served with an unusual and very clever gazpacho sauce. The mains provided us with more of that tender spicy pork we'd loved in the bar, this time with asparagus, cashew nuts and a curry dressing. The chef here obviously wasn't afraid to experiment, though in a subtle way rather than hitting you over the head with it. It did make the dishes stand out, like serving the dessert of elderflower mousse - good enough by itself - with a spiced plum compote as well as a piece of home-made shortbread. For the plate of Scottish strawberries, the contrast was provided by peppering the strawberries and adding a white chocolate parfait, then reinforcing the intense flavour that Scottish strawberries have by adding a strawberry coulis and, for fun, a strawberry jam doughnut. I like a menu that offers you flavours, fun and a few surprises.
And in the morning the sun came out and the sky was transformed into fifty shades of blue instead. Another welcome surprise at a very welcoming hotel. Now where can we buy that gin?