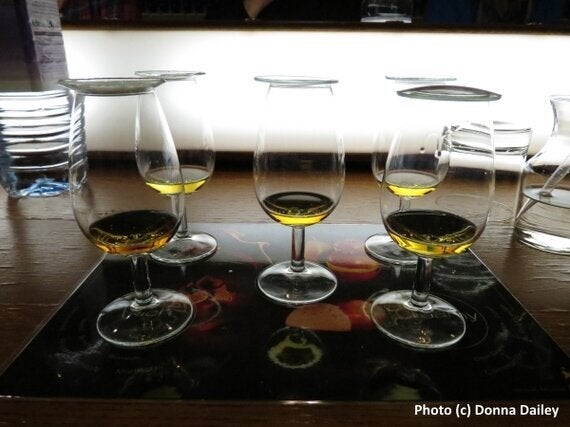 It was at the Cardhu Distillery, a few miles outside Aberlour on Speyside, that I really began to appreciate the skills of the Scottish whisky blender. You can visit Cardhu all year round, but only during the wonderful few days of the Spirit of Speyside Whisky Festival do you get to do things like meet a Master Blender and even try blending a whisky yourself.
The festival takes place every April/May and in 2015 hosted over 400 different events. You might wonder how there could be so many different things to do with whisky. Surely you would run out after two: visiting a distillery and tasting whiskies. But the glory of the festival is that it goes beyond this and incorporates topics that radiate out from the whisky heart of Speyside.
These include art by way of Glenfiddich's splendid Artists in Residence program, which brings artists from all over the world to spend three months being immersed in Speyside and Scottish culture and producing artworks inspired by the experience. You can make treks across the hills following the old whisky smugglers trails. You can visit distillery gardens like the enormous Victorian gardens at the Glen Grant Distillery. You can learn how to pair whisky with chocolate and cheese, and even with a bacon roll.
You also get to visit distilleries that are not normally open to the public, and meet people like Andy Cant. Andy is the Senior Site Manager at Cardhu, who during the festival not only gives a tour but gives groups the benefit of his 35 years in the whisky business and shares some of the secrets of the Master Blender.
Outside the distillery it's an idyllic rural scene. Birds are tweeting and flying around the dark stone buildings of the distillery, which was founded in 1824 by a whisky smuggler, John Cumming. In the green fields around, cows are contentedly munching.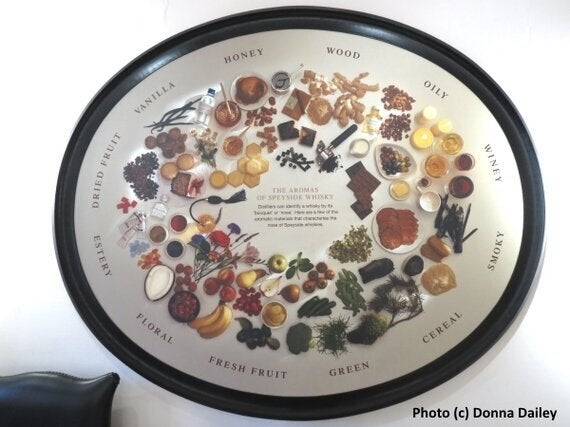 Andy begins by showing us a Flavour Map, which indicates where on the flavour spectrum different whiskies lie. Cardhu is on the green, fresh fruit side. Andy then gives one of the clearest explanations of the maturation process I've ever seen and heard, using charts to show what the distillers are looking for. As a whisky ages you want to get the rawness of the spirit out - and we taste some spirit so we know just how raw it is - and you want the flavour from the wood emerging.
'You want maturity from the wood coming through,' Andy explains, 'but when it comes through too much then as a distiller I get annoyed as the wood starts to dominate my spirit. It has to be three years before you can call it Scotch whisky so after three years you want the rawness out. There's a sweet spot for a few years after the rawness has gone out and before the wood dominates. Older is not always better.'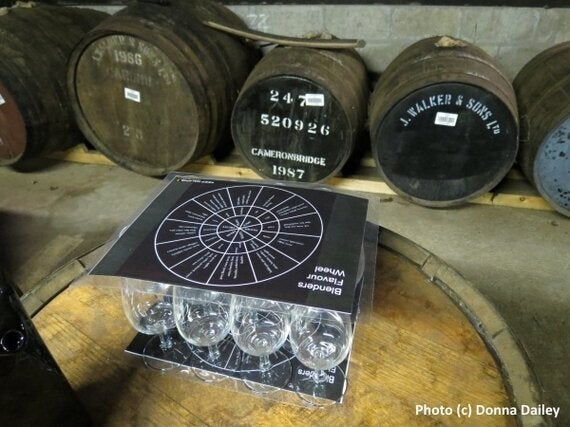 Andy continues: 'A blend is made up of malt and grain whiskies, and each whisky varies with the cask style, the age, the style of the spirits. So the palette available to a Master Blender is enormous.'
We then head for the Tasting Room where we sample four different styles of whisky that will bring different things to a blend, and then a Johnny Walker Black Label blended whisky, looking for elements of all four.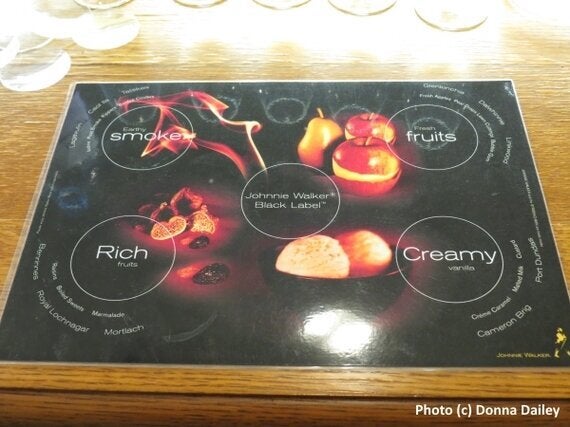 'First,' says Andy, we have a creamy vanilla style of whisky, and I suggest you taste this first, then add a pipette of water, then taste it again and leave it awhile to see what develops. Next we have a fresh fruit style of whisky, and if you were to put these first two together then this is truly a Cardhu. As a blender, I've got my creamy vanilla base and I've got my fresh fruit highlights.'
The other two flavour profiles to play with are the richer fruits of sultanas and fruit cake, and the smoky, peaty taste of a typical Islay whisky.
'Even diluting this doesn't dilute it,' Andy says. 'Mind you, I spent six years on Islay so I like my peaty malts.'
We then try some of the Johnny Walker Black Label, looking for all these elements in it, and in what ratios. We're then split into two teams to produce our own blends, with much hushed discussion and debate. One of our team takes charge of the art department and naming the whisky, which is part of the challenge. We vote for Gallas, a Scottish dialect word meaning cocksure. We argue over the amount of smokiness to use, as it's such a domineering flavour, and settle for 10%. This turns out to be more than the other team uses, but we try to set ours off with plenty of fresh fruits.
When time is up we nervously hand our rival bottles of Gallas and Entente Cordiale to Andy for judging. He sniffs and sips, and seems to take forever going from one to the other. I feel sure it will be a diplomatic draw, but no - Gallas is the winner!
'I like that extra little bit of smokiness,' says Andy. 'They are both very similar and very good blends, but that little bit more peatiness does it for me.'
Hooray! We may have a little way to go yet before we can claim to be Master Blenders, but it's certainly worth a toast. To the Spirit of Speyside Whisky Festival!
The Spirit of Speyside Whisky Festival
The 2016 Festival takes place from April 28 - May 2. Information about the festival can be found on the website www.spiritofspeyside.com from 28 January, where tickets will be on sale from 2 February at 12 noon GMT.
For more information about the Cardhu Distillery, visit their website.