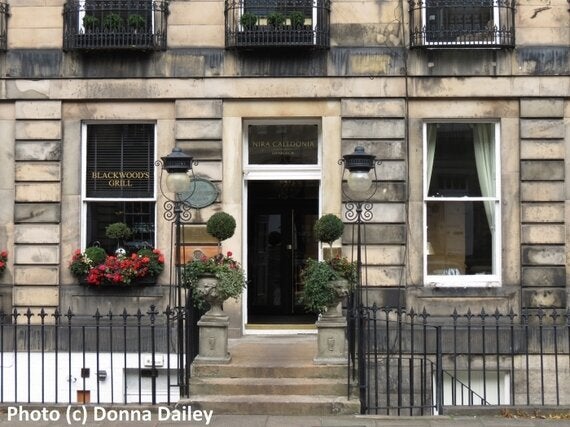 First impressions count, especially when you arrive at a hotel. You may have had a stressful journey, you might have been driving for several hours, you might have had train delays or missed flight connections. The person at reception has no idea what your mood is and how tired you are when you turn up at the desk, so a warm welcome really needs to be drilled into all hotel staff.
Thankfully the staff at the Nira Caledonia Hotel in Edinburgh, a stylish and chic hotel near the city centre, must have had the training. We'd only driven across Edinburgh from our previous night's stay (we were visiting during the Scottish International Storytelling Festival and hotel rooms were in short supply), but even that had been a nightmare with the one-way system sending us round in circles and then back the way we came. And when eventually we pulled up outside the Nira Caledonia, and breathed a sigh of relief at finding a parking spot right outside the door, we then discovered we were too early to take advantage of the free weekend parking. We had the option of paying by Smartphone at the meter, except we didn't have a Smartphone.
Nira Caledonia to the rescue, when we asked what we could do, as we had to zoom off to a festival event. Oh, don't worry, said Sean, the Duty Manager, calming us down. I'll pay for it on my Smartphone and charge it to your room. It's only a few pounds and then after five o'clock it's free for the rest of your stay.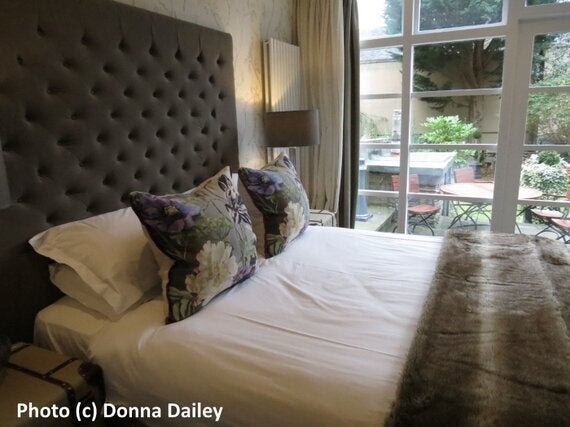 Now that was a proper Edinburgh welcome, the kind that endears you to a hotel right away and is how you get loyal customers. While our car stayed right out front, we stayed at the back of the hotel in a basement suite with picture windows and a door leading out onto its own private patio. Beyond that was a garden shared with the suite next door, in a quiet and private setting whose high walls and trees provided seclusion. It was hard to believe we were only half a mile from Princes Street
The room was a mix of classic elegance and stylish modern, with some unusual touches, like the bedside cabinets which resembled travel trunks. There were several glass-fronted cupboards in the lounge area, displaying a mix of old books and Victorian curios, like a crab's skeleton. It might sound weird but it looked good.
On the coffee table were copies of the latest Esquire and a few other magazines, and there were several books to read, including Ian Rankin, and a copy of To Have and Have Another, the book about Hemingway and cocktails. I read the Mojito chapter, amused by the book plate which said 'Don't take me, take the toiletries!' A hotel with a sense of humour as well as a sense of style. I like it.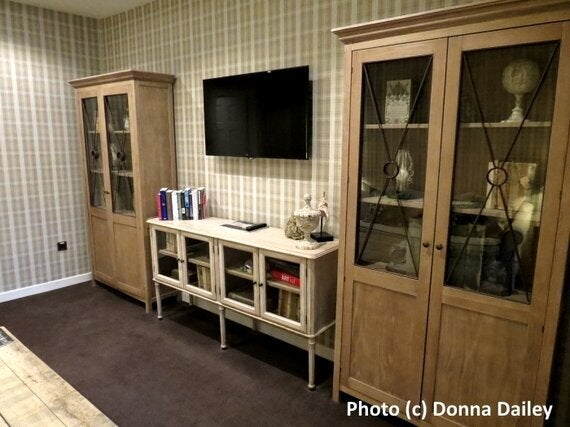 I also liked the little booklet in the room which explained where they sourced the food for the hotel restaurant, Blackwood's Bar and Grill. Their beef comes from Highland Drovers of Perth, it told us, where it's hung for 21 days, while their pork came from the organic Peelham Farm in Berwickshire.
We were starting to regret our plans to eat out, especially when we tried the breakfast the next morning. As well as the buffet spread and the usual Scottish suspects on the cooked menu, such as porridge, smoked salmon and scrambled eggs, the full Scottish breakfast thankfully favoured quality over quantity, and showed that you can actually make a simple fry-up look attractive on the plate. If I was given to photographing my food rather than eating it, I'd have taken a picture.
Suffice it to say that we left the Nira Caledonia a lot less stressed than when we'd arrived, thanks to the laid-back nature of the staff, a relaxing room to chill in, and the stylish assurance of a hotel well-run.