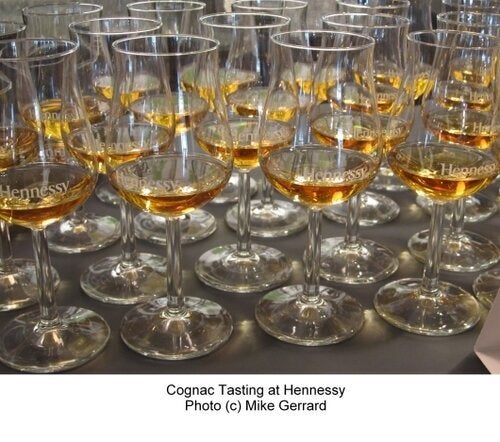 They have been making cognac in Cognac for almost 400 years, and some of the best-known cognac distillers in the world can trace their history back almost as long. Martell, for instance, will be celebrating its 300th anniversary in 2015. In visiting the town of Cognac in western France you drink in history as well as the intense flavours of the world's most expensive brandies.
With several cognac houses right in the town centre, including prestigious names like Rémy Martin, Martell, Baron Otard and the biggest name in the business, Hennessy, it can be hard to know where to begin. The best place, perhaps, is down by the Charente river, where the chateaux of Hennessy and Baron Otard stand side by side.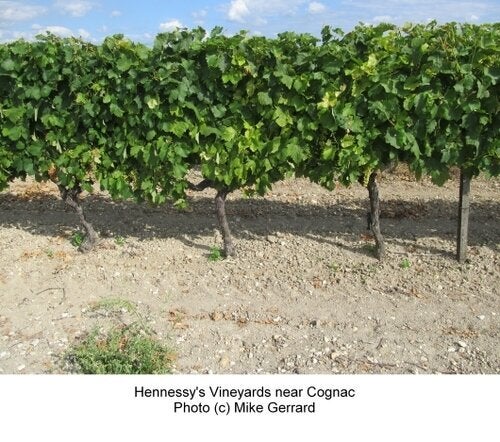 Hennessy has been in business for about 250 years, and has about 40% of the world cognac market. It's the brand favoured by musicians like Dr. Dre and Snoop Dog, both of whom do sales no harm by dropping the name of Hennessy into their lyrics.
Hennessy is also unusual in that they don't have a master blender, like all the other houses do, but instead make cognac by committee. They have eight men who will make their way through 30-100 different eaux de vie every day. After sniffing 100, they say, your nose starts to go and you need a break.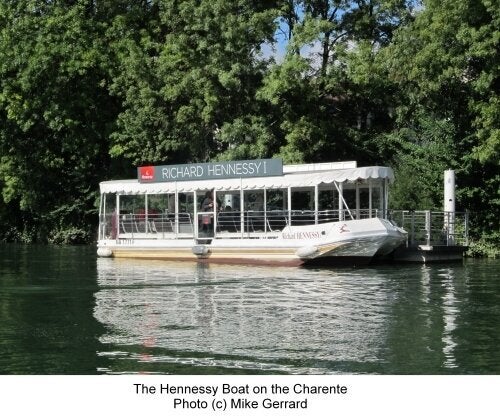 The Hennessy company is also responsible for some of today's standard cognac grades. VSOP, short for Very Superior Old Pale, dates from 1817 when the Prince of Wales (later King George IV), a big Hennessy fan, asked them to make a special cognac to suit his taste: 'a very superior old pale cognac.' Then in 1870 the company's owner, Maurice Hennessy, made a limited edition cognac for family and friends, which he called Extra Old, or XO. Today XO is the official term for a blend whose youngest cognac is at least six years old.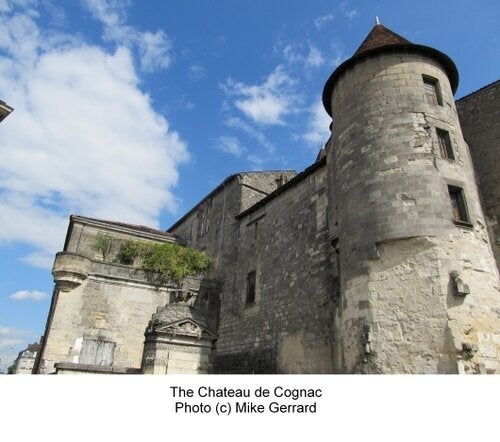 Next door to Hennessy is the Chateau de Cognac, built in the 15th century and the birthplace of King François I. It's such a grand and historic setting that even the other cognac producers must be jealous, as it now houses the cognac makers Baron Otard. The original Baron Otard bought the chateau when it was sold off after the French Revolution in order to store his cognac in its cellars. The cognac has now been stored here for over 200 years, and the makers feel that its unique setting, deep underground and right by the river, gives their cognac a unique taste.
This is one tour that even tee-totallers should do, as the chateau is a magnificent historic building in its own right. In several places are stones carved with a salamander, the emblem of the King who was born here, while in the Guard Room are inscriptions, and carvings of boats. These date from the 18th century when the Guard Room was used to hold over 100 British and Irish prisoners from the Seven Years War. The magnificent view of the beguilingly beautiful Charente that they would have had can only have been an additional torment.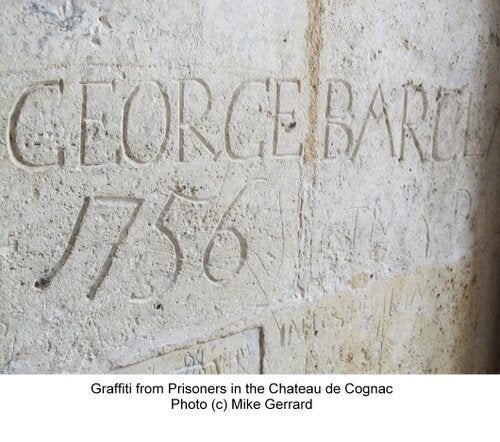 A little away from the river, Martell also has one of its cellars, with another larger cellar and Visitor Centre outside the town. Here I learn some interesting things about matching cognac with food. Martell has a variety of tours on offer, and I discover that their Cordon Bleu cognac is a perfect match for dark chocolate, while their Martell XO is ideal with oysters.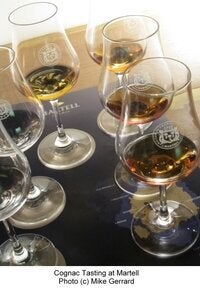 In a fascinating part of the tasting, we're given a small glass of cognac from 1875, and another from 1848. Tasted on their own, they are pleasant enough but not outstanding. Then we're invited to pour about 30% of one of them into the other, and taste the resulting mix. It's astonishing how much better the blend is than either of the two components. 'That's the secret of good cognac,' says our guide. 'The blending. But you have to know what you're doing as it's also possible to blend two wonderful cognacs and produce a bad one!'
There are tours, too, at one of Cognac's other big names, Rémy Martin, founded over 300 years ago by Rémy Martin himself and still family-owned. Like Martell they have a Visitor Centre in the town with their main site just outside Cognac. This sprawls over seven acres and has 29 huge houses containing the cellars.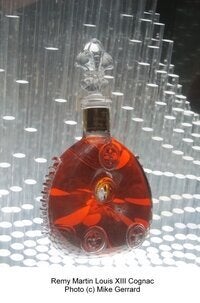 Here we're given another tip for taking a tipple. Keep their VSOP in the freezer. When you drink it straight from the freezer, neat, the alcohol won't seem as strong at first and the flavour won't be as full, but as you swirl it around the warmth of your mouth will provide a sudden rush of flavours. So I tried it. It did indeed zing around the mouth to give a whoosh of different tastes. But I guess when a town has been making cognac for over 400 years, they ought to know what they're doing.
VISITING THE COGNAC HOUSES
Mike Gerrard is an award-winning writer who specialises in travel and spirits,