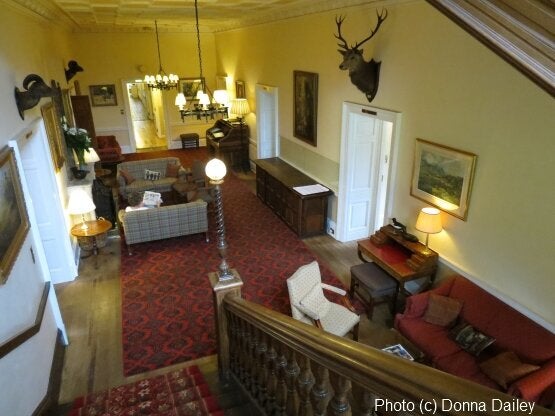 The historic Ballathie House Hotel stands by the banks of the River Tay in the middle of the Perthshire countryside, and offers hunting, shooting, fishing... and eating. I'm quite happy to let other people do the hunting, shooting and fishing, as long as I can do the eating. Any restaurant that has held two AA rosettes for several years, and been voted Rural Restaurant of the Year, is definitely on my radar.
We were a little unsure of the place at first, as when we checked in and made our way up the grand staircase to our room, there was a kind of reverential hush about the hotel. It was the kind of feeling you might get if you were a guest at Buckingham Palace, I imagine. It was as if all the guests were stuffed, as well as the creatures that decorated the place - a stuffed grouse, mounted butterflies, shoals of stuffed fish. Dare we even speak?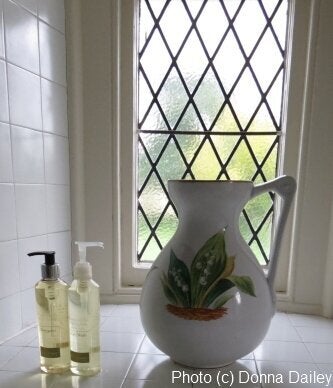 Our room reinforced the sense of grandeur and history. Ballathie House was built in 1880, and our room had suitably antique Victorian furniture in it, and our bathroom was even built into a turret. There were all the facilities you'd expect of a luxury country house hotel, ranging from a modern flat-screen TV to a trouser press. It was the first time I've ever stayed in a hotel and thought yes, I bet the guests here do use a trouser press.
We went for a walk and discovered their Victorian Garden, a maze of a place, a lush jumble of flowers and ferns, plants and trees. Down by the Tay several anglers were standing almost in mid-stream, while in distant fields we saw the Ballathie Estate's herds of Aberdeen Angus and the unusual white Charolais cattle. Hmm, fish or steak for supper? Time to head to the bar.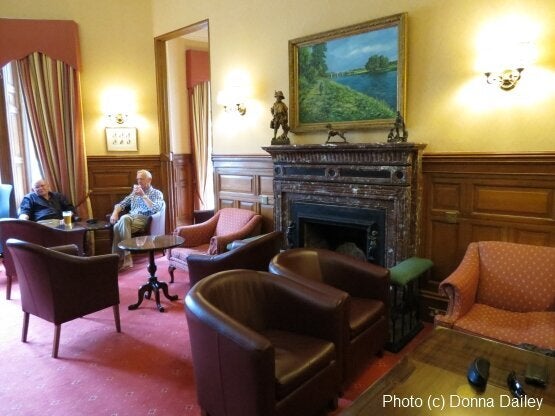 In the bar (right) the heads of a pike and a fox stick out from the wood panelling and watch us enjoy a drink and debate the dinner menu. There are other stuffed fishes around the room but don't ask me what they are. I only know a pike and a salmon, and the salmon has to be cooked and on a plate for me to be sure of that.
Ballathie's restaurant is made up of two adjoining rooms, both of them spacious, with high ceilings and the tables spread out to give plenty of privacy. The light colours are in pleasing contrast to the darker formality of the hallways and stairs of this grand old house. Some tables have views down to the river - including ours, fortunately.

There were several inexpensive house wines, from which we tried a Rioja that the waiter said would go well with our venison but needed to breathe a little, as the first glass would be rather tanniny. Sometimes you wonder if wine waiters are making it up as they go along but this one was absolutely right - the first glass was strong on tannin but it got mellower as the meal went on and and was indeed lovely with the venison.
As a starter my wife had a kind of terrine which mixed ham hock with foie gras and chicken in a perfect blend of flavours, while I had fresh asparagus with Hollandaise and crispy quails' eggs and prosciutto. Perfection.
After a refreshing apple sorbet for me and a cream of celeriac soup for my wife, it was time for the star of the show. Though we usually like to order different dishes, we were both unable to resist the sound of venison with Stornoway black pudding. Both the venison and the sweet black pudding, which blended brilliantly, were melt-in-your-mouth delicious. They came with a mélange of vegetables, savoy cabbage, pommes noisettes, and a beautifully rich gamey sauce. And it all looked as good as it tasted.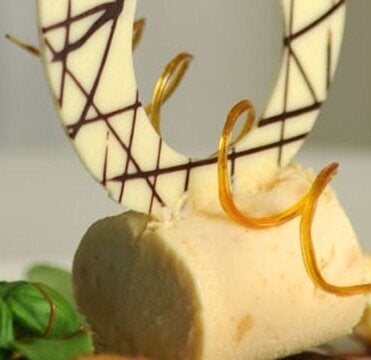 We resisted one of their signature desserts, an intriguing-sounding and obviously popular peanut butter parfait and both went for a chocolate fondant. It was a 10-minute wait but worth every second, as it was chocolate to die for, or even to kill for.
The hit of the night, though, was one of the three butters they served with the bread. It had a beautiful but not overpowering smoky flavour. The waiter said they smoked it right here in the kitchen and even my wife, not a big butter eater, devoured every last mouthful of it. When you notice and praise small details like the butter, you know you've had an exceptional meal.
There was definitely no reverential hush by the end of the evening, as the bar was packed and pulsating. In fact the hotel was unexpectedly full, on a midweek night. I saw the owner helping out and clearing away glasses in the bar, and by then even the pike was smiling.