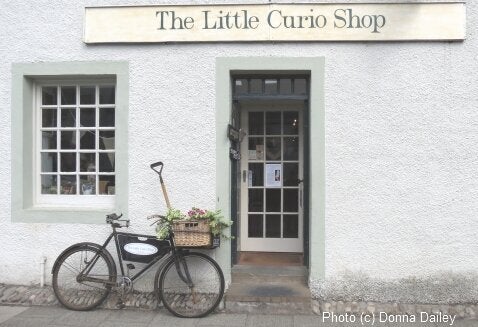 Strolling round Dunkeld in the sunshine we see Naked Sheep and Kettles. It isn't a surreal sculpture, just two of the small Perthshire town's delightful shops. Should we buy some ceramics at Going Pottie or stop for a coffee at Spill the Beans? Dunkeld is one of the most enchanting towns in Scotland, standing in a scenic spot by the River Tay and with the haunting ruins of Dunkeld Cathedral one of its highlights.
We've visited Dunkeld before, but only to stop for an hour or two as we passed through on our way to the Highlands. It has drawn us back again and again, though, and this time we decide to overnight here and relax into its peaceful easy feeling.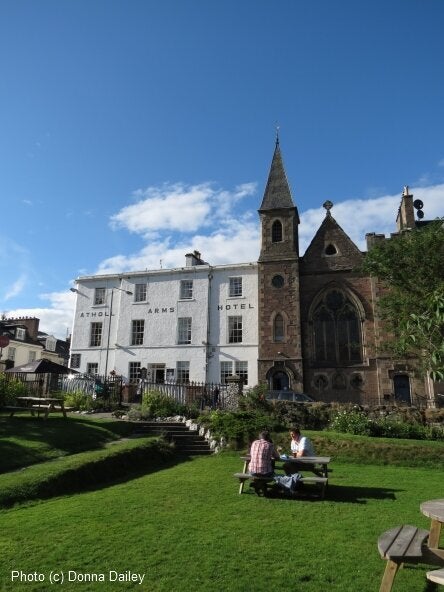 The Atholl Arms Hotel (right) was built in 1833 and looked to be one of those old town-centre inns which have sometimes seen better days, but offer a cheap room for a night. We couldn't have been more surprised. Step in off the street and you meet a fun and funky sculpture of a Tin Man in a kilt playing the bagpipes. Beyond him is a guest lounge that's cheerful and spacious, and dozens of interesting artworks by local artists brighten up the walls and are, of course, for sale. Here too is the entrance to their Riverview Restaurant that is festooned with awards certificates including Best Local and Seasonal Menu in the 2013 Scottish Hotel Awards. We know where we'll be eating later.
Our room is also not what we're expecting. It's a huge suite with three large windows, two with views across towards the River Tay and to the forested hills beyond. Although the room has a king-sized bed, two sofas, a coffee table, a bureau and a dining table with four chairs around it, we could still have driven our car through the middle and done a three-point turn.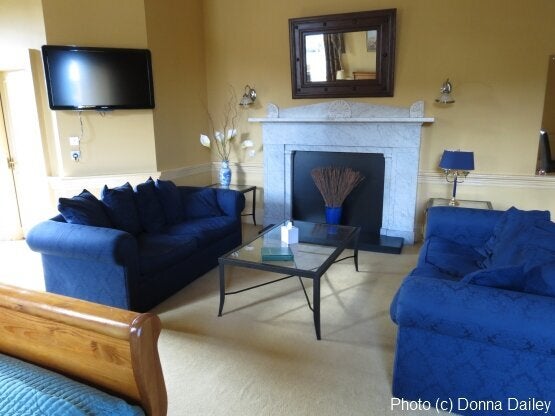 But outside the sun is shining, which doesn't exactly happen 100% of the time in Scotland, and the young woman at the reception desk is incredibly helpful in loaning us maps and suggesting walks we could take. I am now going to say something very obvious, but we need reminding. One of the joys of travel in Scotland is that people speak with Scottish accents which, the odd Glaswegian aside, are usually enough to brighten up the dullest day.
We go for a walk along Atholl Street and turn left into High Street, which is lined with old cottages, some of them now antique and curio shops. Yes, many are catering to tourists but there are enough local shops to tell you that people here know how to live. At the end of the High Street the Atholl Memorial Fountain reminds you that life here wasn't always that easy. The memorial was built in 1866 to the memory of the 6th Duke of Atholl, who brought a public water supply to Dunkeld, where previously everyone had to trudge to the River Tay to collect their water.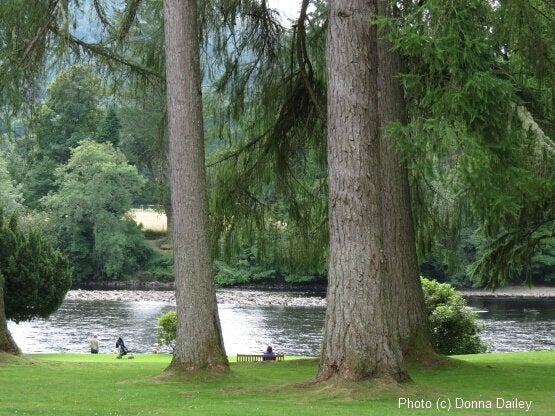 We stroll rather than trudge to the river, where children are playing on the grassy banks and a cat is snoozing in the sunshine on a bench outside Dunkeld Cathedral. These ruins exert a magic charm that is hard to define. Perhaps it's the grass that turns the nave into a pasture. Perhaps it's the serenity of the old stones, and the sense of history you get from reading the gravestones. But the riverside setting and the summer's day sounds of children playing all do their bit too. As does a walk by the Tay, where we see red squirrels and robins, and where the water flows as slow as the centuries.
Appetite whetted, we smarten up a little and settle in for a different river view - this time from the hotel's Riverview Restaurant, which manages to combine a smart and contemporary feel without losing the room's historic features.
We're given two canapés: a tomato salsa and a pea and mint mousse, both of which are amazingly simple and yet totally delicious.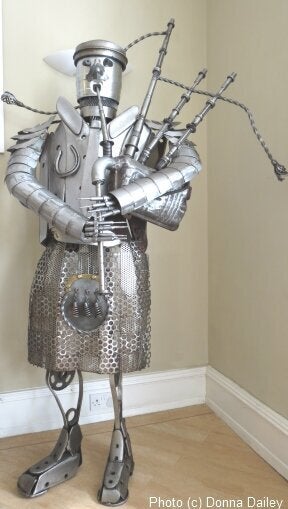 For a starter I have the duo of smoked salmon with a horseradish sauce, the salmon being very smoky indeed, and coming from Dunkeld Smoked Salmon, just along the street. My wife has a goat's cheese mousse, and a bite of my smoked salmon. She would have had more, but there are limits.
I have duck breast with puy lentils and chanterelles, a nice hearty meaty mix that reminds me of cassoulet and other dishes you'd expect to get in Provençe, not Perthshire. My wife has a saltily-fresh pan-fried sea bream with creamed potatoes, wilted greens, sunblushed tomatoes and salsa verde.
To finish off there's sticky toffee pudding with vanilla ice-cream and a fresh strawberry - Scottish strawberries are the tastiest you'll eat anywhere. My wife opts for vanilla panna cotta with poached rhubarb that brings back childhood memories of plump red-green stalks freshly-picked from the garden, and more of those mouth-watering strawberries.
A peaceful day and a perfect panna cotta. What more could you ask for? Actually my wife would have asked for more smoked salmon but she needn't have worried. She got her own plateful for breakfast. Dunkeld had worked its magic yet again.