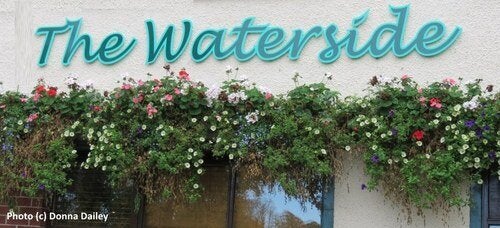 Sometimes it's the little things. As a regular and often weary traveller, what I really don't want to do when I get into a hotel room is go crawling around on the floor, reaching behind desks and following lamp cables behind chairs... all to try to find a spare electrical socket to plug in a charger. And often there isn't a spare socket unless you unplug the mini-fridge or one of the lamps first. Given the current fad for dimly-lit hotel rooms, that's the last thing you need.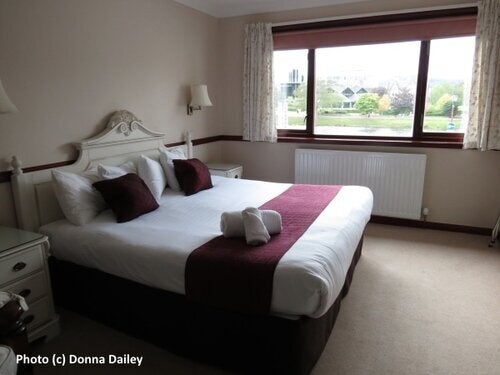 So let's hear it for room 103 at the Waterside Hotel in Inverness. It had so many sockets you could recharge every device in your luggage, switch on the kettle, watch TV and hoover the carpet at the same time. And not only that - are other hotels listening? - they weren't all way down at carpet level. There were sockets halfway up the wall right next to the desk, the most logical place for them to be when you want to work on a laptop.
It was hard to work on a laptop, though, as room 103 also had windows that looked out across the River Ness. On an autumnal day it was a living painting. Against a backdrop of trees whose leaves mixed greens and browns and golds and yellows, people walked or jogged along the riverbank, no doubt headed for the Ness Islands, half a mile away.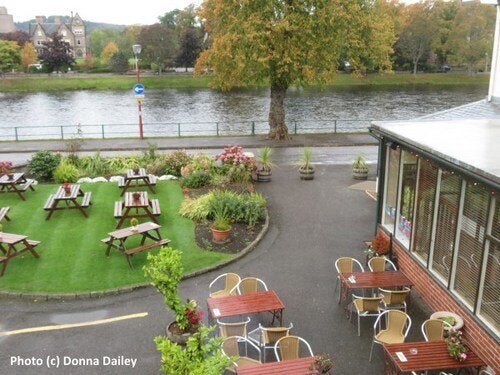 As the light began to fade we began to read about the hotel's restaurant, RefleXions. Again, as regular travellers we were sceptical of the claim that every table has a view of the River Ness and the Craig Phadrig hills beyond, and of the statement that their aim was to produce the best food at the cheapest prices. Both sounded like sales talk... till we went down to dinner.
By use of a clever L-shaped design around the central bar area, every table in the restaurant does have a river view. But what about the food? The hotel's website claims no AA rosettes or other accolades, so were we in for typically average hotel restaurant food? Inverness is hardly a culinary hot spot.
Well, if the starter was anything to go by, I'd suggest the AA inspectors find their way there. We both were unable to resist the sound of warm wood pigeon breast marinated in red wine with Stornoway black pudding, asparagus, caramel crusted, brambles and a port reduction. And it tasted even better than it sounded. The brambles were plump and sweet, both blending with and contrasting the savoury sweetness of the black pudding and the crispy nutty-sweet walnuts. Throw in the tenderly perfect pigeon breast and the unique tartness of the asparagus and you had a plate that was starter size but was packed full of flavours and textures.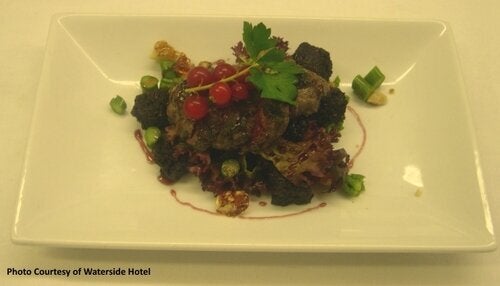 The Pigeon Breast Starter
For only £6.95 it was a bargain for a dish of such complexity and obviously quality ingredients, so perhaps the claim of producing the best food at the cheapest prices was sincere after all. Choosing the pigeon breast hadn't been easy, either, as other starters sounded equally tempting and tasty: Pan-seared Scottish scallops on a mango salsa with pak choi and a Thai red chili jam, or the intriguing Beetroot smoked salmon with Lilliput capers, beetroot, rocket and a soft-boiled egg.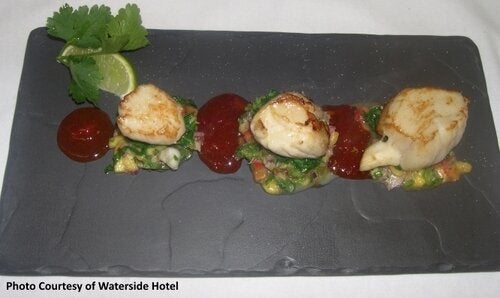 The Scottish Scallops Starter
The menu lists their main local suppliers, including Cockburn's, producers of a world championship haggis. That was my main course decided - haggis with neeps and tatties (of course), and a whisky-mustard sauce, plus a wee dram. The dish came stacked with haggis underneath, a ring of neeps on top of that, and a ring of potatoes on top of those, with the richly-coloured sauce all around. I was in haggis heaven, while my wife's oven-baked venison haunch wrapped in Serrano ham with parsnip purée, Stornoway black pudding and crispy thyme potatoes was so good I had to bribe her with some of my wee dram to be allowed to taste a little.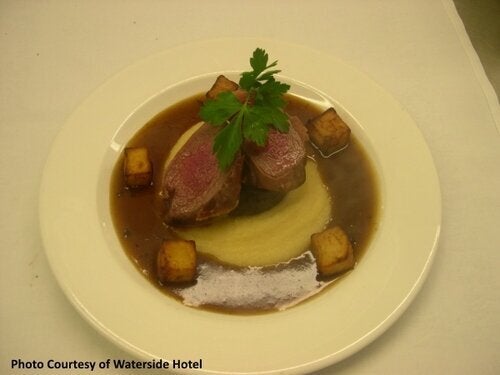 Venison with Parsnip Puree
It was to the Waterside's credit that not only did they have a completely separate gluten-free dinner menu, they had one for Afternoon Tea, too. And a good choice of vegetarian dishes on the main menu, like a frittata of asparagus, spinach, red pepper, Kalamata olives and thyme potatoes served with melting Clava brie and dressed rocket. Not just your token salad, then.
Only a 10-minute walk into the city and Inverness's excellent Tourist Information Centre, the Waterside doesn't look anything particularly special from the outside, but with its classy restaurant and its riverside setting - oh, and getting the small things right - it's hard to beat.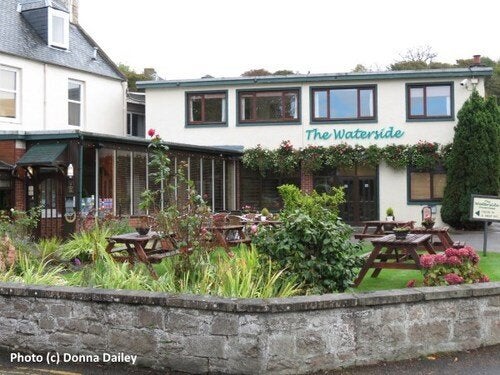 Related