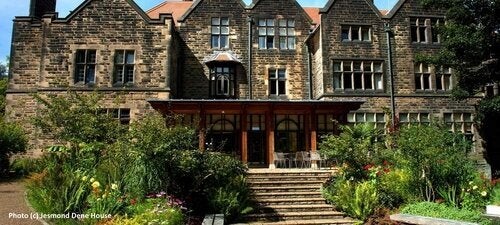 In October 2014 Jesmond Dene House (above) in Newcastle was chosen by the Good Hotel Guide 2015 as one of the best boutique city hotels in the UK. Having stayed there in September, I'm not at all surprised.
Trying to find the hotel in a network of busy Newcastle streets, in our case during a rainy rush hour, is very misleading. But find Jesmond Dene Road, descend a small hill which magically becomes a country lane within a few yards, and the traffic is replaced by trees.
The History of Jesmond Dene House...
... is complicated. It was first built in 1822 for Thomas Emerson Headlam, who was a physician and twice Mayor of Newcastle. In 1857 it was bought by Lord Armstrong, the Newcastle scientist, inventor and industrialist whose name is ever-present in the city's history. Among many other achievements he designed and built the first hydraulic cranes for the city's shipyard that were such a big contributor to Newcastle's industrial prosperity.
At Jesmond Dene he landscaped the grounds and helped turn the Jesmond Dene Valley that it sits in into a woodland park and gardens that is still enjoyed by people today.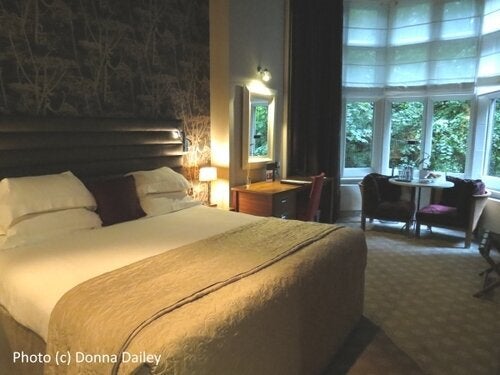 Our room at the back of the hotel overlooked that valley. We gazed into the tops of trees, giving the room a secluded and rural feel even though we were less than three miles from Newcastle's Central Station. It was a spacious room which, like the rest of the building, was a tasteful blend of historic and modern.
Many of the original features of this Grade II Listed building had been kept when it opened its doors as a hotel in 2005, after spells as a seminary and a college. Wood-panel walls that give off the air of a gentleman's club are off-set by quirky works from local artists. Many of them are part of the collection of the University Gallery of Northumbria University, on display at Jesmond Dene and open to the public in an unusual arrangement that benefits everyone. Most of the artworks are also for sale.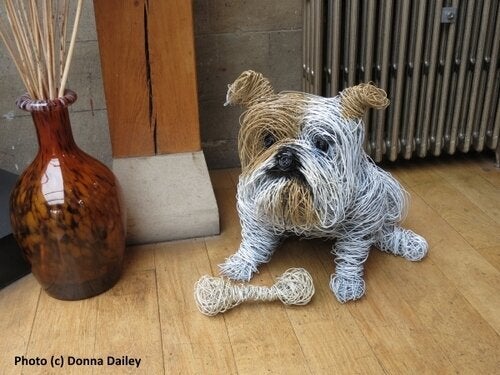 Food at Jesmond Dene is a work of art too, the restaurant having earned three AA Rosettes and chef Michael Penaluna creating a signature dessert, the Chocolate Sphere, whose secret we'll keep but we wished we'd had a video camera handy to record it being served.
The rest of the menu was equally full of delightful surprises. One of the three butter choices was seaweed, which had a pungent briny taste and was artfully served on a small circle of black slate. My starter of Dorset snails didn't require me, as expected, to pull them out of their shells with a pin but they came in a kind of snaily stew with a parsley and garlic sauce and served on a bed of potato mousse.
My beef fillet entrée came with beetroot, turnip and a piece of oxtail that was sweetly and decadently rich, a little like the finest foie gras.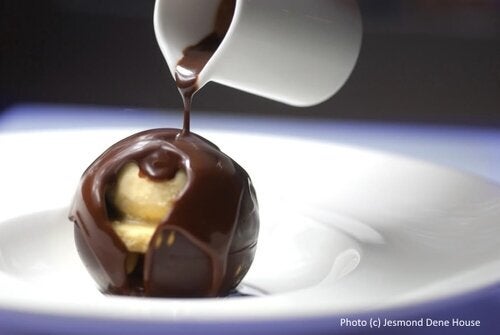 The Chocolate Sphere Dessert
My only disappointment was at breakfast. Not that what we had (Eggs Benedict, Eggs Montreal, Omelette Arnold Bennett) wasn't superb, because it was, but the menu tempted me with an unusual dish that definitely had my name on it: haggis and duck egg with salsa verde. On our first morning we were late down and they'd run out. On our second morning the hotel was much quieter, and they hadn't made any. I was distraught. I was definitely going to have to go back - for that, and a whole Chocolate Sphere to myself.
So successful has Jesmond Dene House become that on November 1st 2014 the owners are opening a gastropub with rooms, St Mary's Inn, in St Mary's Park, a few miles north of Jesmond Dene House.
Related