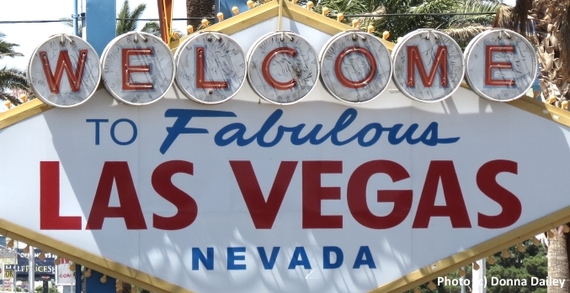 My brother designs gaming machines and thanks to him I can hand out one or two pieces of advice about gambling in Las Vegas.
First, local laws dictate that the slots at the airport pay out less frequently than the ones on the Strip. Airport passengers are seen as passing traffic so don't need to be wooed by more frequent pay-outs.
Second, there are only two systems that can beat roulette. One is called Be Lucky, the other is called Cheat. Examples of ingenious attempts at the latter can be seen in the wonderful Mob Museum in Downtown Las Vegas.
Thirdly, give yourself a limit, and stick to it. Once you've reached it, stop playing. But while you are playing, go for the machines with the biggest jackpots. How often do you get chance to win $4 million?
And if you do hit that jackpot, then stop playing and enjoy the rest of Vegas. Here are ten fun off-the-Strip activities that are no gamble - you're guaranteed a good time.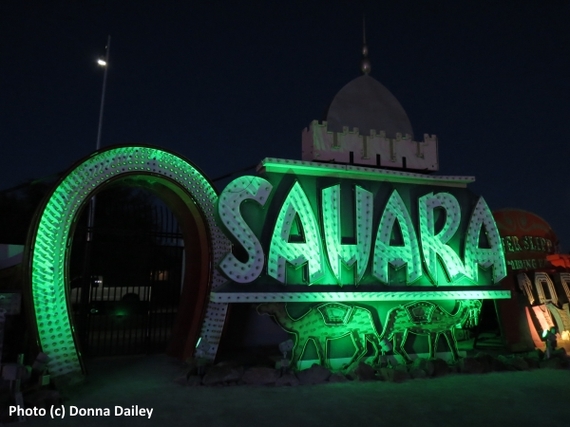 The Neon Boneyard
(All Photos (c) Donna Dailey)
The Neon Boneyard
When we were going to visit the Neon Boneyard last year, the first few taxi drivers we asked had either never heard of it, or had heard of it but had no idea where it was. We got there with a driver who used SatNav which took us behind the Boneyard, and he waited while we walked around to find it. It was worth the trip. This non-profit organisation rescues old neon signs and restores them to their flashing glory. A fascinating guided tour takes you through the city's history, and tells the story of neon, from the first neon lighting in Paris in 1910 to the recent neon sign at the Wynn Las Vegas, which cost $12 million. www.neonmuseum.org
Golf
While Vegas isn't thought of as a golfing destination, there are over 50 courses in the area (www.vegas.com/golf/). Vegas being Vegas, one of them, The Royal Links Golf Club, has a course made up of the best 18 holes from 11 different British Open courses, including St Andrews, Carnoustie and Royal Birkdale (www.royallinksgolfclub.com). And if you really can't bear to leave the Strip, Wynn Las Vegas has the only golf course along it (www.wynnlasvegas.com/Activities/Golf/WynnGolfCourse).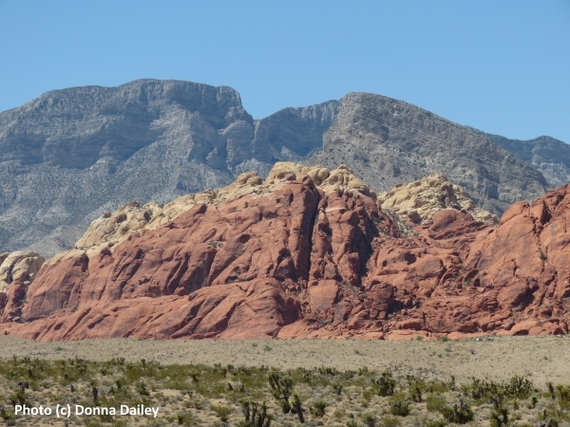 Red Rock Canyon
The Red Rock Canyon National Conservation Area
About 15 miles west of the Strip, and visible from it, this protected conservation area gets over 1 million visitors a year (almost 40 million visit Las Vegas). You can drive through on a loop road, which has stopping places where you can get out and hike the trails. A Visitor Center tells you about the history of the area, which attracted Native American settlers because it had water and an abundance of plants and animals. There are still wild burros here, bighorn sheep, desert tortoises and other mammals and birds. www.redrockcanyonlv.org.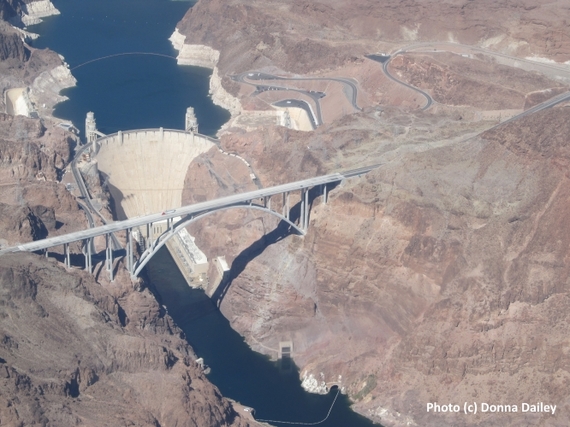 The Hoover Dam
Visit the Hoover Dam
Built from 1931-36 as a work project during the Great Depression, this monumental structure on the Colorado River created Lake Mead, the largest reservoir in the United States by volume of water. The dam is also one of the area's biggest tourist attractions, drawing almost a million people a year. It's only about a 45-minute drive from Vegas, and day trips are easily arranged if you don't have your own car. www.usbr.gov/lc/hooverdam
Go Boating on Lake Mead
Lake Mead is a great place to go boating, swimming, fishing or hiking, and with other activities too. Some tours from Las Vegas include a visit to Hoover Dam and a cruise on the lake, or you can do-it-yourself with a rental car. www.nps.gov/lake/index.htm
Combine Chocolates and Cactus
16 miles from Vegas on the way to the Hoover Dam and Lake Mead is the town of Henderson, where you can tour Ethel M Chocolates. Ethel M is Ethel Mars, who co-founded the Mars company with her husband, Frank, in 1911. Yes, Mars as in Mars Bars, plus Milky Ways, M&Ms and many more. They also have one of Nevada's largest collections of cacti in their botanical garden.
www.ethelm.com/about_us/factory_tour.aspx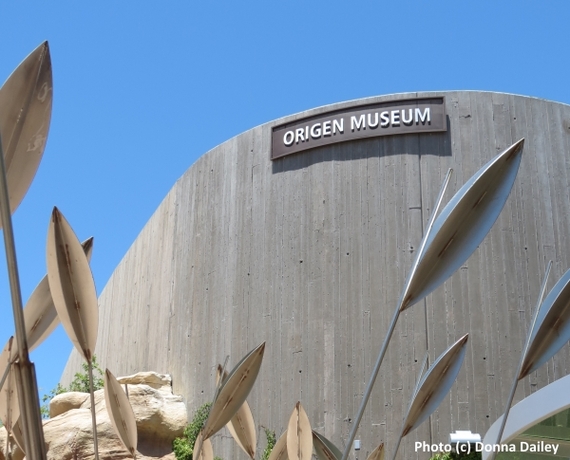 The Origen Museum at the Springs Preserve
Springs Preserve
The Springs Preserve is the birthplace of Las Vegas. It was here the trains stopped to take on fresh water from the natural springs, which dried up in about 1960. Native American ruins on the site, which is on the National Register of Historic Places, show that the site has been used by humans for 6-7,000 years. Today it spreads over 180 acres with hiking trails, bike paths, a butterfly habitat, the Nevada State Museum and the Origen Museum, which tells the story of Las Vegas. www.springspreserve.org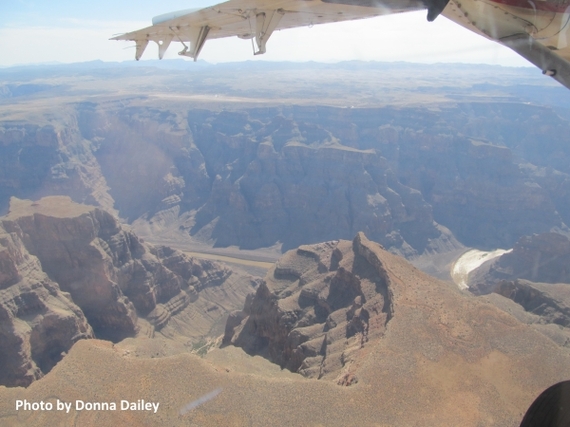 The Grand Canyon
Have a Champagne Picnic in the Grand Canyon
Flights to the Grand Canyon, by plane or helicopter, are popular excursions from Vegas, and as well as seeing the Canyon you'll pass over the Hoover Dam and Lake Mead. One of the most popular options is to land on the canyon floor and have a champagne picnic. Unforgettable! www.papillon.com/las-vegas-tours/helicopter-landing-tours/sunset-grand-celebration-with-vegas-strip
Camp in the Desert
Vegas is famous for being in the middle of the Nevada desert, so get out and see what that desert was like before the arrival of Sin City. You can book hiking, biking, jeeping and other adventure tours, and also arrange to camp out in the desert. For ideas on where to go, visit
www.birdandhike.com/Hike/_Hike_index.htm
Go Skiing
Skiing in Las Vegas? Well, not exactly in Vegas but about a 40-mile drive west is the 12,000-foot Mt Charleston, where you will be able to ski in the winter - or go hiking in the summer - at the Mt Charleston Resort. Yes, go off the Strip and on the piste. www.mtcharlestonresort.com
FURTHER INFORMATION
If you do want to know more about rules and strategies for gaming in Vegas, visit the website that much of the industry uses: The Wizard of Odds.
GETTING THERE
Trips to Las Vegas are available through American Sky, North America Travel Service, Trailfinders and Western & Oriental.
ABOUT THE AUTHOR
Mike Gerrard is an award-winning writer on travel and drink, and co-editor of the 101 USA Holidays website with his wife Donna Dailey.