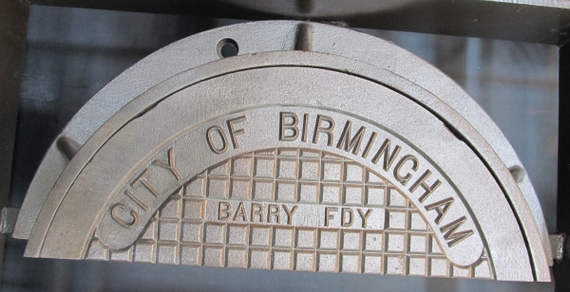 There are several reasons to believe you may not like Birmingham, Alabama's largest city. When it was founded in 1871 it was named not after somewhere romantic like Florence or Paris but after the English industrial city of Birmingham. That's because Birmingham, Alabama, was a steel town and, at the time, equally industrial.
These days the steel industry has gone and the furnaces are replaced by opera companies, symphony orchestras, a vibrant theater and music scene, and award-winning restaurants.
Birmingham was in the public eye for all the wrong reasons during the years of the civil rights struggles, when so many bombs went off that it was nicknamed Bombingham. One of those bombs was so overwhelmingly awful, killing four young girls at the 16th Street Baptist Church in 1963, that it was a pivotal moment in the fight for civil rights. The world was shocked, and so was America. In 1964 the Civil Rights Act was finally passed.
The painful history isn't concealed but is commemorated in today's Birmingham, and there are plenty of things to do and see to warrant a visit of at least a few days. Here in alphabetical order are ten of the best.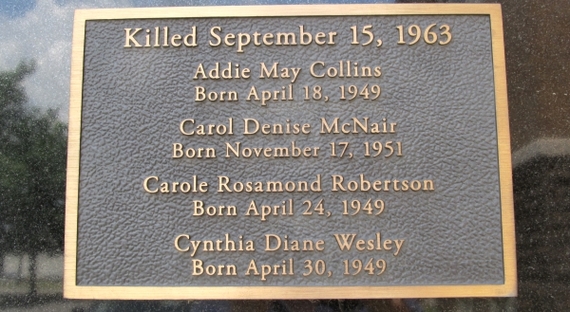 16th Street Baptist Church
While a visit here could be sad and painful, it's also a way of paying tribute to the four young girls who lost their lives when a dynamite bomb planted by Ku Klux Klan members exploded. It blew a hole seven feet wide in the basement of the church where the girls were putting on their choir robes for a service. A modest stone outside marks the spot of the explosion, and inside the still-active church a film explains the background to the bombing and the civil rights movement.
More Information: www.16thstreetbaptist.org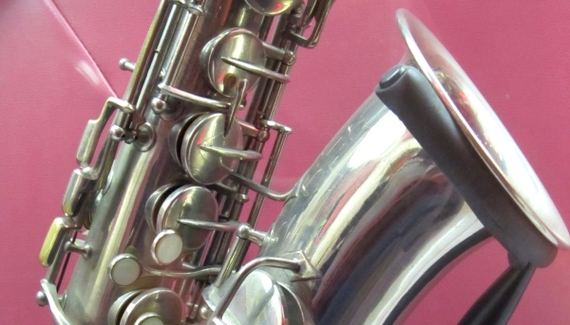 Alabama Jazz Hall of Fame
Based in the historic Carver Theatre, the collection of artefacts may be modest but jazz aficionados will enjoy the mementoes and musical instruments of the surprising number of top jazz players that Alabama produced, including Sun Ra, Nat King Cole, Duke Ellington, Lionel Hampton, Clarence 'Pinetop' Smith and Erskine Hawkins.
More Information: www.jazzhall.com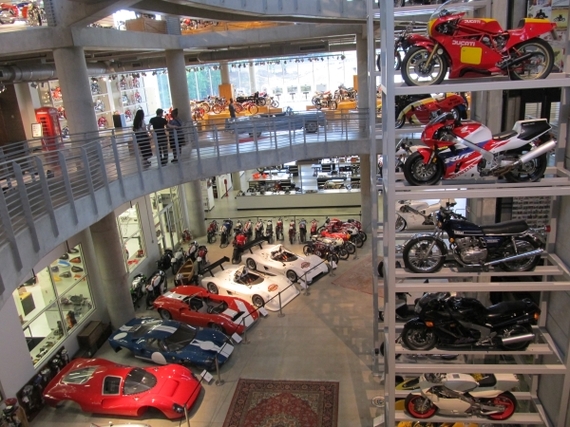 Barber Vintage Motorsports Museum
This remarkable collection of vintage cars and over 1400 motorcycles, with about half of them on display at any one time, is a must-see whether you're interested in motorsports or not. The design of the vast main building (an extension is due to open in the autumn) is a work of art, flooded with light from enormous windows and with every historic motorbike in immaculate working condition. You can't help but gasp when you walk through the door.
More Information: www.barbermuseum.org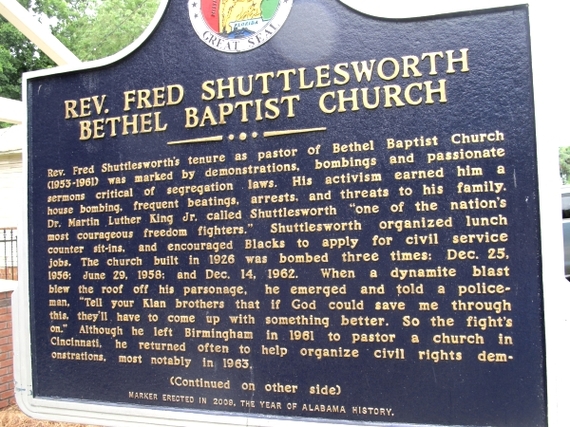 Bethel Baptist Church
There were three figures who were prominent in the fight for civil rights. One was Martin Luther King Jnr, a preacher in Montgomery when the Montgomery Bus Boycott took place. The second was Ralph Abernathy, from Linden in Alabama and King's closest friend. The third was Fred Shuttleworth, who was a minister here at the Bethel Baptist Church. The church was bombed three times and is now a National Historic Landmark. A visit to a Sunday morning gospel service in the new church nearby is an uplifting and moving experience.
More Information: www.bethelcollegeville.org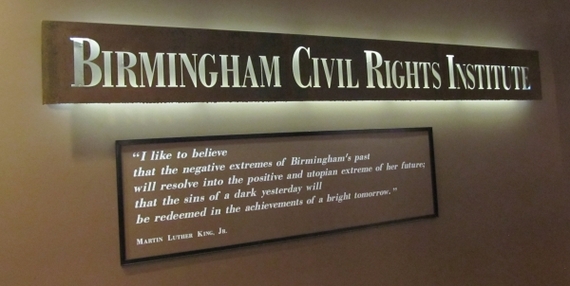 Birmingham Civil Rights Institute
Across the street from the 16th Street Baptist Church, this museum opened in 1992 but feels as fresh as a new coat of paint. Through lively exhibits it tells the story of black life in and around Birmingham, and the inevitable fight for civil rights in a country which called itself a democracy but denied millions of citizens the right to vote because of the colour of their skin. A must-see if you want to understand Birmingham.
More Information: www.bcri.org
Demetri's BBQ
While BBQ is a Southern tradition, some of the best comes from Greek immigrants like Demetri Nakos who came to Alabama in 1955 and discovered he had a knack for BBQ. Well, a knack is putting it mildly as Demetri's has been rated by Playboy as the Number One Breakfast in America. Try their BBQ omelette if you dare.
More Information: www.demetrisbbq.com
Hot and Hot Fish Club
The other side of Birmingham cuisine is at high-end restaurants like the Hot and Hot Fish Club where chef/owner Chris Hastings is a James Beard Best Chef award-winner. Forget the fried catfish and tuck into mouthwatering dishes like oven-roasted duck with rye berries, kale, blackberries, a spring onion pureé and lion's mane mushrooms. Great cocktail list too.
More Information: www.hotandhotfishclub.com
Kelly Ingram Park
Across from the Birmingham Civil Rights Institute and 16th Street Baptist Church, the park was a staging area for the civil rights demonstrations in the early 1960s, including ones in which police dogs and fire hoses were turned on marchers. Visit today for the sense of peace and to see the moving commemorative statues.
More Information: http://birminghamal.org/places/kelly-ingram-park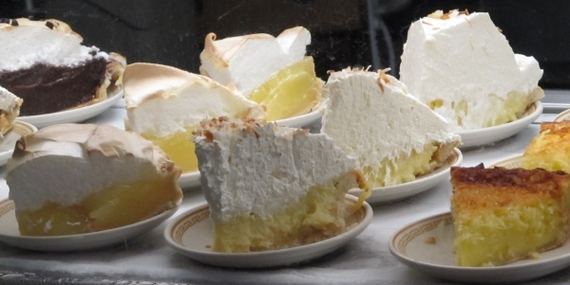 Niki's West
Named by USA Today as one of the USA's top ten restaurants, Niki's offers a daily buffet of about 70 items including Southern fried chicken, catfish, seafood from the Gulf of Mexico and a range of desserts that make you fat just by looking at them.
More Information: www.nikiswest.com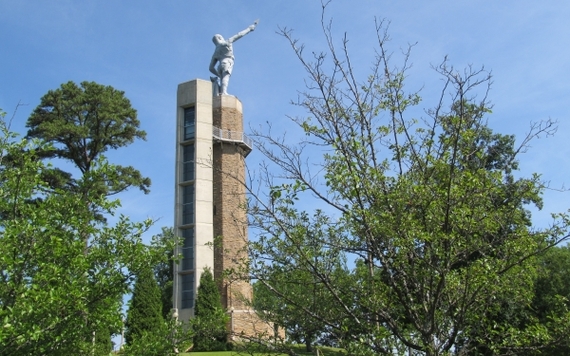 Vulcan
The world's largest cast iron statue was built in 1904 and overlooks Birmingham from Red Mountain, giving breathtaking cityscape views from the top. The view of Vulcan from Birmingham's neighbouring city has resulted in the nickname, The Moon over Homewood.
More Information: http://visitvulcan.com
Where to Stay
The author was a guest of the Alabama Department of Tourism and Birmingham's oldest operating hotel, the Redmont Hotel, which dates from 1925 but was recently renovated.
How to Get There
American Sky has a self-drive American music tour which includes time in Birmingham.
The Author
Mike Gerrard is an award-winning British travel writer who specialises in writing about the USA, where he lives for half the year. He is also co-editor of the 101 USA Holidays website.
Photos
All photos (c) Mike Gerrard.