'Most visitors never get out here to see this,' says our bike tour leader Ben Maddocks, 'but it really is one of the city's hidden gems. We're only about four miles from the French Quarter, and you can also take the streetcar that drops you right outside the entrance.'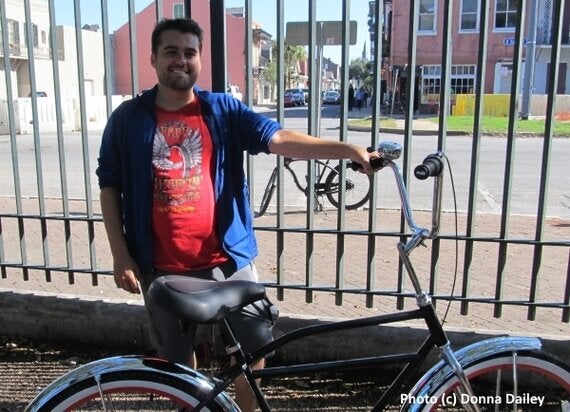 The gem is City Park in New Orleans, half as big again as New York's Central Park, but instead of taking the streetcar to get there I've joined Ben (above) on a Freewheelin' Bike Tour. One of the best ways to explore the city's varied and fascinating neighbourhoods is by bike. For one thing, New Orleans is flat. It was also recently voted 6th bike-friendliest city in the USA, while Condé Nast Traveler named the Big Easy as one of the Top Ten Friendliest Cities in America.
The people couldn't have been friendlier as our small group of ten people cycled through the Tremé neighbourhood, the USA's oldest African-American district. People sitting on their front steps enjoying the sun all called out to us. You have a good day now! You folks enjoyin' yo'selves? Or the ubiquitous New Orleans greeting: How ya doin'?
It was a few miles and a world away from the higglers in the French Quarter. I bet you I can tell you where you got your shoes. Should you fall for the scam to relieve you of a few dollars (and people do) the answer's going to be: You got one on your left foot and you got one on your right foot.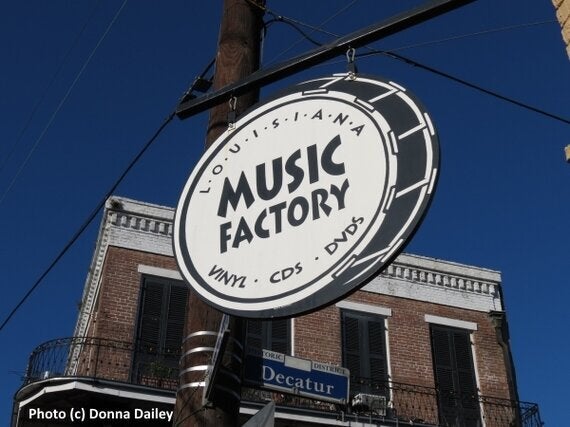 Our ride began by getting out of the French Quarter into the French-named Faubourg Marigny, named after Bernard de Marigny and founded in 1805, making it the first suburb in New Orleans. Record stores and music bars line Frenchmen Street here, which is where the local folk go to avoid the crowds of drunken tourists on Bourbon Street.
You might escape the French Quarter, but you certainly can't escape the French. From Frenchmen Street we cycle northwest along the broad Esplanade Avenue, where we enjoy one of the city's new bike lanes: there are now almost 100 miles of these. We cycle in line, following Ben like obedient kids. He ushers us across junctions, tells us when to wait and when to go, and occasionally parks his bike across the traffic, which patiently waits while we cycle past. Partway along Esplanade Avenue we pause as Ben points out a house.
'That's the Degas house,' he says, 'where the French artist Edgar Degas lived for a while visiting relatives.' Degas' mother was a Creole from New Orleans, and his name was originally De Gas. He visited his brother and other relatives in New Orleans in 1872, at a time when he was disillusioned with his painting. The vibrant city reinvigorated him, and he painted regularly while he was here, including numerous family portraits. He returned to Paris in 1873 and in the following years produced his best and most famous works. The Degas House is now both a bed and breakfast place, and a museum.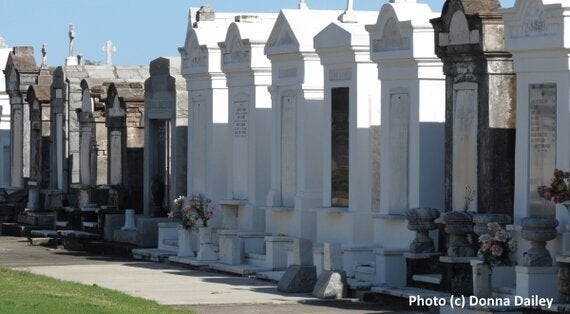 No tour of New Orleans would be complete without visiting a cemetery, and a mile beyond the Degas House is St Louis Cemetery Number 3 (above). Here Ben entertains us with tales about the problems of dying in New Orleans.
'Because the ground's unstable around here,' he says, 'coffins have a habit of popping back up out of the ground. Not good! So although we're all good Catholics in New Orleans, and till recently didn't approve of cremation, we got round that by having natural cremation. We put the casket inside these tombs, which we call the bakers' ovens. The temperature inside those caskets gets up to 300 degrees, and it doesn't take long for a body to be naturally reduced to ashes. After a year and a day the coffin's opened and the remains are put in the ground below the tomb in what we call the caveau. That's why you see so many family members all buried in the same plot.'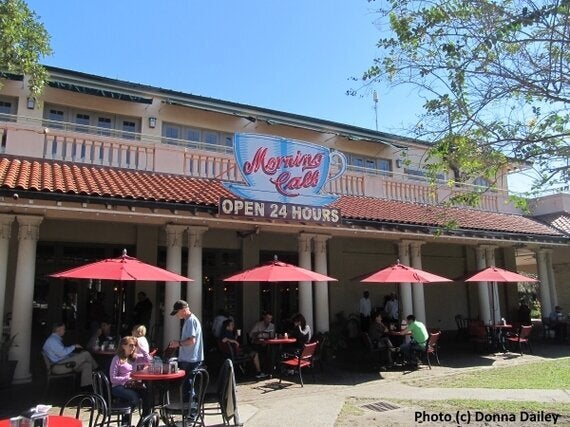 From the cemetery it's a straight ride into City Park, and a mental note to get out and spend a day here sometime. Within its 1300 acres are the New Orleans Museum of Art, the New Orleans Botanical Garden, an amusement park, a children's playground, a sculpture park, a golf course, an equestrian centre, a couple of stadiums, and there's still room left over for the Morning Call Café (above), where we stop for coffee and what Ben assures us are 'the best beignets in the city.'
We move on through those relaxed and friendly people in the Tremé district, and before returning to the bike shop we wind up the tour by going through Louis Armstrong Park to Congo Square
'This really is the birthplace of jazz,' Ben explains. 'Not even slaves worked on Sunday and they would gather here. New Orleans was always more lax and unlike in other parts of the south, where slaves were not allowed to keep their musical instruments for fear they might communicate with each other in that way, in New Orleans they were allowed to keep them. So they would come here and play music, and out of all the influences what emerged was the beginnings of jazz. And if you come here on Sundays you'll see you still get musicians and drum circles here.'
And with that we follow Ben back to Burgundy Street, back to the French Quarter, vowing to return to some of the other neighbourhoods of this fascinating and diverse city. Next day we do just that, checking out the music bars on Frenchmen Street.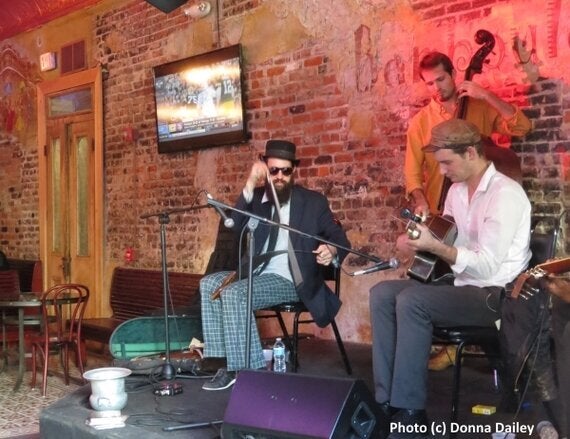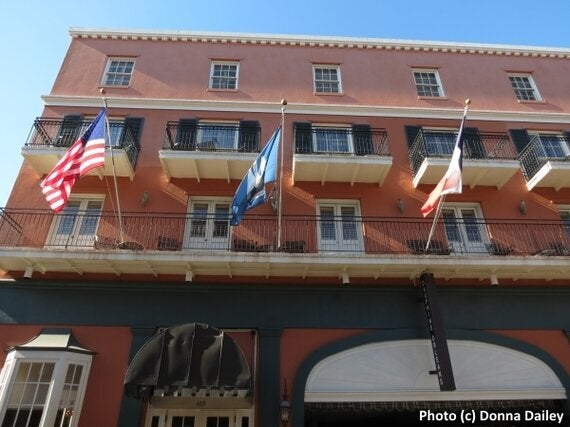 The author stayed at the historic Dauphine Orleans Hotel (above), 415 Dauphine Street in the French Quarter, one block from Bourbon Street and one block from the Freewheelin' Bike Tours office at 325 Burgundy Street.
Mike Gerrard is an award-winning British travel writer who divides his time between the UK and his home in Arizona. He specialises in writing about the USA and is co-editor of the 101 USA Holidays website.