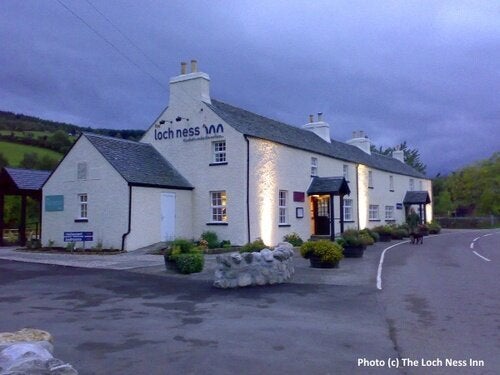 Haggis Bobotie? What on earth is Haggis Bobotie? First of all it helps if you pronounce it right. It sounded to me like some Scottish delicacy I'd missed out on, as I was pronouncing it like Bobbity. The right way to say it is B-bow-tee, as the Manager of the Loch Ness Inn in Lewiston, Isla Urquhart, explained.
'It's based on a South African dish which I tried when I was visiting there, as I've got family connections with South Africa. There they usually make it with lamb mince, and I thought anything you can make with mince you can make with haggis. So when I came back I set our chef a challenge, and ever since we put it on the menu it's been incredibly popular. It's become our signature starter.'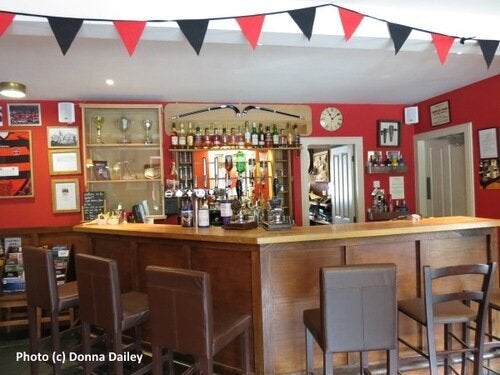 I'm not surprised. It was mouthwatering, like a gently curried haggis topped with a creamy rich savoury-sweet custard topping. There was also a haggis moussaka on the menu, though the waiter persuaded me that if I'd had the bobotie starter, perhaps haggis moussaka as well would be too much of a good thing. Instead I opted for venison with black pudding mash, another new dish for me and one I'll definitely be trying to replicate at home.
From the outside, The Loch Ness Inn looked like a bog-standard pub with rooms and a restaurant, but it was full of stylish surprises. There was an impressive list of gins, many of them Scottish, and being tonic snobs we noticed they used one of the best around, Fever Tree, rather than the cheaper tonics that drown out the taste of the gin with an overdose of quinine.
The wine list was interesting too, with a good choice available as a small glass, large glass, carafe or bottle. One of the house wines was an unusual Romanian pinot noir, Ciminy, and when we asked the waiter about it he happily brought us a glass to sample before we committed to a bottle. It was delicious, velvety smooth with a strong taste of cherries. A bottle it was.
It was only later we discovered that The Loch Ness Inn is recommended in the Michelin Eating Out in Pubs guide, an excellent reference source if you want to find the best pub food in Britain.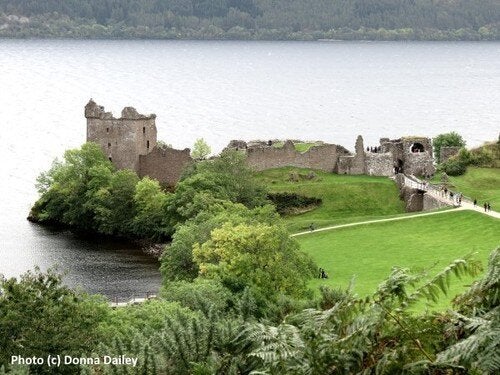 The inn's in Lewiston, a little village that's less than a mile from the busier and much more touristy Drumnadrochit, and just over a mile from one of Loch Ness's major attractions, Castle Urquhart (above). We walked there and back the next morning, though we could have headed up the road from the inn, away from the loch, and reached the house where JM Barrie wrote Peter Pan. Cross the River Coiltie from the inn and you'll find The Great Glen Way, the 79-mile route that links Inverness with Fort William.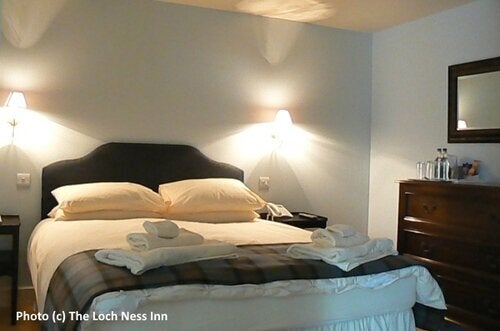 The Loch Ness Inn is clearly popular with hikers, and we liked the fact that there was a tray to store your muddy boots on just inside the door of our room. The room was simple but spotlessly clean and had everything you needed: a shiny new shower, easy chair, flat-screen TV, phone, free WiFi, a chest of drawers, a hair dryer, tea- and coffee-making facilities and somewhere to hang your coats.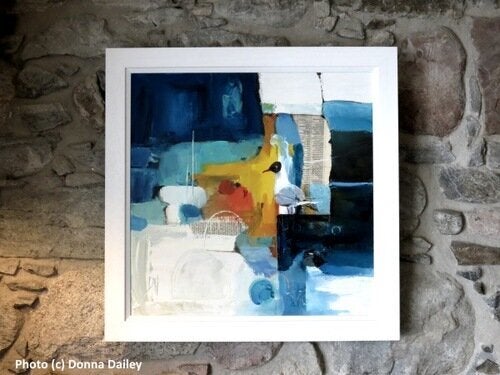 The inclusive breakfast was served in the restaurant, with its stone walls, stoves (working in winter, attractively decorated with candles in summer) and eye-catching artworks. There was a small buffet area, set on one of the wide window sills and with cereals, yoghurt and fruit juices. Then you can choose from a full Highland breakfast, porridge, French toast, pancakes with maple syrup, eggs benedict, granola, smoked haddock, toasted muffins or smoked salmon with scrambled eggs.
It set us up for another day exploring Loch Ness. We never did see the monster, but I much preferred my close encounter with a haggis bobotie.