In 1968 when I was a schoolboy, I used to listen to Jonathan King reviewing new record releases on Radio 2. Being a fan of Petula Clark, I had discovered that Tony Hatch and Jackie Trent had written many of her greatest hits and noticed that Tony and Jackie had written a song called Hollywood which had been recorded by Jackie and which was released on Pye Records.
King, of course, laid into it and I was so incensed at the time that I wrote to Tony at Pye Records and he replied to me with a very kind letter of appreciation from them both.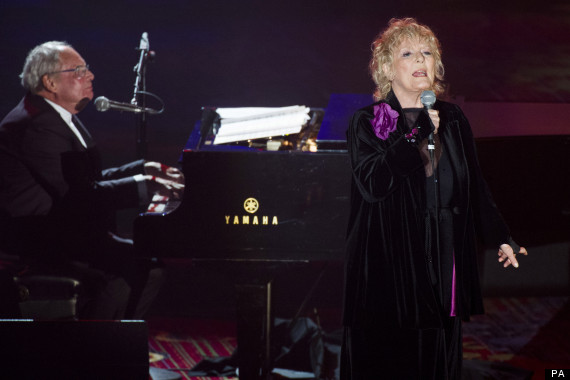 Tony Hatch on stage (pic: 2013) with Saturday evening's very special guest
Fast forward to a packed Royal Festival Hall on Saturday 5 July 2014, where I had the pleasure of attending Tony Hatch: A Life in Music. There was a 40-piece orchestra who played an opening medley of spectacular arrangements of many of Tony's hit compositions and then Sir Michael Grade, one-time controller of BBC One, introduced Tony and they settled down on a sofa for a fascinating walk through Tony's musical life, interspersed with renditions of his songs by guests ranging from Marti Webb, Joe McElderry and Rhydian to one very special guest who, like the biblical good wine, was kept till last.
Tony , who had received his musical education as a chorister, revealed that he had received, via his mother, inspiration from the melodies of Ivor Novello and that he had realised that he was going to write music from the age of four. At 18 he went to work in Denmark Street simply because of the address and its musical reputation and, on receiving his call up for National Service, must have been the only conscript who had a hit in the top 20 while serving in the Armed Forces.
In the early 60s he went to work for Pye Records and wrote a hit for Bobby Rydell called Forget Him under the pseudonym of Mark Anthony, as it was not done for record producers like Tony to write the songs as well. Joe McElderry beautifully brought this melodic ballad to life once again.
The Orchestra, now being conducted by Tony, serenaded us through a sweepingly rich medley of TV Hits including the very familiar themes from Man Alive, Crossroads, Emmerdale, Mr and Mrs., and, of course, Neighbours, during which the audience were asked to join in - which they did con gusto.
The many vignettes in the conversation revealed what an interesting life this songsmith has led and also what a genuinely nice and empathetic person he is. He did, at one stage, make a fleeting mention of his former wife Jackie Trent and there is a painful legacy under that particular surface, but he also paid tribute to his wife Maggie with whom he lives happily in Menorca, and both she and two of his children were present in the audience for this celebration.
One of Tony's most beautiful songs, Joanna, which was recorded at the time by Scott Walker, was also sung by Joe McElderry, and was very much appreciated by the audience. Other hits, including his Eurovision song for Matt Monroe I Love The Little Things, were all sung spectacularly well by young artists Sophie Evans, Rumer, John Owain Jones and it was perhaps Rhydian's performance of If You Ever Leave Me which Tony had written for Jack Jones which was most impressive.
I didn't know that Tony had written Messing About On The River so it was a particular pleasure to have him play it and sing it to us while once again asking us to join in. There must have been many musical people in the audience because it was noticeable how such a crowd sang so well!
And then the special guest - Petula Clark - was brought onto the stage by Michael Grade to thunderous applause and a standing ovation. She was poised and glamorous in her 83rd year and joined the conversation before adding her own original magic to a song which they had composed together in Menorca called Rainbow, followed by two of Tony's best known hits which she recorded - Don't Sleep in the Subway and the legendary Downtown. During the chorus of Downtown she was joined on the stage by the rest of the performers in a fitting end to this truly enchanting evening.