Looking back on the last six months, the journey I have embarked on, skills I have learnt and situations I have experienced, it has all been something that I could only have dreamt of previously. Back in June, I applied for the position of reporter and producer for series seven of London360, a show which airs on the Community Channel. I was surprised to be invited in to the Media Trust offices for an interview and further shocked to be offered a position as part of the team. The role did represent some risk as it is an unpaid position.
At a time where unpaid internships, and the alleged 'exploitation' of interns were being highlighted, I had to give this decision some serious consideration. I was looking going six whole of months of being unpaid, on top of studying for a MA degree and still recovering from the costs of recently finishing my BA degree. If I took this opportunity, it would be a huge gamble.
In the end, the decision was a no brainer for a young person intent on becoming a sports journalist. Of course, I gratefully accepted realising that in such a competitive industry, sacrifices wold have to be made. The biggest factor in my decision was what makes London360 such a unique scheme.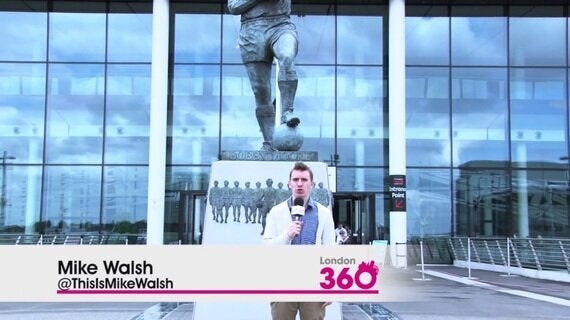 The scheme is open to 18 - 25 year olds and provides all round media training to the lucky chosen few including pitching ideas, interviewing, filming, editing and access to industry advice. On top of all this, the scheme provides the opportunity to use these skills to produce a fortnightly TV show on the Community Channel which airs on Sky and Freeview.
So not only do you learn these invaluable skills but you get the chance to implement them on national TV which is incredible. It automatically helps you overtake a large portion of aspiring youngsters in the queue looking to get into media.
My London360 experience started with a week of shadowing the pervious team who were wrapping up their series when we were presented with the opportunity of interviewing TV and Film genius Noel Clarke. This was a sign of things to come as we would be presented with exciting opportunities like this throughout our tenure. It was incredible to have the chance to pick the brain of one of the biggest names in British film on a one-to-one basis, a very motivational day.
The first month of our time at London360 was filled with master-classes with experts in respective fields which provided all round media training. We were treated to classes with leading social media leader Andrew Davis, a journalistic session with the renowned Vivian Morgan and producer Angela Ferreira amongst others. The team were also given intensive training in camera work and editing which fully equipped us to begin our careers as London360 producers and reporters.
As someone looking to get into sports journalism, I concentrated some of my time on producing sports features and did so looking at grassroots football and basketball. This gives me an edge when applying for jobs because I can provide potential employers with broadcast quality work in the industry which I produced at the age of 22. Although I am not hugely interested in basketball, at London360 I learnt that opportunities can arise and it is up to you to take them and run with it. The basketball feature I produced turned out to be one of my best pieces of work.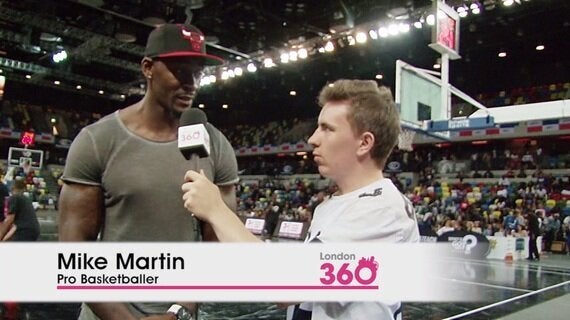 IMAGE COURTESY OF LONDON360
London360 also gave me the opportunity to create content on issues that I am passionate about and help raise awareness for them. One of the mottos at London360 is that we give voices to voiceless communities and as a young and edgy brand, this definitely attracted me to the scheme. One of the best examples of doing this was the story I did on Rachael Owhin, a girl from Northwest London who crowd-funded £10,000 in order to take up a place at Oxford University to study a Master's degree. This piece not only gained exposure for Rachael's incredible story but also looked at the problem of elitism in Britain.
As a young person from a working class and disadvantaged part of Northwest London, this was something I was proud of and London360 gave me the opportunity, and encouraged me, to turn my experiences of the world as I know it into TV features, which I like to think critique our society's ills.
On top of all this, London360 has given me the opportunity to vlog for London Live and Sky's Stand Up and Be Counted campaign, produce radio features for Westside Radio and BBC London Drivetime and become a blogger for Huffington Post. As a huge hip hop fan it was a privilege to work on the #hiphoplifelessons project where we got to interview Wretch 32, George the Poet, Akala, Hattie Collins and Jay Sean. On the subject of celebrities I even got to film a promo with Liz Hurley on set which was a surreal experience.
Writing this article has driven home just how much I have achieved in a short space of time with London360. I have amassed a great amount of practical experience in an extremely tough industry to break into. I can only hope that the media industry learns from the example set by London360 and we see more schemes offering similar opportunities appear.
Related