London is known as being one of the most diverse cities in the world, so it is fitting to celebrate the National Diversity Awards here in the capital. A wide range of inspirational people, who have made grass-roots changes in their communities, flocked to the lush Hurlingham Club on the brink of the River Thames in Fulham to celebrate each other's achievements.
The event is definitely one to mark down on your calendar and provides recognition for excellence regardless of race, faith, religion, gender, identity, sexual orientation, age, disability and culture.
The energy in the room was an intrinsically positive one, with each nominee being extremely supportive of each other. The evening, hosted by Brian Dowling of Big Brother fame and Cerrie Burnell who is a keen supporter of several charities, was kicked off by founder of the NDA's Paul Sesay.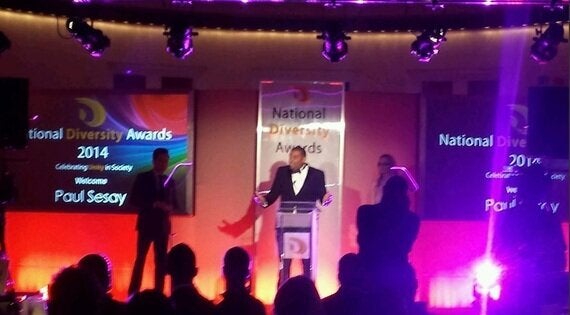 PICTURE COURTESY OF LONDON 360
Sesay discussed the importance of the National Diversity Awards and spoke about what inspired him to create the ceremony. As passionately as ever, Sesay said "It is an honour to witness the extraordinary journeys of Britain's unsung diversity heroes, and we will continue to recognise their extraordinary achievements. I know another fantastic spectacle of role models will be delivered and recognised this year." The ceremony, without a doubt, delivered on that promise.
Activist and Campaigner, Peter Tatchell, a patron for the awards, then let the audience know why the awards were special to him and why he is so proud of being involved. Tatchell said "It is a huge honour to be a patron of the National Diversity Awards, which does such outstanding work to promote, empower, profile and acknowledge organisations that are pioneering amazing initiatives on equality and diversity issues." However, he noted that "diversity is essential but not always adequate, we must address the status quo." With that positive message, to spread equality to people of all diverse backgrounds, the awards started flowing.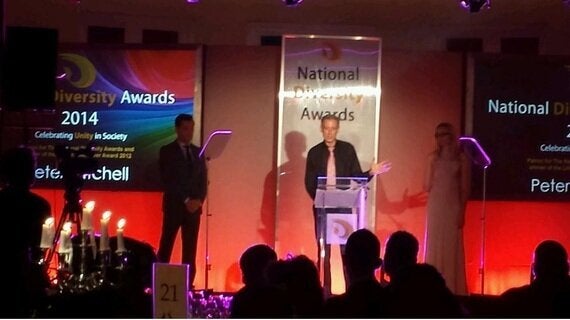 PICTURE COURTESY OF LONDON 360
First up was the Positive Role Model Award for Gender, and despite being up against strong competition, Karen Ingala Smith emerged as the winner. Karen has devoted her work to the Counting Dead Women campaign, which exposes the tragic cases of women who have been killed by men in suspected violent relationships. Ingala Smith dedicated her award to those women who have been killed by male violence and said "I have launched this campaign, Counting Dead Women because I want to see a fit-for-purpose record of fatal male violence against women. I want to see the connections between the different forms of fatal male violence against women. I want to see a homicide review for every sexist murder."
Sonia Meggie, founder of Inspirational YOU, beat four other competitors for the Positive Role Model Award for Race, Faith and Religion. Sonia revealed a truly remarkable story which involved her being featured in the Powerlist 2013, which profiles the most influential people of African and African Caribbean heritage in the United Kingdom, being listed as one of London's most powerful black women, as well as achieving her dreams by enriching the lives of others around her. Sonia's London based social enterprise launched in March 2010 with a mission to connect, inspire and empower young people, women and black and Asian professionals.
Another highlight of the evening came when Stephen Sutton was honoured with the Special Recognition Award, collected by his older brother Chris Sutton. There was not a dry eye in the building as guests were reminded of Stephen's courageous efforts in raising over £4 million for the Teenage Cancer Trust while in his fight against the disease. Stephen lost his battle with cancer earlier this year but leaves behind him a legacy which will inspire many others to do amazing things in their lives.
The Lifetime Achievement Award went to a truly remarkable woman. Dilys Price OBE is the founder of the pioneering charity Touch Trust, a group which offers unique movement education and touch therapy for individuals with learning disabilities, those affected by Autistic Spectrum Disorder and to other vulnerable groups in the community. On top of this, Dilys has written herself into the Guinness World Record Books by becoming the oldest female skydiver, at the age of 82. She said "Friday night was like a fairy-tale, I felt like a Disney princess and had a happy ending and that doesn't always happen. I took my award to bed that night and I'm still so happy."
The night was wrapped up with a brilliant performance from British R&B soul singer Lemar who performed the pick of an impressive catalogue of songs. The National Diversity Awards was a real feel good event, where each nominee had earned their right to be in attendance for their fantastic work in their specific community.
Although the evening celebrated diversity, I am sure that everyone similarly drew great inspiration and gratification from the event. It was refreshing to see wholeheartedness celebrated in such swanky style and I look forward to seeing the National Diversity Awards continue to grow and flourish.