This week's 'On the Streets' focuses on the rather wild and untamed concrete 'jungle', recreated masterfully by the itchy artists hands. Always looked for that unexpected pleasure of discovering new, exciting work on the city walls and I have been taken by the call of the wild. Leading off is Aida and her fine gang of hand screen-printed 3D wolf, Tiger and Stag-Morfs and Tiger lilli pasteups. Master screenprint artist, Aida has taken us to a different, lavish world- full of fantasy beasts in full-blown fluro colours . Take a closer look below and full enjoy Aida's talent to reinvent nature in a most luxurious, extraordinary and vivid way.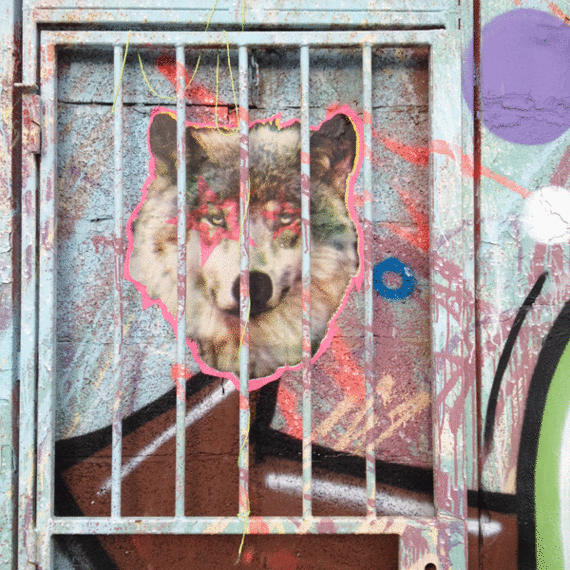 Close -up images of Aida's Stag and Tiger -Morfs and the Tiger lilli pasteups, all in Hackney Wick, London.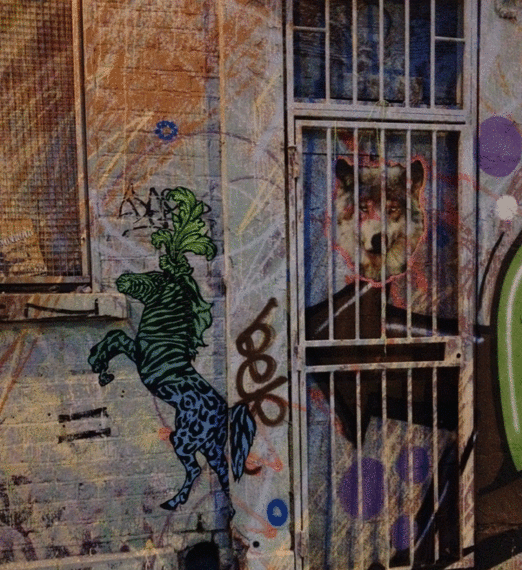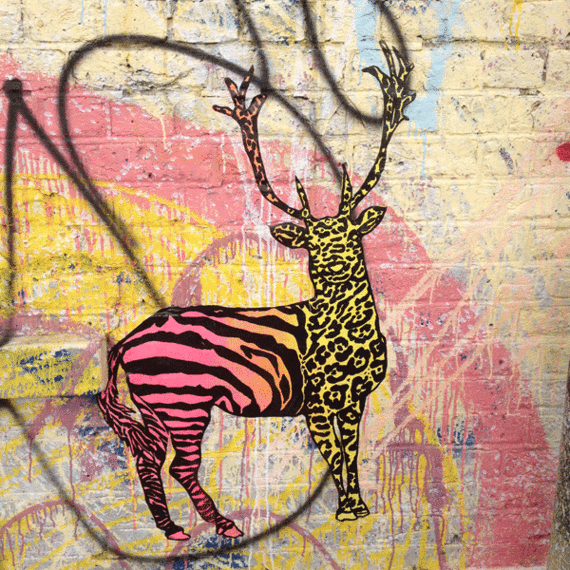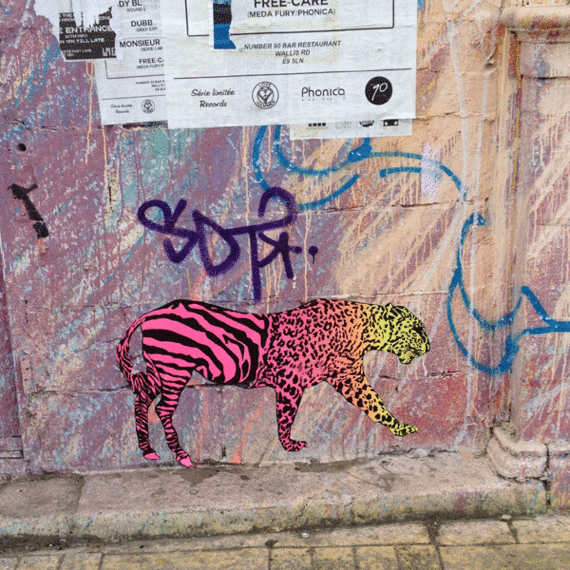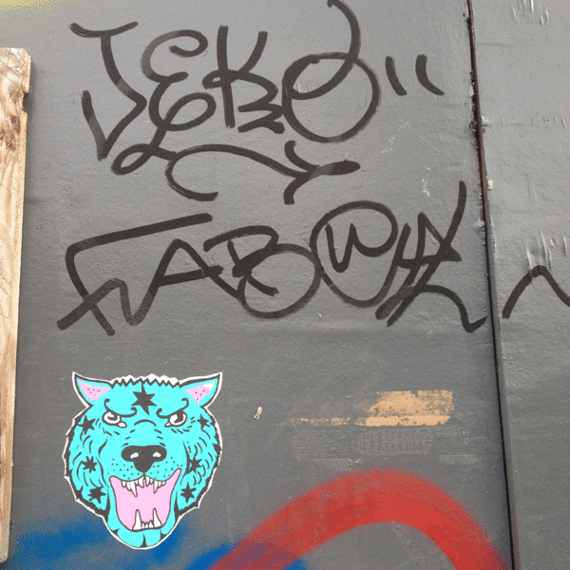 Other artists gone wild - Paul Insect in Hackney Wick, Dscreet and Ghostpatrol in Dulwich, Phlegm - Moss (Norway), Kaff-Eine in Alabama, Faith47, TWOONE and ROA in Djerba (Tunisia).
Paul Insect has been a busy bee. While taking a stroll on the streets of Hackney Wick, I could not miss spotting this giant wooden sculpture of the Big Bird, having a joyous time, dancing to the tunes, coming out of a CEPT cassette. Found some more hand-painted poster pasteups of Paul's signature creatures, alongside Sweet Toof cheeky gums in pink and blue too. Delight!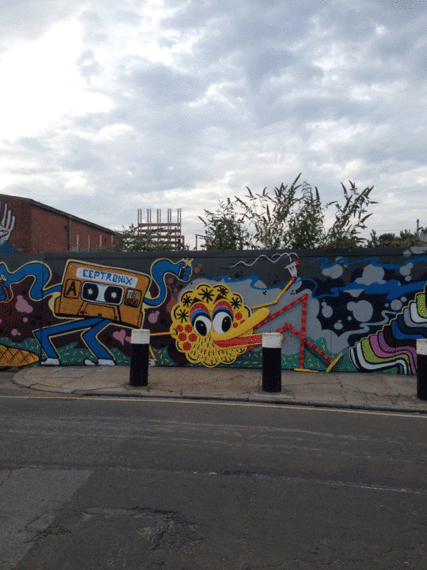 Paul Insect and CEPT, Hackney Wick, 2014.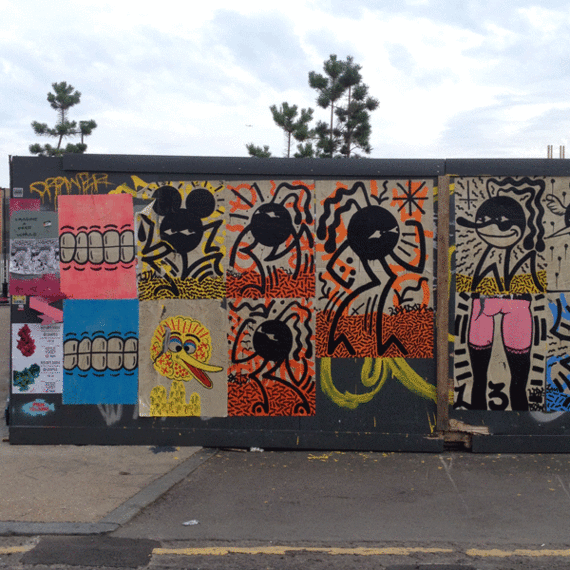 Paul Insect and Sweet Toof, Hackney Wick, 2014.
Neon pink looks like a strong colour- fell in love with this master of painted owls Dscreet and Melbourne-based Ghostpatrol piece, done somewhere in Dulwich. The two artists, well-known for their love of comics and cartoons blend styles in the quick collab and the result is more than fine.
Image: Dscreet.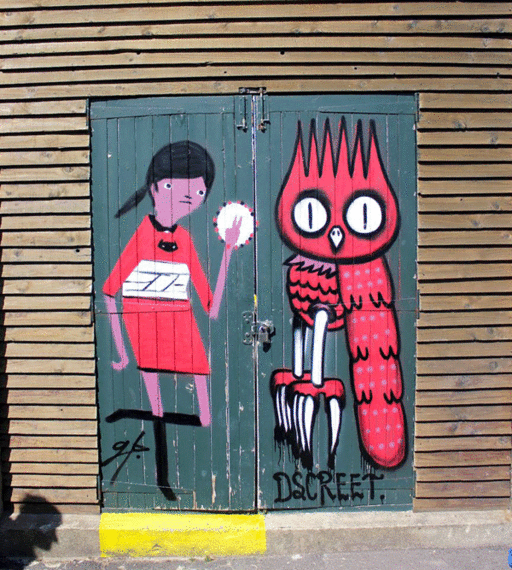 Another master of comics -Sheffield-based Phlegm is currently in Moss, Norway for the Urban Samtidskunst Project. His new wall, named 'Totems', all in signature monochrome, recreates a mystical world, full of wild creatures. Image via the artist.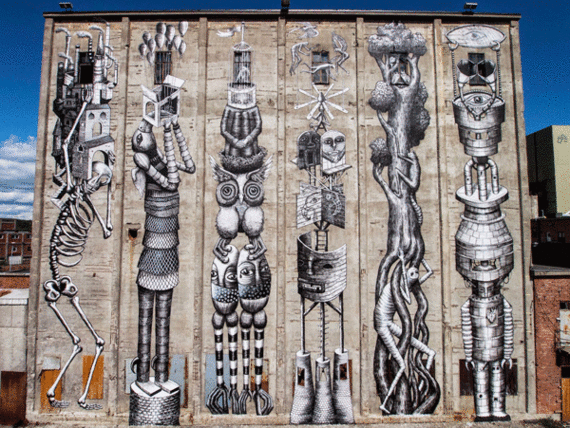 Stunning freehand skills, subtle lines and delicate melancholy comes out of this endearing image of a reindeer, painted on wooden, shabby looking shed somewhere in Alabama, by Australian artist Kaff-eine. Image via the artist.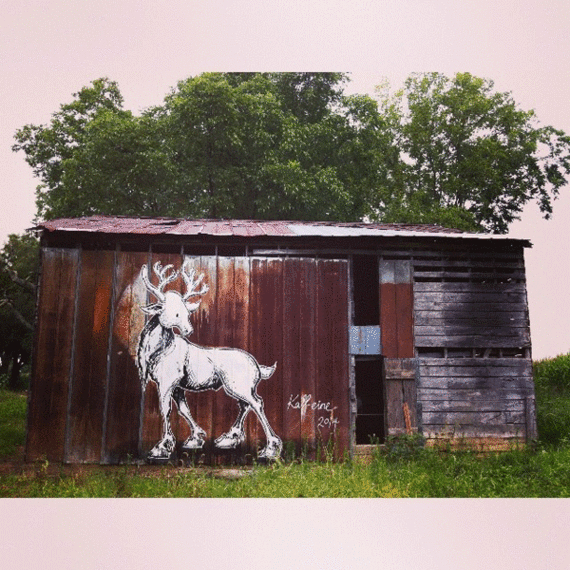 Our review will end up in Tunisia, where 150 artists are currently taking part in the Djerbahood Project.
Faith47, TWOONE and ROA caught our eye. See below in full details.
Entitled' Hunt Her', Faith47s new work brings to life the ephemeral beauty of a mystic creature, long extinct and forgotten.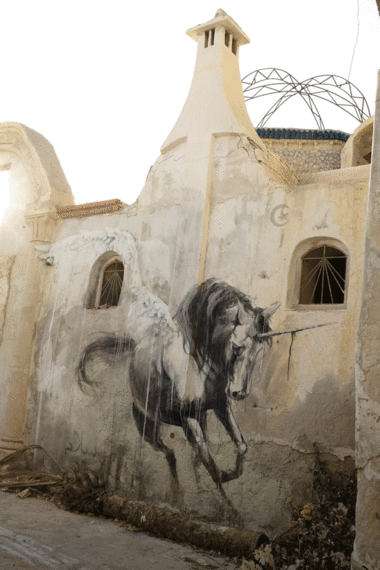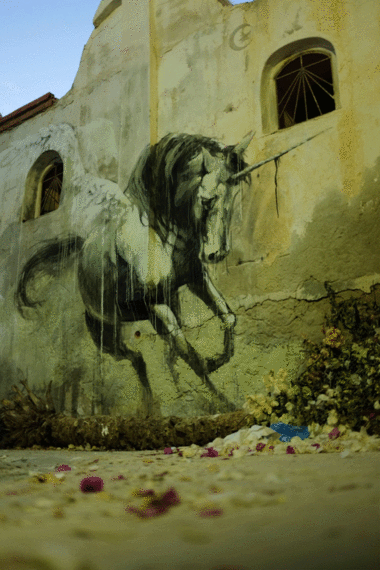 'Hunt Her', Faith47, Djerba, 2014. All images are courtesy of Faith47.
Japanese-born but Australian-based artist TWOONE also took part in the Djerbahood Project, re-imagining the local landscape with the warmth of his colourful still-life. Image via StreetArtNews.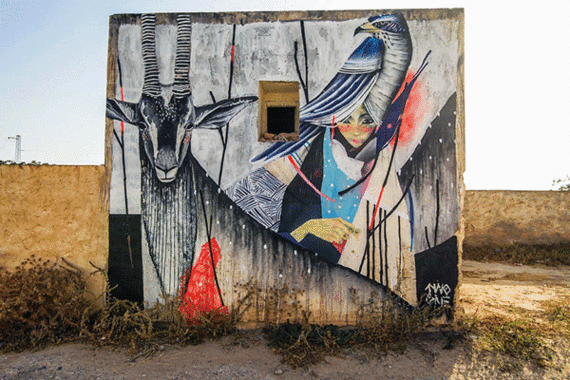 Belgian ROA has been responding visually to the call of the wild for the past five years, actively reminding us that nature is an intricate part of our world. We will leave his newest pieces to do all the talking. All images - StreetArtNews.