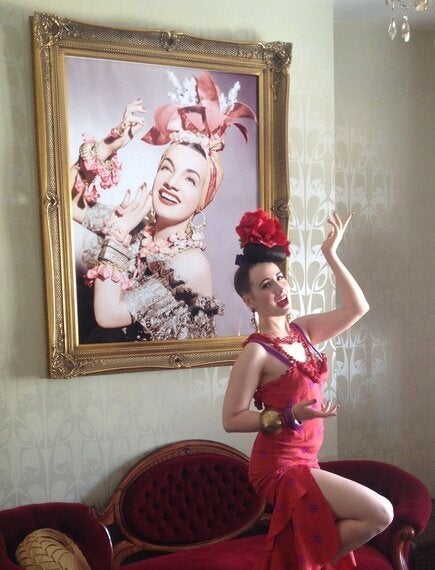 The world cup has kicked off in Brazil, so no doubt fashion this summer will pull some influences from the flamboyant Brazilians. The biggest style icon to ever come out of Brazil is indisputably the singer and actress Carmen Miranda. There is no star in history that has ever had a stronger signature style of colour, frivolity and fun.
In the 1939 film Banana-da-Terra, Carmen first wore what would become her trademark costume of glittering fruit turban and flowing skirts. It was inspired by the Baiana, the poor women of the State of Bahia in Brazil who would carry fruit and the food they made on their heads. The class was generally looked down upon but Carmen Miranda thought they were beautiful and was fascinated by them and created a glamourised version of their costume.
As World War Two approached, there was a need in America to feel that their side of the Atlantic was a large family and a calculating Broadway impresssario Lee Shubert offered Carmen Miranda, a big samba star in Brazil, a contract to perform in New York. She went on to star in many Hollywood musicals and became so popular that emulations of her exotic jewellery, shoes and hats were being marketed all over the world. She made such an impact that people said she outdid French designers such as Chanel and Dior.
As a "showgirl" myself I really admire her as a brilliant performer have taken inspiration from her when costuming myself. I have a Brazilian sibling have visited several parts of the country including Manaus and Aracaju and love the nature, music and party spirit! I have a 4-foot portrait of her in my living room and coming down the stairs every morning to her gigantic grin, I can't help but be joyful. She is a symbol of happiness.
How to add a Touch of Carmen Miranda to Your Outfit-
-The Carmen Miranda Silhouette.
You can look for garments that have Spanish frills on them. They appeared a lot on her skirts and ruffled up at her shoulders. A Spanish Frill is created by taking a circle of fabric and cutting it in a spiral, when you open it out into a line this creates a Spanish frill. Carmen often had her midriff showing or panels cut out to show a part of it. Her tops were often off the shoulder and many of her full-length skirts had a long split up the left side.
-Wear Large Bangles and Lots of Them.
She hand her wrists laden with bangles of different thicknesses and textures. If you are bored with the bangles you have you can paint them with acrylic or wrap satin ribbon around them. Another favourite idea of mine is to stick Swarovski rhinestones on them in imaginative patterns.
-Make a Turban out of Scarves and add Features.
One way to make a Carmen Miranda turban is to take a headscarf or some fabric of that size and place it over your head from the bottom of your neck upwards, so that you have a bunch of Fabric at the top of your head like a high ponytail. You can then put a hair-band around this as if making a ponytail and arrange the fabric in a splayed manner in the shape of tropical foliage. You can leave it as so or add a glittering brooch to the front and/or fake/real flowers and/or fake fruit. Netting and tassels is another thing she wore in her hair. Be Creative, she wore a mini lighthouse statue on her head once it was such fun. OTT did not exist in Carmen Miranda vocabulary.
Carmen famously wore 20cm high, wedged heels to add to her height being only 4ft 9. The toe and sometimes the top of the heel was ornamented with small fruits, jewels, tassels or pom-poms. You can make removable shoe clips with these on by taking two child's badges or circles of leather and covering with a base fabric. Then stitch or glue on your decorations. Why not make a larger corsage for your dress to match.
-Wear a Huge Smile Cemented to Your Face and Move Your Eyebrows a lot When Talking.
She had the most expressive visage almost like a cartoon. It certainly makes it impossible to look away from her when watching her on film so it may work wonders for you when you are out and about.
In the second half of 2014, the new headquarters for the Cármen Miranda Museum will be opened at Rio de Janeiro's new Museum of Image and Sound (MIS). Be sure to visit.