Occasionally you hear of someone about whom no one seems to have a bad word to say. "He's a great guy!" or "I have a lot of respect for Jimmy." When someone's reputation appears quite so spotless, I seem to steel my heart and I notice that I want to search them out for their "real" personality. To put it bluntly, I want to find flaws in them. Admittedly this isn't my best trait but it is with this curiosity that one balmy evening I find myself at BAFTA, sitting across a table from Jimmy Akingbola.
Let me say that I get it now; that there's a reason Jimmy's earned his industry moniker, "Mr Nice". He's a captivating raconteur and all easy-charm. So it's hard to imagine that he was ever a shy Eastender dreaming of a late but glorious Ian Wrightesque footballing career. Because what comes across clearly with Jimmy is, how comfortable he is with who he is. He's a Londoner through and through with a strong appreciation for his Nigerian heritage. You get the sense that his family have been central to keeping him himself, and there's none of the frustrating (and often empty) mystery of an "Actor".
Over the two hours, as Jimmy tells me his story, there are moments when I start to feel a mounting anxiety. Later as I reflect on this I realise that he may have just as easily not become an actor at all. As he tells it, it was something he fell into - courtesy of a secondary school drama teacher who had him reading Macbeth as a teenager and who saw in him a talented performer. Being part of Community Links Drama, he supplemented his theatre and performance education at The Theatre Royal Stratford East; through The Posse and the BiBi Crew , both Black British Comedy companies, and the quintessential Sunday entertainment of the East end - Variety Nights. American actors and shows: Richard Pryor; The Cosby show with its early and rare entrée into Black middle class goodness; Eddie Murphy particularly in RAW, and Angela Basset whom he calls "underappreciated" provided lasting inspiration. Yet it was only when he was deciding what to sit for at A Level, that he resolved to take up acting as a career, talking his way into a BTEC National Diploma in Performing Arts that, strictly speaking, he didn't have the grades to pursue. You wonder, in these times of austerity cuts and the dismissal of The Arts from core education, how many Jimmy's we'll never see.
Despite his universally acclaimed warmness, Jimmy is a doggedly ambitious man. He has been working solidly to create memorable characters on the stage and on our television screens most recently as Mic, and Dr Malik. Concurrently, Jimmy owns and runs TriForce Promotions, a networking powerhouse which he never fails to state is, a partnership with Fraser Ayres. Borne out of their instinctive ability to connect people, TriForce Promotions hosts a number of events including Welcome, MonologueSlam UK, and the TriForce Short Film Festival. Excepting Masterclasses, paid-for acting workshops, I'm impressed to see these non-funded, actor-led events that provide high quality entertainment and high profile free performance platforms for the actors themselves. Established actors laud it for its hand-on approach to creating a momentum for up and coming talent; new and regular performers repeat again and again the high standards expected of them that they are able to achieve. There is explicit trust in Akingbola and Ayres, and the collaborative vision they have set out to bring to life. Last year on the back of their work, TriForce Promotions was able to send four actors to LA , all of whom found representation and two of whom are imminently moving there.
Their next event is MonologueSlam UK on August 19. This is a six-times-a-year, theatrically entertaining night, focusing on twenty performers who have made the final cut from an initial audition of up to three hundred. It is essentially a set of "trailers" - ten actors each playing out one minute monologues and a further ten, more seasoned, taking on the three minute slots. They are judged by seven industry heavy-weight agents, producers and casting directors including the BBC. The event sells out to a full audience often including household names like Lenny Henry, Hugh Quarshie and Casting Director, Amy Hubbard.
The stakes are particularly high for this edition of MonologueSlam UK. Dubbed the "LA Edition", it offers the winner basically everything they need to help break into the US market. Excepting the cost of flights to LA, the winner will receive five days paid accommodation; auditions with up to 40 agents and directors; a Master Class with Stella Adler; headshots; a Q&A session with an agent, and an appointment with an immigration lawyer. Obviously with a week to go, the doors for this particular edition are closed, but if you want to get on the mailing list, to find out when the next round of auditions are, get in touch with info@triforcepromotions.co.uk.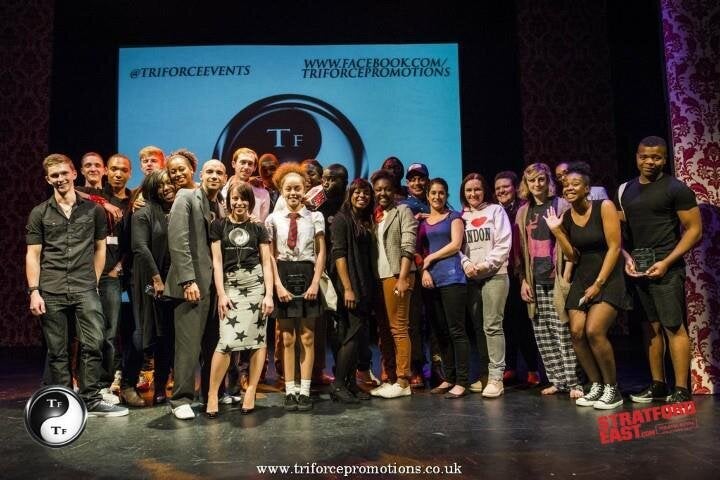 Jimmy Akingbola, Fraser Ayres, the TriForce Promotions team and all the actors from the sold-out MonologueSlam UK June 2013 show.
I can't wait to be there on the 19th, especially to see the Junior MonologueSlam section which gives five, 11-16 year olds the opportunity to hold the stage for a minute. Twitter is already all-a-tweet with anticipation and it feels serendipitous to have stumbled onto what seems like an insider secret.
Look out for MonologueSlam UK. It's set to become an immense brand experience; it was launched in Manchester last month and is expected to be rolled out nationally in Birmingham, Newcastle, Leeds and Edinburg in 2014. Akingbola and Ayres are aiming to air it on TV; they'd like to host a celebrity version and they are hoping to finalise a relationship with a charity that focuses on young people and homelessness. Book your tickets now before they sell out!