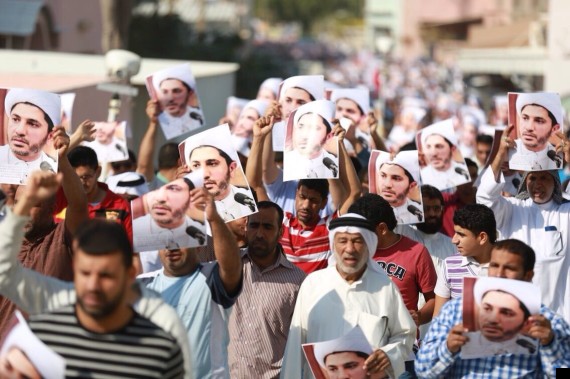 Protest in Bahrain calling for the release of Al-Wefaq Leader Shaikh Ali Salman
Shaikh Ali Salman is a political heavyweight in Bahrain. He has led Al-Wefaq, the largest political party in Bahrain for over ten years, and on 27 December 2014, he was once again re-elected as Secretary-General of Al-Wefaq at the party's General Assembly. The next day, Shaikh Salman was summoned to the Criminal Investigations Department, where authorities detained him.
Founded in 2001, when King Hamad looked to be a reformist, Al-Wefaq has come to define Bahrain's political opposition in Bahrain ever since. They boycotted the 2002 elections but chose to run in the 2006 election, politicians and activists opposed to the move splintered from Al-Wefaq to form their own groups. In the 2010 election, Al-Wefaq won over 60% of the votes, although this translated to only 45% of parliamentary seats. In protest of the murder of protesters and in solidarity with the popular uprising in 2011, all Al-Wefaq MPs resigned. But the party continues to be key and participated in the ensuing national dialogues with the government, though these quickly proved hollow efforts. Shaikh Ali Salman has been a leading moderate throughout: it was his decision to end the election boycott in 2006 and work towards reform from within the government, and he has consistently denounced violent opposition since 2011.
2014 seemed to begin positively for the party when, in January, Crown Prince Salman bin Hamad met with Al-Wefaq to ask their assistance in renewing the national dialogue, which fell apart in 2013 after authorities arrested Al-Wefaq's Assistant Secretary General. Nothing materialised from this meeting, and it quickly became apparent that the Bahraini government had no real intentions of engaging in a dialogue but was instead using the meeting between the Crown Prince and Al-Wefaq to appease the international community. Because of this continued lack of meaningful dialogue and reform, Al-Wefaq boycotted the November 2014 elections - a move with great local support, but which earned them international criticism.
When, in early December, Britain announced that Bahrain will host its first naval base in the region since 1971 - a base which Bahrain will spend £15m on - Al-Wefaq denounced the move. They were not alone in doing so. In Britain, 26 MPs strongly criticised the new base, stating that it will "send a message that the UK Government is not interested in justice, rule of law and reconciliation in Bahrain."
But Al-Wefaq alone was singled out for its criticism. British Ambassador Iain Lindsey openly targeted them in a 10 December speech where he said, "I can only assume that Al-Wefaq are blissfully unaware that the US 5th Fleet, our considerably larger ally in the fight against ISIL, or Da'ash, is already based in Bahrain. Or that Al-Wefaq are opposed to the 60 nation coalition against Da'ash, or the 30 nation Combined Maritime Force based in Bahrain."
Yet the American naval presence does not justify a British one, and it is deeply disturbing to hear a British diplomat insinuate that Al-Wefaq wants to see the victory of ISIL, which has massacred Shi'a alongside Christians, Yazidis and other minorities.
So 2014, which began with a hollow promise of reform inclusive of the opposition, now ends with the arbitrary detention of the leader of the largest opposition party, along with other opposition leaders and human rights activists. A moderate who consistently tried to work with the government until Al-Wefaq's boycott of the last elections, Shaikh Salman is accused of a litany of charges, including inciting hatred against the government, insulting the judiciary and government, and broadcasting false information.
The acts against him were perfectly timed in the middle of the holiday season, so that the international community's response has been muted. The EU has failed to call for Shaikh Ali Salman's immediate release, instead calling on the judiciary to follow due process, something he won't find in Bahrain's non-independent courts. The U.S. State Department expressed similar concern, while the UK's response is yet to be heard. Only the UN has called for Shaikh Salman's immediate release, and the release of others detained for exercising their freedom of expression and assembly. As Bahrain ties itself closer to the fight against ISIL, her Western allies may become more willing to turn a blind eye to abuses.
The signs are grim for 2015. If Shaikh Ali Salman's charges are not dropped, and if Bahrain's allies - most of all Britain, which has never been closer to the island nation - do not condemn this attack on the peaceful, political opposition, they will give Bahrain a blank cheque to silence its democratic opponents.