Like many countries, Algeria prides itself in an array of traditional clothing, each with a unique history. For both men and women, the existence of traditional clothing in Algeria allows Algerians to take pride in their country's past, as well as tell a story. Each wilaya (provinces) of Algeria has its own clothing: given that there are 48 wilayas in Algeria, that's a whole lot of culture and clothing.
The want to mix contemporary alongside the tradition can sometimes be difficult. How can one dress in a way that marries these two aspects without losing sight of your ancestral roots, or looking like you've stepped out of a history book?
As with many dual national Algerians such as myself, there is always a yearn to share a part of your Algerianness in different and inspiring ways, without completing looking like an ancient painting. To wear a part of your culture on yourself is like an emblem of pride in the subtlest yet stylish of ways. The diaspora has that one thing in common: the connection to the North African land without our feet actually touching the familial grounds on a daily basis. That's where Raji Collection comes to the rescue.
Raji Collection is a contemporary and chic brand that was established in 2013 by Algerian found Hana Ferradji. Hana's vision was simple:
"l'a créé pour une clientèle désirant porter des pièces ornées de broderies millénaires tout en restant contemporaine" -to create a brand for customers that adorned traditional embroidery whilst also remaining contemporary.
And that is just what she has done. With now an Instagram following of over two thousand, and a store in the downtown area of Hydra in the capital Algiers, Raji Collection is redefining identity, diaspora culture and tradition through fashion.
The collection offers pieces that will have your high street describe as "effortless ethnic chic", yet Raji isn't here for the mass market. Raji defends and boasts the Algerian handicrafts and promotes the ancestral know-how of these beautiful patterns that have existed for centuries in North African history.
Speaking to Hana, there was a pride behind her words, as she explained the thought process behind creating Raji.
Raji was the offspring in the run up to Hana's marriage and wedding day. Disheartened that such beautiful embroidery was only worn for certain occasions, she got creative: designing and making t-shirts and hoodies for herself and her sisters. The unique designs were a hit with some Parisian friends, which in turn meant Hana had to take orders and get delivering - fast!
The Karakou is a national symbol of the grace, elegance and detail taken in women's traditional clothing. The Karakou was born in Algiers in the 15th Century, and was originally worn by aristocracy in the capital during parties, weddings, circumcision ceremonies and more.
Consisting of a vest embroidered with gold made by goldsmiths, the Karakou is known for its intricate design and craft. This unique piece is made to last a lifetime, and each Karakou is different from the other. Each woman's Karakou will differ from the next. Embroidery is done on fine velvet, this choice of fabric specifically because its expression of luxury and sophistication. Raji have taken this luxury and translated it into a contemporary version that can be worn every day. The velvet is adopted in their caftans, the embroidery on the sleeves of the simple, basic white T and even on sweaters to umph up your made-no-effort-but-I-have-made-effort days. Raji describe this as the smooth blend between East and West, a fashion escape for the everyday Algerian woman.
The same inspiration and principle is adopted also in the Raji store: using Algerian oriental inspiration on mugs and coasters which are still present in Algerian palaces and mosques dating from Ottoman times. Not only this, the delicate designs decorating the store and merchandise are all created by local artists within Algiers; promoting local artistic talent.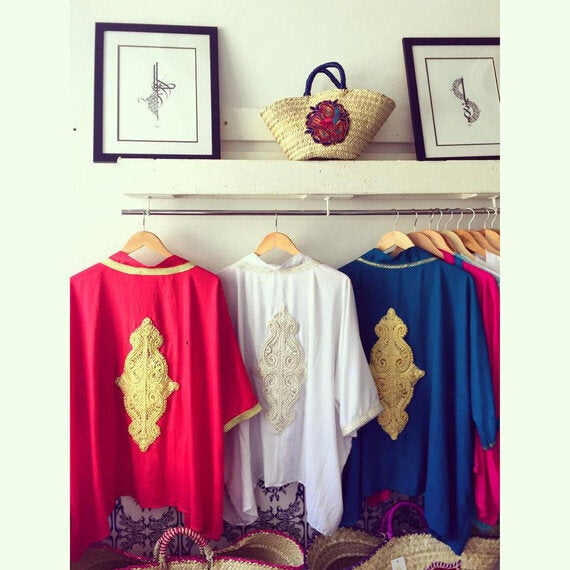 The preservation of the timeless classics from Algerian culture are high on the Raji agenda, ensuring that all pieces are sewn in a local workshop located a few kilometers from Algiers; their respect for workers' ethics is one of the main reasons for their promotion of Algerian traditional style with the modern. Raji do not simply print a pattern onto a shirt: the artisans employed come from a line of professionals who have studied and work on the conservation of the mejboud craft style of Algeria and the Maghreb.
Raji's constant goal is to show that in Algeria is capable of creativity in a scene dominated by the Middle East in the region. An art form that is disappearing, Raji wants to bring back Algerian culture to a modern generation and also reach out to those who don't have a Casbah on their door step.