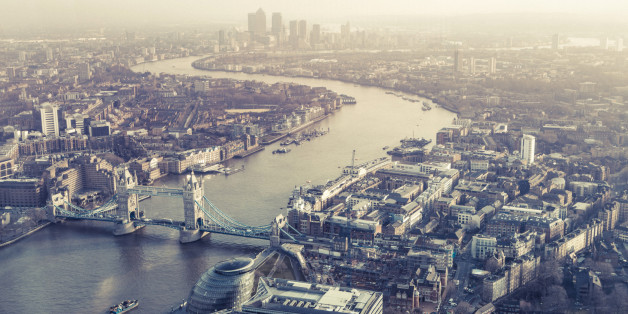 Tim E White via Getty Images
In the last few days the government released the strongest housebuilding figures since the credit crunch. But just when it looks like we are moving to a sustained housing boom, warning signs are beginning to emerge. All may not be rosy in the housebuilding garden.
New homes started have reached some of the highest numbers in a quarter of a century. More than 163,000 new homes were started in the year to March 2017. This strong performance echoes the strong net housing figures released earlier in the year - and should see the government comfortably working towards its million homes target.
Yes, housebuilding is up, net supply is up, but not everywhere. The rosy numbers hide a significant fall in London. A fall in London that looks like it is part of a longer term trend, rather than a one-off fall.
Official figures just released show that around 16,800 new homes were started in London in the year to March 2017, down sharply from nearly 23,000 homes the year before and lower than they were five years ago.
By contrast, the Home Counties started over 24,300 new homes, a strong rise on around 21,500 new homes started the year before.
As a result, for the first time in five years, there are more homes being built in the Home Counties than in the capital.
Why? Because proportionately, London has failed to keep pace with the significant growth in the rest of the country. London's contribution to the country's total number of new homes has collapsed from 17% to 10% of all new homes in England, in just five years.
Some will - of course - blame London's contraction on Brexit, but they would be wrong to do so. It is true that there was a small pre-vote contraction in construction orders and reports of planning permissions delayed together with suggestions that developments put on the back burner, but that did not continue after the vote and the outturn has been extremely strong over this period.
Despite this growth, it is true to say that business continues to be concerned about volatility, political risk and the broader macroeconomic uncertainty. To date this has not resulted in a reduction of business confidence.
Instead housing businesses are actively applying risk management techniques, including greater diversification to the regions. This suggests that the emerging pattern, where the Home Counties and regions are outpacing London, may be market driven by housing business activity in the immediate period.
Many housing businesses view the political risk relating to housing as higher than for some time. Existing concerns have been magnified by the narrow general election result and subsequent 'confidence and supply' agreement to form a government.
There is a complex policy landscape for housing, due to different housing priorities of the four governments over the past two and a bit years, many of which are still in the process of being implemented from previous administrations.
However, our five-year analysis indicates that neither Brexit nor the General Election is likely to be the reason for London's housing problems.
The problem may be cyclical, in other words a natural cooling of the market, but it is more likely to be structural. The Home Counties have been enjoying steady proportional increase in growth relative to the country overall, whereas London has been falling. This suggests a deeper problem. What we can see is London being increasingly outperformed by the rest of the country.
Last year, Lord Kerslake's London Housing Commission Report warned the Government that London's orders for new homes may have peaked in 2015, and that is holding true so far.
If it is to be reversed, and the Government is to meet its target of building 1.5 million homes by 2022, the Government should look again at the Kerslake recommendations for London. His report called for special measures to get London building more homes. The Mayor of London also needs to act swiftly to regain the momentum on housebuilding in London.
The latest Housing & Finance Institute's research paper - London and the Regions - recognises some outstanding work that is happening in the Home Counties that we have been supporting through our Housing Business Ready programme. Yet it is critical that the Home Counties and regions are better supported if these strong housing results are to be maintained.
There is no room for complacency. That's why we have recommended greater powers for councils in the Home Counties and regions as well as more support from Government to fund the infrastructure needed to get new homes built.
London and the regions can deliver the 1.5 million homes needed for the nation, ensuring we achieve sustainable growth and that future generations have a place they can call home. But they can only do this if action is taken now to get London building more homes and give the regions the powers and support they need to continue to deliver.