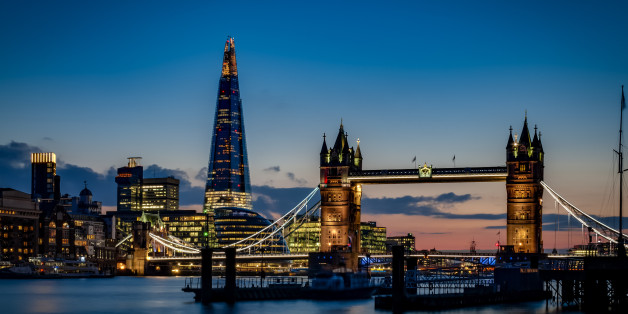 Moussa81 via Getty Images
Last night when I got into bed, my mind was abuzz. It wasn't excitement that had me awake and alert though. It was terror.
For the first time in a long time, I went to bed afraid.
As news broke that pedestrians had been hit by a van on London Bridge, the frantic Twitter-scrolling began. What was happening? Were people I knew okay? Was it another terror attack?
I kept scrolling and scrolling, I began following the Metropolitan Police for updates, then I saw the reports of stabbings in Borough Market.
My heart felt heavy.
I saw footage of police telling people in a Borough Market bar to 'get down', I saw videos of people running away from the scenes, I saw people tweeting how saddened they were by what had happened.
When I found out that people had been stabbed while enjoying a meal out after a week hard at work, I felt sick to my core.
I lay there last night and felt genuinely terrified. That could've been me, friends, a loved one. A fun Saturday night in the capital so easily transformed into something straight from a nightmare.
Eventually, I drifted off. But I felt desperately heavy. To be honest, I didn't know how I'd ever feel safe in this city again.
When I woke up this morning, I discovered that seven people had died and 42 were injured - some with life-threatening injuries. There aren't really any words to describe how I felt at that moment. Numb, I guess?
But then something changed.
I saw hundreds of tweets and retweets about the amazing people who jumped into action last night. The Khans who offered their taxi service for free to help those stranded in the London Bridge area, the Sikh community who rallied round and offered refuge to people in their Gurdwaras, the ambulance services and police officers who ran straight into the chaos and risked their lives to save people, the people (just like you and I) who offered up sofas and cups of tea to those affected.
I went to bed terrified and woke up incredibly proud.
Because for every handful of scumbags out there who will so readily take people's lives, there are thousands of people who will jump straight in, without so much as a second thought, and help.
There are people who will courageously drop everything to help complete strangers. And that, to me, is the biggest comfort ever.
Yes, the world is a scary place right now.
Yes, part of me is terrified that this could happen again.
But I am so incredibly humbled by the people who make this country (and city) great.
Their courage gives me courage, and I am nothing but grateful for that.