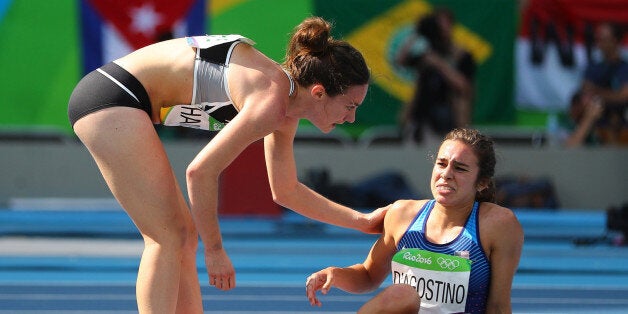 The 2016 Olympics have been rife with sexism - from the journalist who labelled Judo champion Majlinda Kelmendi's contest as a "cat fight" to those who shamed Helen Skelton's short dress on Twitter, saying her legs "distracted" them from the coverage.
It's been pretty ridiculous, to say the least.
But through the dark cloud of misogyny there's been a glistening ray of light - and that is the Olympic sisterhood.
Throughout this year's Olympics, there has been a wonderful and almost contagious show of support flowing between female athletes - and I think it's something we could all learn from.
Despite it being a competition, there's a new generation of athletes proving that you can still have opponents and be friends - and, in the process, they're singlehandedly crushing this silly stereotype of women being "bitchy" and "catty".
Simone Biles pictured having a girly evening with fellow gymnast Aly Raisman
If you're wondering what I'm talking about when I say sexist shitshow, let me break it down for you. A Cambridge University study, which launched at the start of the Olympics this year, found there were huge discrepancies in the way men and women were discussed by both the media and fans.
"Language around women in sport focuses disproportionately on the appearance, clothes and personal lives of women, highlighting a greater emphasis on aesthetics over athletics," researchers said. "Notable terms that cropped up as common word associations or combinations for women, but not men, in sport include 'aged', 'older', 'pregnant' and 'married' or 'un-married'."
One reporter from South Korean network SBS remarked that a Vietnamese judoka was "old for a woman". Meanwhile NBC commentator Jim Watson said of Olympic gold medal winner Simone Biles: "I think she might even go higher than some of the men."
It's been pretty rubbish for those who have been on the receiving end of some of the derogatory reporting that has gone on. But it's been remedied by something awesome: that is, female Olympians from different countries and teams are rooting for and supporting one another.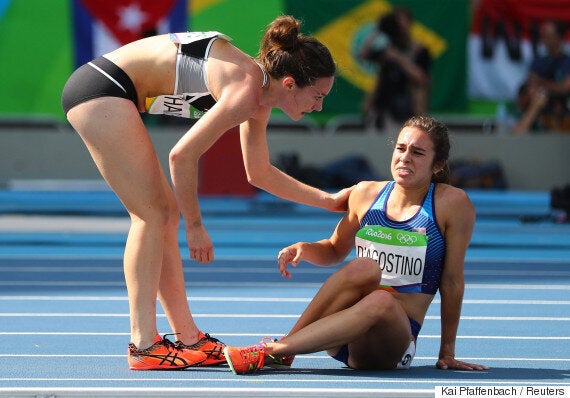 Nikki Hamblin helps Abbey D'Agostino get back on her feet
Take, for example, the most recent - and truly heartwarming - event where a runner stopped in the 5,000m race to help her opponent who had injured her ankle. Nikki Hamblin from New Zealand and Abbey D'Agostino from America had collided while running and had helped one another up to continue the race, but D'Agostino soon dropped behind and fell to the ground in pain.
Rather than continuing on, Hamblin stopped running and went to help D'Agostino up off her feet - the pair helped one another finish the race.
Another example is when Sally Conway from team GB beat Austria's Bernadette Graf and went on to win a bronze medal. Following their fight, emotions were high, but Bernadette hugged Sally and seemed genuinely supportive and gracious of her opponent's win, despite her loss.
Meanwhile, Lee Eun-ju of South Korea and Hong Un-jong of North Korea were praised for capturing the spirit of the Olympics after they took a selfie together before the start of the games. This was particularly groundbreaking as the countries they represent are technically at war with one another.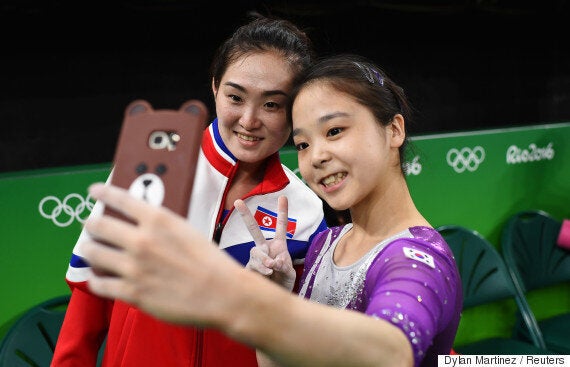 Lee Eun-ju of South Korea and Hong Un-jong of North Korea take a selfie together
US gold medal-winning gymnast team 'The Final Five' are probably my favourite example proving the sisterhood is well and truly alive. They're a team in the gym, but they're a team outside of the Olympic whirlwind too - they have face pack-filled girly nights and go out together, they've got each others' backs.
There's no bitterness, no take-downs, no shaming. Just love and friendships.
It's beautiful to see women coming out in support of one another and I believe that if we all adopt this approach more, we'd be a real force to be reckoned with.