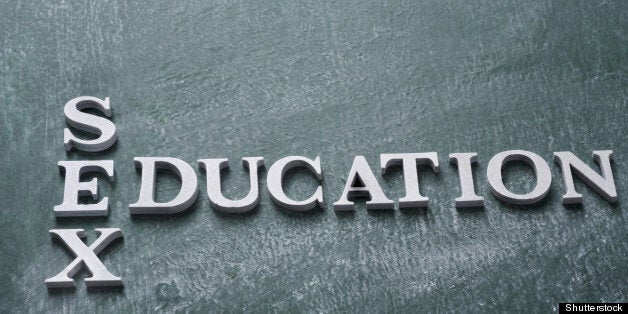 Sex education has finally started to receive the widespread press coverage the topic needs. From the #SREnow campaign and Laura Bates' petition calling for mandatory Sex and Relationships Education (SRE) in all schools across the United Kingdom, to widespread discussions on the content of SRE lessons in the Twittersphere, much-needed conversations on the woefully inadequate nature of current SRE practices in the UK are taking off.
Most recently, Italo-British organisation FCome launched its #sexedispower campaign, to lobby the Italian government following Prime Minister Renzi's declaration that they 'could not do much' to address the problem of sexual violence. FCome's campaign brings to light the enormous impact that learning about sexual relationships and associated topics can have on young people, and to remind us of the very damaging consequences of neglecting to educate our young in this domain.
So why is sex education power? And why is it important to empower young people in this way?
In the UK, SRE is not part of the statutory national curriculum, although some parts of sex education are compulsory in the science curriculum in order to teach children about reproduction and sexual health. In my Northern comprehensive, this amounted to covering the mechanics of intercourse, STIs, and how to put a condom on a carrot (and this seems to be a lot if the experiences of others shared on Twitter with the SREnow hashtag are anything to go by). Children leave these classes still wildly ignorant of the reality of sexual relationships in any form.
Giving children an understanding of sex and relationships beyond the mechanics of conception and STIs (important though these are!) will empower them to navigate the complexities of sexuality and gender in our stubbornly heteronormative world, thus helping to combat the ignorance and prejudices that so often result in discrimination. With anti-LGBT+ violence still horrendously common (4 in 5 LGBT people have experienced hate crime, and 1 in 10 have experienced sexual violence), working to remove the negative stigma attached to speaking about sexuality is sorely needed. Normalising discussions around sexuality and gender, working against harmful stereotypes of what masculinity and femininity are supposed to be (and who is supposed to fit into these categories), and giving children the platform and vocabulary to think and speak about such topics, gives our young people the power to better understand themselves and the world around them.
Meaningful SRE would also be a move towards combatting gender-based violence by equipping children with an understanding of equality and consent in healthy sexual relationships, thus empowering them to be in control of their own bodies and relationships. Gender-based violence is endemic: 1 in 5 women aged 16-59 have experienced sexual assault, 2 women are killed every week in England and Wales by a current or former partner, and 1 in 4 women in England and Wales will experience domestic violence in their lifetimes. When the lack of any kind of education on healthy sexual relationships is added to continuing and pervasive societal narratives that purport women to be sexually submissive, weak, 'available', and less worthy of rights, and men to be sexually dominant and aggressive in order to fulfil the requirements of 'masculinity' (narratives that are woven deep into the popular consciousness), it is unsurprising that violent crimes against women in England and Wales have reached a record high.
Compulsory SRE certainly won't magically stop gender-based violence, but it can contribute towards its reduction. Giving teenagers an understanding of sexual equality, consent, and mutual pleasure at an age when they are becoming sexually active would enable them to seek such things in their own relationships, and to recognise situations that transgress the boundaries of equality or consent. Such an education would give young people the power to resist male entitlement to female bodies, and to strive for greater sexual equality.
It goes without saying that normalising conversations about consent and equality in our schools would be a huge step forward in the fight against rape culture, and would remove the taboo on sex that harmfully leads children to educate themselves elsewhere, be that through porn, the kind of 'advice' spouted by women's magazines, or exaggerated playground gossip. Invaluable though initiatives such as Sexpression and the Schools Consent Project are, the kind of education they provide needs to be commonplace in all UK schools. Education is empowering, and SRE can empower young people to make healthy and informed decisions about sex and relationships that will positively influence them, their partners, and the societies in which they live.
FCome has hit the nail on the head with their hashtag: sex education really is power. Meaningful, comprehensive SRE represents the power to reduce gender-based violence, discrimination on the basis of sexuality or gender, and unhealthy sexual relationships. If only the Department of Education could be convinced that these are causes worth fighting for.