Well that was me... briefly! And yes... I look like Super Mario. But that was for a part I promise that moustache isn't permanent.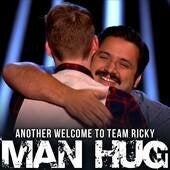 Queuing up for The Voice auditions I nearly walked away several times. One of the scariest things was that I was auditioning as me! Working in theatre I'm always playing a character, I'm always in a large group of people and I'm rarely up front on my own just being me. I felt like a fish out of water. I'm a performer and if you read my last blog or watched the show you may think 'well he's used to performing' but walking onto that stage at The Voice is COMPLETELY different. It's like nothing I've ever done. I had to choose what to wear, what I wanted to sing and when I spoke, the words were from my head not off a page or script. A strange yet exhilarating experience for me. As a home viewer I always thought in some way it would have been controlled and you would have been told how to act and what to say but it's not. It's all down to you. Although of course it's edited to fit a primetime one hour slot but it's reality. It's a daunting task putting yourself out there to be judged and I have huge respect for anyone that has done the same.
In a way I felt my stakes were even higher than the guy who works nine to five selling cars, they can always go back to selling cars should they fail. For me I make my living as a performer, failing at this could mean I can no longer do what I do to pay the rent and put food on the table - I'd have to learn how to sell cars, Finance? HP? (I'm HP was a printer). But on the other hand if I did well it could help change my life, it could help me do the thing I want to do more than anything else. That's the risk.
So why did I do it? Well a lot of things happened over the past couple of years that made me realise time is short. It was a chance to challenge myself, get off my arse and try at least to be the best I can be. I figured that as long as I did my best, made my mum and friends proud while not making an entire tit of myself it would be worth it.
One of the reasons I love The Voice is that everyone I've seen on the show can actually sing. The coaches have the hardest job. You've seen already incredible talents this year miss out on a place, like 16-year-old Ryan Green and 55-year-old Bob Blakeley but it's not by any means because they aren't talented enough. Everyone I saw on my audition day singing for the coaches deserved to be there. Also another thing that attracted me to The Voice was you only spoke about what you choose to speak about. I know it can often look like "oh a sob story" but from being in the process I can assure you we only talked about us and our lives. Now I think about it we all have a "story", that's what makes life interesting.
Now once you have chosen your song you want to perform in front of the coaches you get to sing live with a live band! How cool is that? I'd know that I would at least get to sing one song with an amazing live band even if I didn't get a turn! In an amazing feat Musical Director David Tench has to arrange and direct every act's song. Another thing you never think about when watching it. Thats a lot of songs to work out and learn! The whole music team are just incredible. Generous and easy to work with. You may have seen them jam along to 'Chicken Train' with Si, that was a Jam off the cuff with no rehearsal and it sounds like they've played it for years. Just incredible musicianship.
You can put yourself under huge amounts of pressure taking part in a process like this. It's a logistical marvel how they manage to load in the audience, coaches and hopeful acts. Keeping us all separated, fed, watered and looked after. It's a long tough day. On the day I sang I arrived at 8am and didn't get in front of the coaches until 11pm. Half of that day I was sat next to Anna Mcluckie and her family, I was in awe of people like her and also Beth McCarthy, some of the youngest in the competition who handled all that pressure with ease and grace. Beth and I have become really close since joining team Ricky. I feel like she's my little sis but in fact it's the other way around and she's teaching me something new everyday. She's such a clever, driven, talented person. Check out her own songs they are brill. Plus she plays an array of instruments #jealous. Whatever happens she's one to watch.
Here is a cover of Royals Beth and I did -
The entire team involved in making The Voice are incredible. They like us are under huge pressure but always keep calm, friendly and supportive. It's amazing the duty of care given to you by the production team, especially by the Acts team. Those guys are truly the unsung hero's of the show. They support you so you are in a position to perform at your best. Vocal warm-ups, space, an incredible make-up team & wardrobe who check you look your best. It's all truly amazing. The backstage operation is a regimented marvel. But nothing can prepare you as the nerves mount at your time draws nearer...
So the time comes to step out onto that stage. You walk through the door to the stage, heart in your mouth, you are handed your mic and you walk down onto the stage... in Silence. That silence before the band starts feels like an eon. I wanted a black hole to swallow me up and make it all go away. It also felt so much darker standing there as to when you watch it back its bright and HD.
I stood trying to ignore the glowing red chairs in front of me with the knowledge of the superstars sat in them, I took a deep breath to help steady my nerves. So many things were running through my head. After a nervy beginning I closed my eyes and said to myself "Come on, you are standing on a stage in front of an audience, forget the cameras and the people in those chairs, just try and get to the end of the song and do your best". Which I'm sure you can tell, the second half was so much better! Just as I got to the final notes of the song a chair span around and I couldn't believe it. RICKY WILSON!!! NO WAY!!! I was sure no one would turn. Immediately I had an overwhelming
sense of validation and joy to think that someone who I admired immensely thought I could sing and wanted me on their team. Mind blowing feeling.
After that it was all a bit of a blur. (A few things happened which I'll save for another blog) Then next thing I know I'm with my family backstage hugging the gorgeous Emma Willis stunned.
So here I am #TEAMRICKY excited, elated and looking forward to the next stage... THE BATTLES.. IT GETS BETTER
Related