This Saturday The Voice UK moves to live shows! I can't wait to be in the studio cheering on the teams. I'm also pleased that the audience has seemed to of stuck with the show this series too where by previous years the ratings dropped after the Blinds this weekend stayed strong and saw a peak of 7.7million viewers (according to UK TV Ratings BARB).
The knockouts flew by this weekend and my brain was slightly a frazzle as 28 acts vied for a place in the final 12. In a format change, this year each teams seven acts were all up against each other. No fast passes or as previously groups of three, it was literally "every man for themselves".
I'd find it so difficult to be a coach, there are so many talented performers and they have to lose so many each week. I do however find it's a shame the acts don't get to show the audiences more of what they can do. In my opinion, any of this weekend's acts could have been in the live shows on the X Factor. It's also probably one of the reasons acts have far less social media attention too. The audience don't really get involved until live shows and even then it's only for three weeks as opposed to much longer on other shows. I wish everyone had a little longer to show the British public just how good they really are. I am looking forward to seeing the BBC Two companion show to The Voice UK with Zoe Ball, I think this will give the contestants to show more of them and more of the fun backstage stuff. Even though I knew what happened in the knockouts months ago, I was still so sad to see some special talent miss out.
Live Shows and Free Voting
This year there is also a new way to vote for your favourite act with the BBC introducing FREE voting... yes, FREE! Hopefully this will allow the younger audience to get online without having to ask a bill payer. It would be amazing it they could add it via the app too...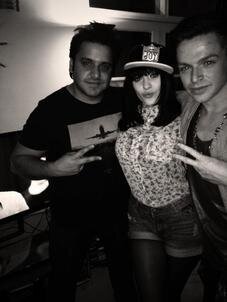 Poll - The final 12, Who's your favourite?
Also on Saturday Christina Marie came over with fellow Voice contestant Callum Crowley, we ordered pizzas and watched the knockouts, we had so much fun! Callum is such a talented guy, you should check him out.
Christina and I also made a little extended video of our battle The Power of Love, check it out below! We only had about three hours and the back of my house but it turned out ok! Hope you like it. You can also download the MP3 free too!
I'll be watching live from the studio this weekend at 6.45pm. Don't forget to tune in and VOTE!
Do you think the coaches picked the right acts? Leave your comments below...
Popular in the Community