Fernando Alonso and Ferrari made up for a poor performance in Malaysia by storming to victory three weeks later in China. The race made up for a boring and ruined race caused by Sebastian Vettel and his ignorance, but it was by no means the best so far.
Positions 1-3 were filled by the three greatest starters on the grid today, Lewis Hamilton (on pole) followed by Kimi Raikkonen and Fernando Alonso. In my eyes, Alonso is the best out of the three, and his ascension to the front of the pack was aided by Raikkonen not having a very cool getaway. Thankfully his start wasn't entirely compromised, although he got jumped by Alonso's team mate Felipe Massa. I thought Raikkonen had an okay race, he was completely screwed over by Sergio Perez who is starting to become a pain in the ass. The damage caused wasn't enough to slow him down, some even thought it made him quicker, but he was never going to challenge Fernando on this particular day. He maybe could have done if he hadn't messed about far too much at the start by not overtaking Hamilton when he easily could have. Raikkonen isn't stupid, he'll overtake where he thinks the guy behind him can't get it back, but if he wants to impose himself, he needs to start upping his overtaking game.
So what happened the pole-sitter? To me, he didn't put a foot wrong, the Brit just lacked overall race pace. When both the Ferrari's overtook him in the one corner at the same time, I stood up and applauded, it was simply superb. You expect that from Fernando but it's great to see the Felipe of old. In the end though, some thought he was in danger of losing his podium finish to the most childish driver, but in reality Vettel never had a shot. All four of the pro-Vettel fans will be thinking "but he was chasing him down with 3 seconds a lap like a true champion." Really? Does a true champion make that many mistakes in the heat of battle? No, they don't, thus proving Vettel is nothing but an average at best puppet in a superior car.
Red Bull really have got a lot to answer for at the minute. Cheating at Malaysia (in my eyes), failing to punish the puppet-boy, making a fuel howler (granted there are some decent excuses) and now not being able to secure all four wheels to the car?! Mark Webber deserves better than this, especially considering he'll have a grid penalty next race for spinning Jean-Eric Vergne in the sister team Toro Rosso.
They [Red Bull] weren't the only team with woes, Force India's mechanical disasters continued after Adrian Sutil's car caught fire following a shunt by Esteban Gutierrez. Funniest bit was that mechanics were in no rush to put it out, some even applied more oxygen to the flames! To be fair, serves him right for 1) being a d**k about Raikkonen in qualifying again, and 2) for simply being Adrian Sutil. His team mate and one of my favourite drivers Paul di Resta repeated his P8 finish in Australia, being very consistent with the weak machinery he's been given.
Mexico won't be too proud of either of their drivers after this race. Joining Perez in the dunce corner will be Gutierrez who repeated many of Michael Schumacher's shunts last year when he ploughed straight into the back of Sutil. I don't know what was going through his mind, but it was nothing to do with sense. He's been an extreme disappointment for me so far, and I see no signs of immediate improvement. Mark my words, he will be replaced by the time this season is over. I don't know who for, but Sauber will have to do something soon, because they cannot function on Nico Hulkenberg's points alone. Gutierrez will learn fast, now that he also has a grid penalty for the next race. He'll probably have to start P22.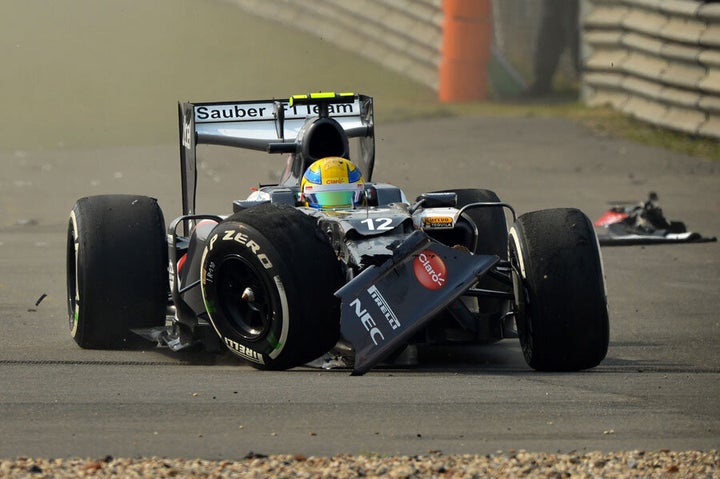 I feel Daniel Ricciardo deserves a mention, what a great drive. I always think that when these boys excel in qualifying, they mess it all up in the race through nerves. But he held it all together to provide a great result.
The standalone hero of the day has to come from flawless Fernando. What a drive! He done all the work from the pit stops today, managing his tyres to perfection. He's coming into a stretch of GP's where he's quite strong, so he has set himself up nicely for a massive points haul, which will do his championship challenge no harm. The greatest driver on the grid today showed his class and maturity through sheer pace and skill during the race. More of it please Fernando!
Final Race Results (BBC):
1. Fernando Alonso - Ferrari - 1:36:26.945
2. Kimi Raikkonen - Lotus - 1:36:37.113
3. Lewis Hamilton - Mercedes - 1:36:39.267
4. Sebastian Vettel - Red Bull - 1:36:39.470
5. Jenson Button - McLaren -1:37:02.230
6. Felipe Massa - Ferrari - 1:37:07.772
7. Daniel Ricciardo - Toro Rosso - 1:37:09.636
8. Paul di Resta - Force India - 1:37:18.029
9. Romain Grosjean - Lotus - 1:37:20.368
10. Nico Hulkenberg - Sauber - 1:37:23.543
11. Sergio Perez - McLaren - 1:37:30.805
12. Jean-Eric Vergne - Toro Rosso - 1:37:39.549
13. Valtteri Bottas - Williams - 1:38:00.806
14. Pastor Maldonado - Williams - 1:38:02.398
15. Jules Bianchi - Marussia - 1:41.537 lapped
16. Charles Pic - Caterham - 1:41.997 lapped
17. Max Chilton - Marussia - 1:41.978 lapped
18. Giedo van der Garde - Caterham - lapped
19. Nico Rosberg - Mercedes - retired, 21 laps
20. Mark Webber - Red Bull - retired, 15 laps
21. Adrian Sutil - Force India - retired, 5 laps
22. Esteban Gutierrez - Sauber - retired, 4 laps
Remember to follow me on Twitter!