On Friday last week we set out on a journey to uncover some of Iceland's secrets in the form of an ultimate tour. Here's what happened on the 1st few days.
Like any great adventure we needed to make a record of what we found along the way. Needless to say day one of kicked off to a hectic start with directors arriving from LA, production meetings, finalising kit but most importantly the arrival of Jennifer Asmundson who we crowned The World's Most Intrepid Tourist through our Inspired by Iceland Facebook competition.
We departed Reykjavik mid-morning and headed straight to Sandgerði, a small town by Keflavik, which is also the location of Iceland's main airport. The road you travel to get there sprawls through the black lava fields, seemingly stopped in motion but somehow still alive, filled with energy interrupted by the yellowed grass that dances in the wind.
As we travel along the sunny coast I explain to Jennifer and her companion Corina that this road for me is not a happy one. My own love for Iceland has grown with every visit and each time I leave it's almost as if a part of me stays behind. Often this road is one I drive alone to the airport and I know when I arrive it there is only one outcome, I will board a plane and fly home. This strange feeling of sadness is one I can only liken to the first time you move out of home one I have a feeling will be mirrored by Jennifer and Corina when they head back home.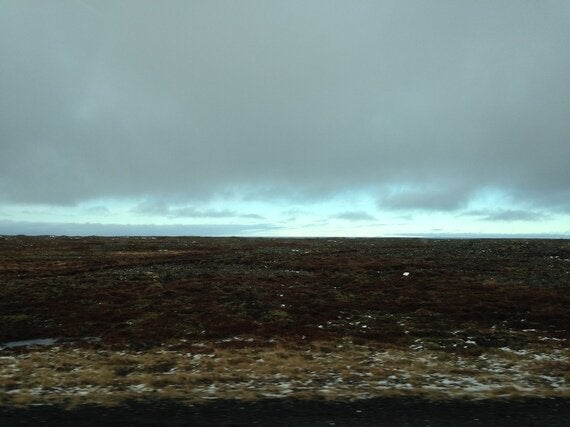 Our first stop is a traditional restaurant. Here we're greeted with smiles and chimes of good day and hallo from a very welcoming husband and wife duo. Stefan Sigurðsson and Brynhildur Kristjánsdóttir have been married for 40 years and 32 of those have been spent as proprietors of Vitinn a very charming family restaurant, one that over the years has evolved with the community and local supply.
Since 2011 the restaurant has been known for it's Rock Crab and Shellfish feasts. Chef Stefan was tipped off by local biologists about the discovery of Rock crab in the regions waters. This specific crab is usually found in east coast of America was discovered in Hvalfjörður in 2006. The theory behind its arrival is that boats taking on water for their tanks in foreign waters have travelled to Iceland and released this along with come unexpected passengers in the form of crabs. After a few years the crab population had become sufficient and stable enough to fish and so was born a feast that later in the day we are all lucky enough to experience.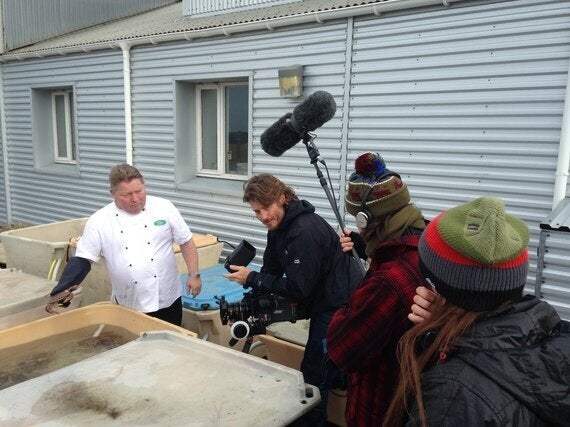 Chef Stefan Sigurðsson explains the day's catch to our crew - Image (C) Neil Andrews
Shortly after arriving we're invited into the small but neatly arranged kitchen, Jennifer who is herself a chef is clearly in her element as Stefan talks us through the ingredients he's about to expertly cook for us. Before even a minute has passed we're being passed horse mussels, clams and home-made paprika bread.. All three are delicious, fresh clean and full of flavour.
When we step back out into the restaurant to be greeted by four men of the sea. This restaurant has long been a popular haunt for local fishermen who cast off from the harbour here early most days and return in time for lunch.
We devour the feast in front of us and head off to the Blue Lagoon leaving behind us the crew who are shooting the fisherman going about their work after filling up on the self same feast we just experienced.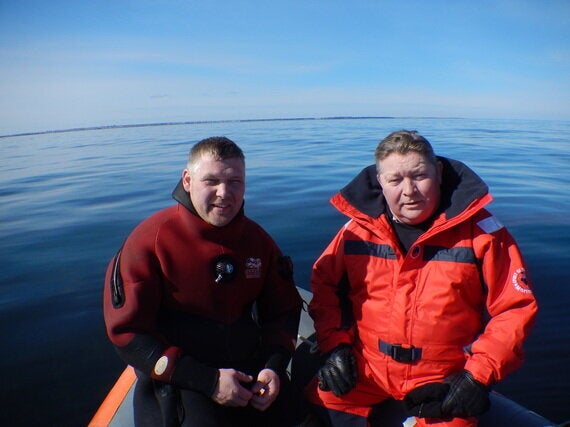 Father and son out on a diving trip.
The Blue Lagoon is a short drive from where we are, as we approach the first thing that comes into sight is the modern geothermal power station which flanks the lagoon and is the reason behind its existence. Steam billows into the clear blue sky reaching way beyond anything where the eye can see. As we draw nearer the air changes slightly and we're surrounded by the unmistakable whiff of something you know is going to be good for you. Once we turn off the main road and head through the winding lava towards our destination we the gaps between the rocks starts to fill with a bright powder blue liquid signalling that one of the most relaxing experiences in the world in just around the corner.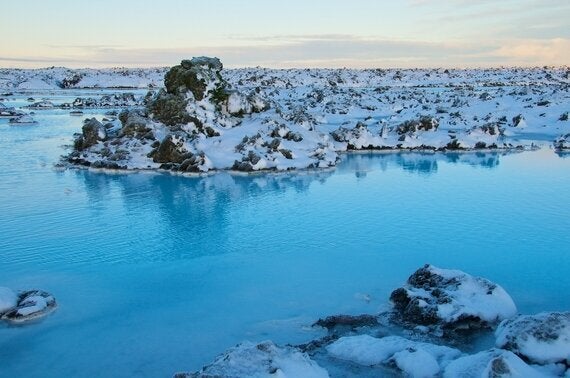 Approach to the Blue Lagoon
It's already 5pm our international arrivals are tired and this seems like a fitting way to end an early day, cloaked in magical water watching the world go by. In what seems like no time at all it's 8pm and time to retire back to the hotel ahead of day two which is set to be a whole lot more adventurous!