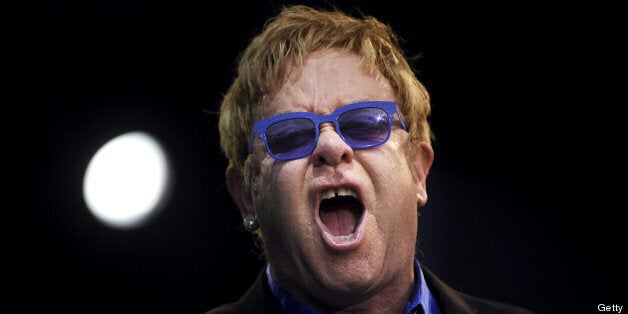 When you're a grizzled old greybeard like me, you get old friends (also grizzled greybeards) sending you emails on your birthday with links to performers from Live Aid.
(At this point younger readers may want to Google "Live Aid". Here's a link!)
So why Live Aid? Well, in my case Live Aid was on my 21st birthday - 13 July 1985. A sunny Saturday when I was still young and even charity concerts were more or less in their infancy.
Anyway, I must confess that my 21-year-old self pretty much shunned the whole Geldof/Ure-inspired bash on the not-particularly-admirable grounds that it wasn't "cool" enough. Those bands! Queen. Spandau Ballet. Status Quo. The Boomtown Rats. And those singers - Paul Young, Phil Collins, Nik Kershaw...
At the time I was into The Fall and post-punk goth. I listened to John Peel and was starting to branch out into jazz and Bringing It All Back Home-era Bob Dylan. There was NO PLACE FOR FREDDIE AND ELTON.
Fast-forward 28 years and ... well, for what it's worth, I'm still listening to The Fall and have - sort of - absorbed the Peel love of ultra-eclecticism in music. OK, I've developed a grudging respect for Status Quo but in general I've stayed loyal to those teenage tastes (I haven't circled back to Queen II or Face Value, deciding that actually, after all, they're great albums). But also, I've gradually tempered my youthful dismissiveness of the mainstream. Now I tend to spare a little appreciation for artists who make music I find uninteresting but who nevertheless use their raised profile with... a degree of thoughtfulness.
Elton John's work on gay rights and AIDS is a good example. Who cares about Candle In The Wind when you know he does this stuff? Anyway, this is the rough and ready view I take on the - sometimes vexed - issue of celebrities and celebrity "causes". Surely those who sneer at "worthy celebrities" are missing the point. You may or may not like everything about celebrity culture, but it's been with us since at least Bogart and Bacall and, anyway, what would you rather have: rich and famous people who lend their name and their time to absolutely no causes because they're always in meetings with their investment portfolio manager?
There, I've set my stall out, rickety though it may be. According to this thinking then, the new 100-strong musicians' letter on behalf of the still-jailed Pussy Riot members Maria Alekhina and Nadezhda Tolokonnikova is a wholly good thing. And it is. It's not about whether I'd listen to music from this enormous body of artists (though I would in a few cases), but... well, you know what I'm saying. It ain't what you do, it's the way that you do it.
Or put it another way - the devil might have all the best tunes, but then again I don't want to rely on the devil to popularise human rights or organise fundraising events.
So what was that Live Aid link my grey-bearded friend sent last week? It was a YouTube of Neil Young from the US side of Live Aid in Philadelphia on that great day Saturday 13 July 1985. Ha! This is cheating. Because Young retains cache amongst old musos like me and therefore I can watch him perform Powderfinger with a clear conscience. Except, it just happens I don't much like that song...
Meanwhile, for a quick encore... me and Elton John would just like to remind you that's there's still very much a need to #FreePussyRiot (look out for the hashtag). Thanks, from me, him and the rest of the band...